And this week....nothing bitter about this....a sweet deal. Dreamers round neck sweaters for 4 days until February 10th -

$59 -

5 colours!
Bitter sweet is an oxymoron. Which is the use of two contradicting terms to describe something. I realize it is a baffling English language phrasing structure, however it is fairly common...for example...sweet sorrow, jumbo shrimp, farewell reception or my personal favourite...painfully beautiful...you know, like Kendall Jenner's recent nude Italian Vogue fashion spread...erm...what am I missing here? Fashion of....? Anyway opposite's quite often work, not just in phrases but very well in fashion, to showcase each others features. Let's look at a few: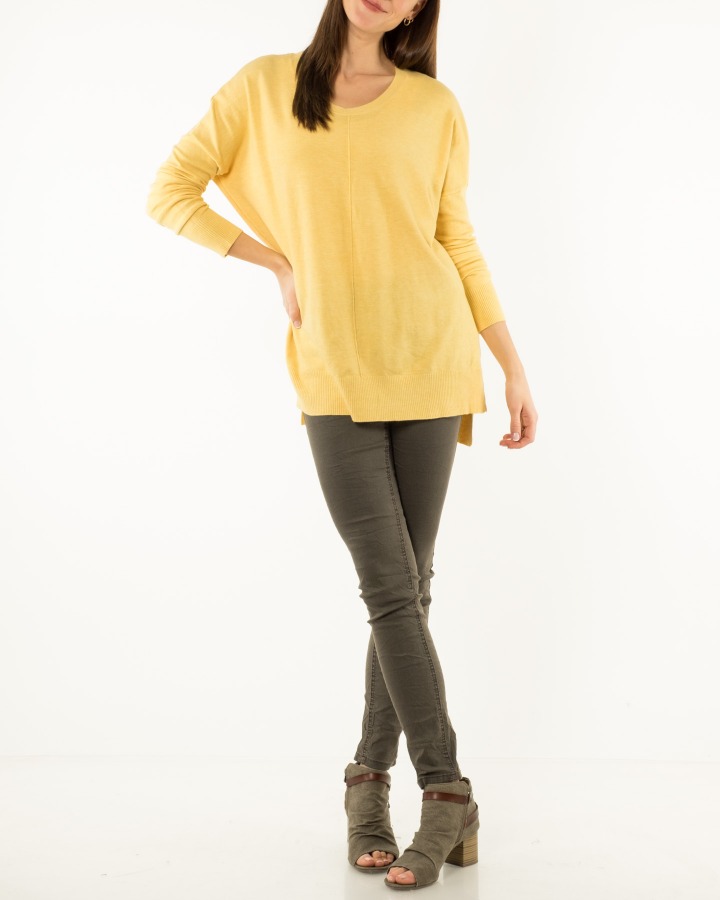 This bright, happy yellow adds needed therapy to the somber, down to earth khaki pants. Because, all yellow might be a bit blinding and all khaki perhaps a bit intensely mellow. They make a very nice couple!
Dreamers round neck sweater (5 colours) $59 until Sunday Feb.10
Cream twill jeans (major brown) $129
My ultimate favourite pairing of opposites is the ultra romantic look of a Victorian style blouse and the ruggedness of very authentic looking worn in jeans. Perhaps bring the two together with a blazer and some bohemian pendants and you have a really fashionable weekend or casual workday look.
Cream Victorian style blouse (beige) $79
Yoga Italy hand sanded jean $148
Also to try, marrying a silly graphic t, with the straight lines of a stripe pant. Why this works: the complete rigidity of the pant lines, linked together by the white and black in both, and the artistic imagery of the graphics. Whimsically throw on a scarf or red beret to top it off.
Bear Dance 'bonjour' pug t s shirt (black) $35
All in Favor black stripe pants $65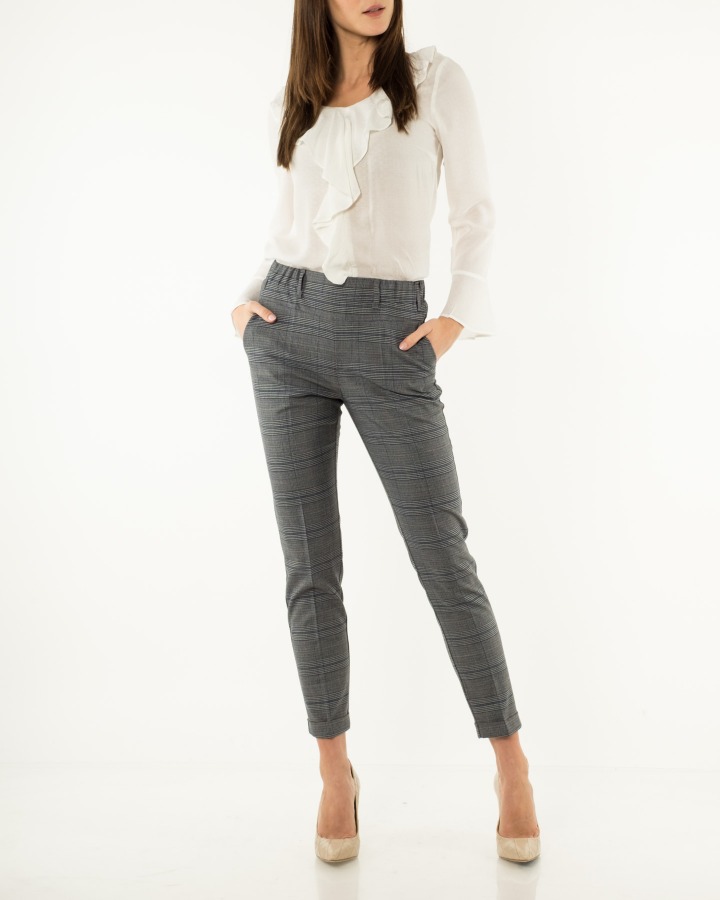 Another example of the softness of the frill front blouse and the borrowed-from-the-men, suit look. A great balance is the, strut-your-stuff shoes and it's a very sophisticated work ensemble. The tone is chic and professional yet soft at the same time.
Kaffe check pant (grey melange) $129
There are lots of examples of opposites that create a great image, are ultimately even better together than apart, or work better together. Like eating breakfast for dinner, laughing so hard you cry, or wearing stripes and dots or leather and lace together. I tried my own theory with wearing last nights makeup in the morning, but it didn't really have the same great effect.
Yours in Fashion passion...
Suzanne M.
"Revenge can be bitter sweet, but if you sit back and watch, Karma can be pure entertainment"~ David Wolfe ... read the full post and reader comments