A lot has been said about 'only' children...they're difficult, self centered and spoiled? Heavens NO! Those are old stereotypes. There are definitely great qualities they embody, such as (of course I'm generalizing), independence, confidence, ability to entertain ones-self, flexibility and creativity. Yes, I said flexible. I now realize why the jumpsuit has become so popular in recent times. Because we are so strapped for time, we don't have time for more...or more children!? Ok let's just stick to clothing. Current trends are towards wonderful fabrics and enticing prints, it's hard to resist them. And frankly it takes very little creativity to make them super fashionable. A very flexible garment for travel and every day!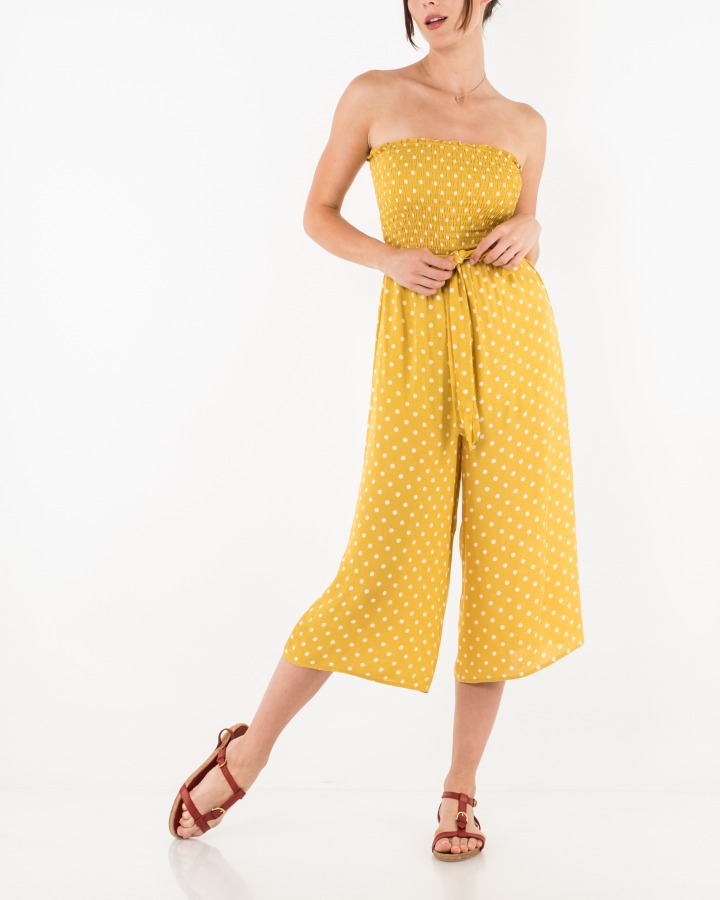 I don't know if anyone else has noticed the recent emergence of yellow. I think it used to be relegated to prim and proper dresses for Sunday or a vase full of tulips....but I think we're all realizing we need more cheer! Here's your cheer, in one piece. Isn't this the cutest? Really easy to wear shirring. On overcast days, add a jean jacket or fashion a shrug out of a scarf! OR wear them with a t shirt. And this just cries out for a sun hat as a companion!
She+Sky polka dot jumpsuit (black or mustard polka dot) $79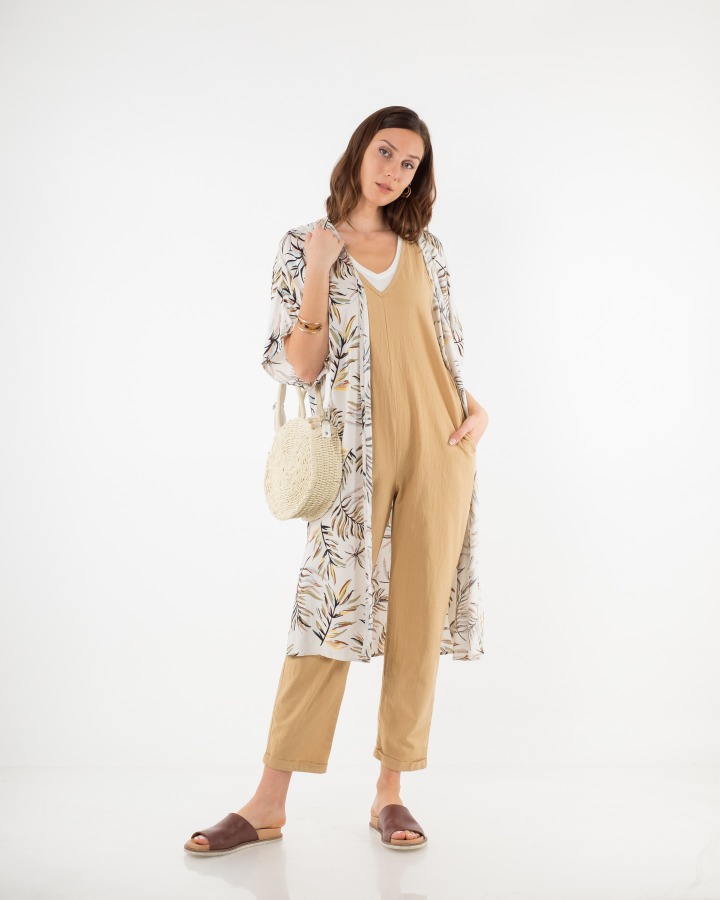 Easy to co-ordinate with others. If you don't feel comfortable with too much exposure, add a tank or cami. This looks amazing with a Kimono. The super, unstructured shape makes it a must for weekends and casual dates, but simply add a belt if you need more of a defining shape.
Final Touch cotton v neck jumpsuit (denim or mustard)
Soya Concept printed long kimono (in store only where available)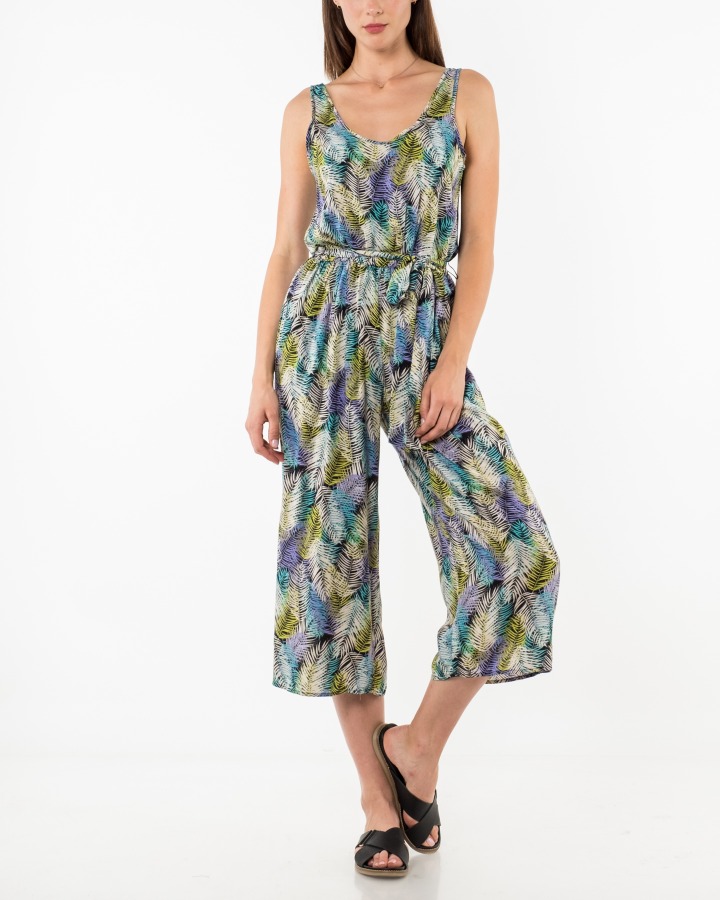 Note the vibrant but tropical print. This one comes with a self belt, but if you'd rather, grab a scarf with a co-ordinating colour and twist it, which adds a bit more interest. Or a bold chunky necklace. Above they've paired it with slides but these will elevate to a less casual event with a few changes, such as heels, hair up and a clutch! Or great for packing for a trip!
Sage vneck jumpsuit (tropical print) $79
Jumpsuits will never completely replace dresses as the 'one' garment to grab and go, but they do offer more function, when it comes to movement. This just as easily can be worn on a date as on a weekend running errands. This clay colour can be co-ordinated with many other contrasting shades such as black, navy, green or chocolate brown...just experiment! Also how can you resist this back view!
Doe+Rae cross back, linen blend jumpsuit (brick) $98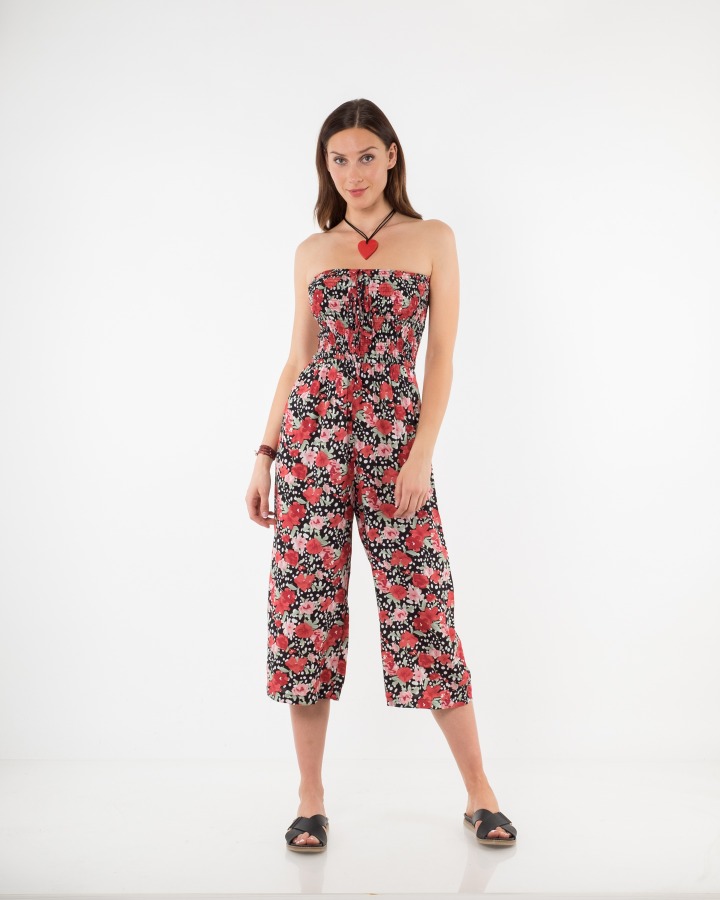 Some very creative types, I've seen wear the strapless dress or jumpsuit with a shirt underneath. Buttoned up, with a very bold clip! OR try it with a shawl or shrug OR here's another idea. Try it with an off the shoulder top, thus enabling you to conceal the bra beneath. You really have to just be creative and see what works for you. Two newish trends that really seem to be made for each other, jumpsuits and kimonos.
RD jumpsuit (black/beige print or red floral dot) $58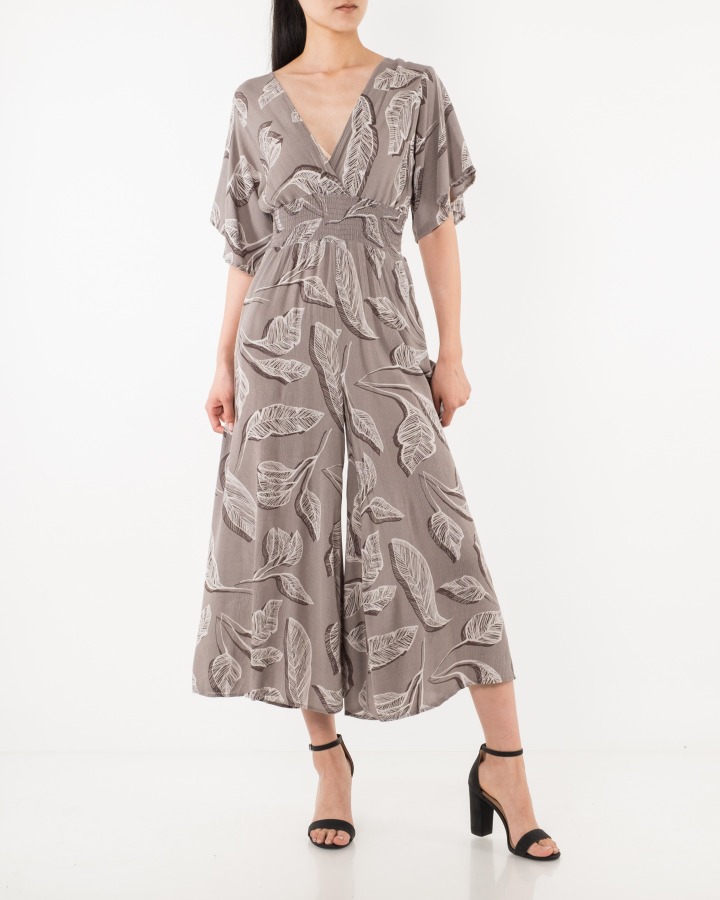 There is no loss of sophistication with this one piece. One could certainly add a simple necklace or earrings or both, add a clutch and with the strappy sandals as above, it makes superb choice for a night out for dinner and a concert.
Final Touch, rouched waist crinkle, rayon jumpsuit (grey or mustard print) limited sizes remain
One is definitely not a lonely number. After all, we have one fantastic planet, one sun...one nose (important things)! But years ago, one piece garments were not regarded as...you know...sexy... because we would only see them on auto repairmen, airport flaggers or city workers. But, wait, what about fire fighters?
Yours in Fashion passion...
Suzanne M.
If you are an only child, it means your parents got it right the first time and stopped at you! ~ Someecards!
... read the full post and reader comments