I'd like to congratulate our Big Sister's $350 GC draw winner. She has been contacted. Enjoy your shopping trip L.B. from Calgary!
Some believe that ease of movement is better served in a robe, dress, skirt or tunic, so, why pants? Historically it seems that pants owed their usefulness to the charger...you know, horses devoted to battle. A few thousand years ago, it was established that in order to more efficiently enter into battle on horseback, it was thought that robes were far too cumbersome. Thus, as more cavalry were used and it was clear military that did not use horses were at a disadvantage, pants were deemed essential to successful battles. Thus pants became associated with high status men. Which, makes it more clear why for centuries, pants were not as commonly worn by women, less often on horseback and not as highly regarded (way back when). Except, you know, Amazon warrior women, they were pretty fierce!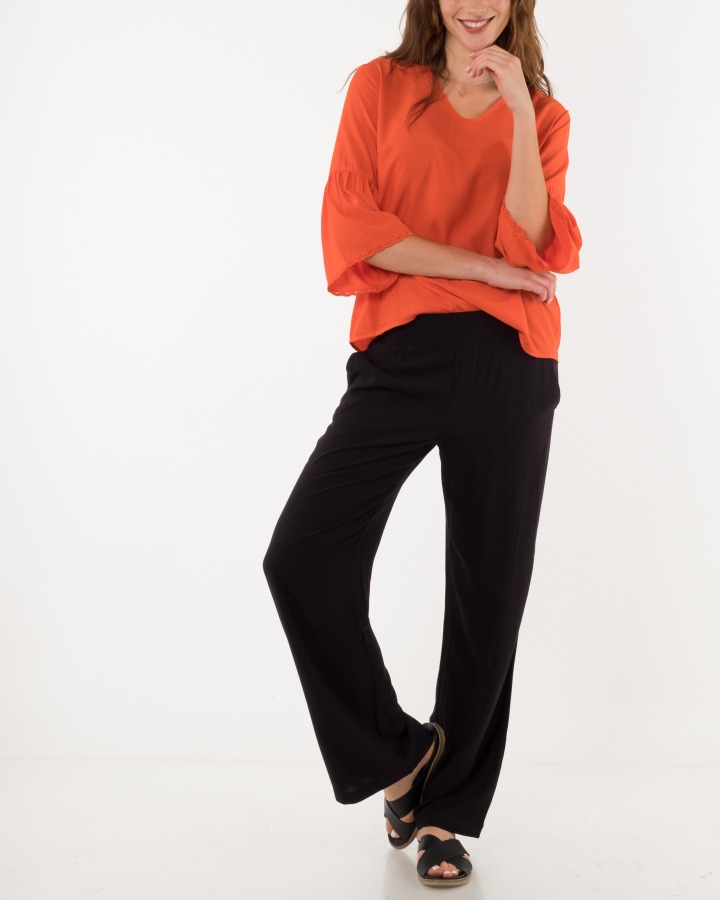 Would these be good for horseback riding? I don't know, do you let your horse pick out your clothes? All kidding aside these are a really gorgeous relaxed, light weight pant. An elastic waist, fits into so many different activities, type pant. Note the criss/cross slides that set a very casual tone! Yet change into platforms or spiked heels, which then creates a very different mood.
B Young wide leg pant (black) regular price $49 until June 16 $37
B Young blouse (spicy red) $79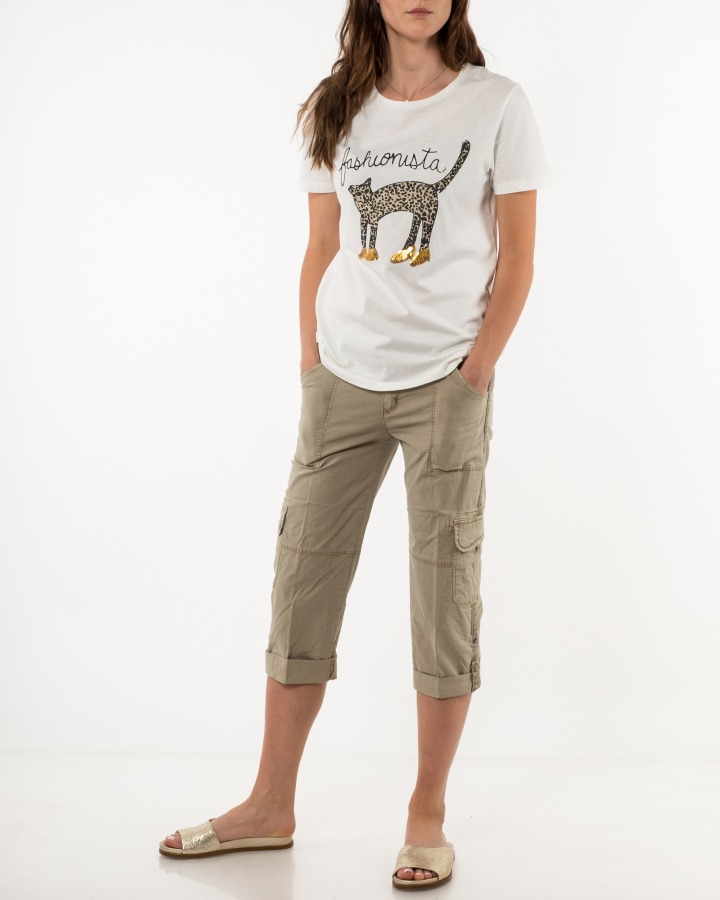 Because you are a divine FASHIONISTA, you can clearly see, that it takes very little to look pulled together, YET CHIC at the same time...casual, easy pants + fun t shirt + comfortable yet bold gold slides.
Nina Rossi cropped pants (black or khaki) regular price $69 until June 16 $52
B Young Fashionista t shirt $39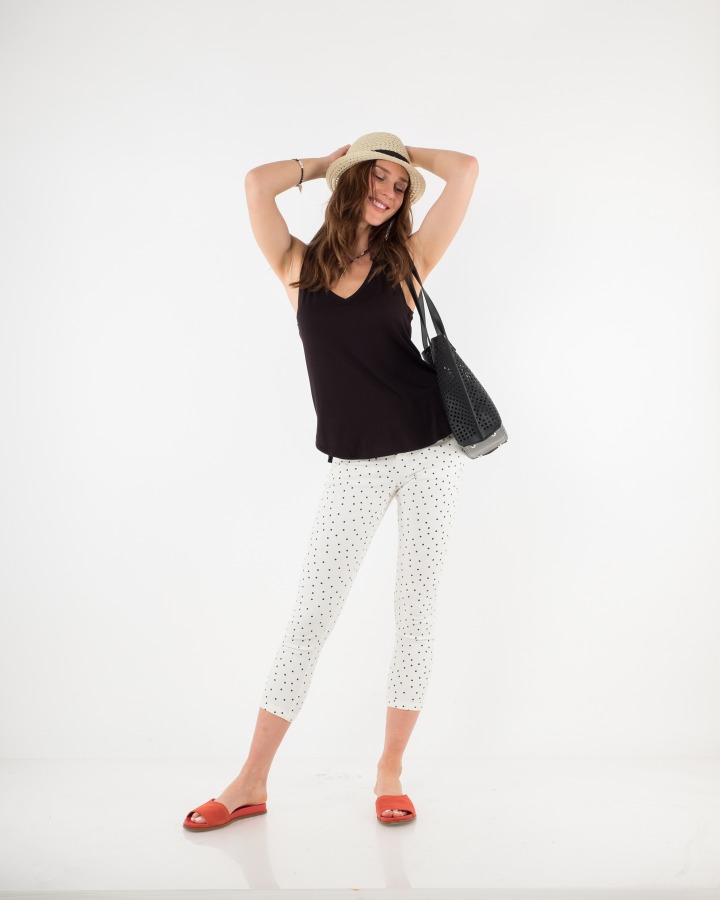 These pants have unbelievable stretch so you can continue to go go go. If you're in search of uncomplicated dress the mere addition of the hat is all it takes for a bit of flair, keeping the sun out of your eyes and voila, instant style! Note they've simply added a pop of colour with the shoes. But you can add your pop of colour someplace else, if you'd prefer.
Kaffe crop print pant (white w/black polka dots) regular price $99 until June 16 $75
Hat and bag sold in store only, and may vary by location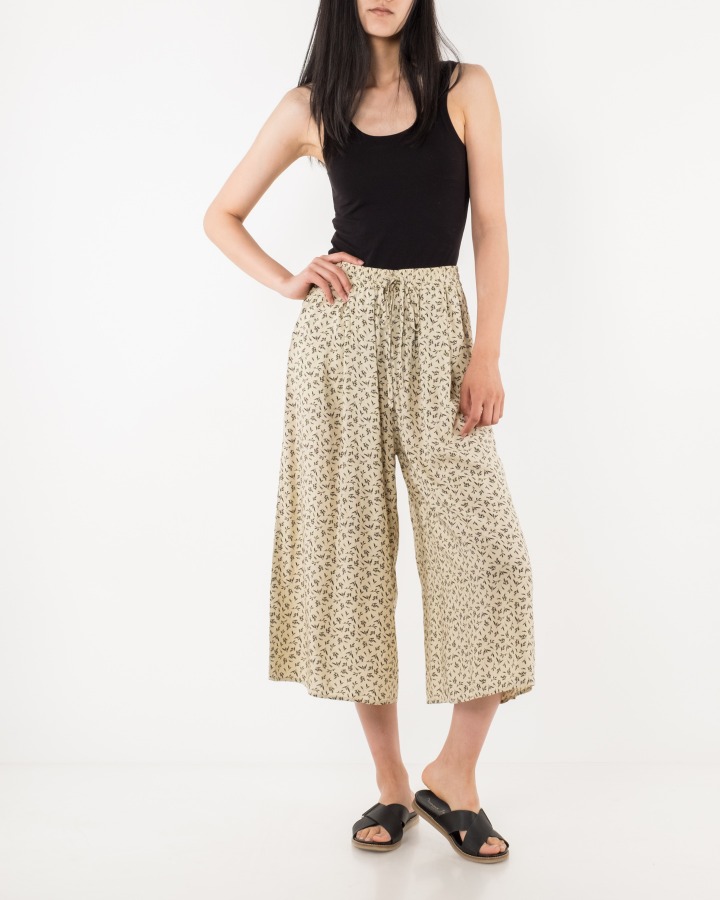 Wouldn't these be the perfect beach or pool side pant? The trendier crop length brings them up to date but also just so comfortable to wear. For daytime, note the slides or for evening maybe switch to a peak toe heel, wear the tank top untucked and add a chain belt. Just don't be afraid to try print pants.
RD front tie pant (black/beige print) regular price $58 until June 16 $44
I'm no Anna Pavlova, as in, not super graceful, yet I tend to be drawn to skirts despite the fact that pants would likely be a better choice for me. So, whether you like dresses, skirts or pants, you have to admit, pants are really just sleeves for your legs, aren't they? Lady Gaga, I don't think likes sleeves!
Yours in Fashion passion...
Suzanne M.
(When asked who wore the pants in his house): "I do, and I also wash and iron them!" ~ Denis Thatcher