With so much global turmoil, any small, joy producing moment is something to embrace! Enter the season of glad tidings. Although life does not suddenly become a Normal Rockwell painting just because the calendar changed, there is still a glimmer of hope found in all of the decorations, get-togethers and all the adverts that erupt into festive wear (my favourite part). The bubble over my head usually says 'um, I'd wear that year round!' BUT that's just me. Maybe you'd like something fresh and fun but also chic and refined. Plenty of options at Plum from...to-heck-with-the-Christmas-tree-let's-just-decorate-me style...to... the sleek diva look and everything in between! Let's find a little something to light up your heart!
While mauve or purple is not a colour I tend to be drawn to, this top just stopped me in my tracks. It checks all the boxes, sexy, refined, edgy and unique. And worn with this exquisitely embroidered kimono you can't go wrong. And it's wonderful when you find pieces that don't end up deeply stored in your closet until next year. Very transferrable into multiple other seasons!
Talori embroidered kimono (black or burgundy) $98
Naked Zebra button front cami $55
I picked out four tops that I think are worth exploring. At this time of year, when the events and parties begin, what's required is not so much black tie, but more elevated but that can work with accessories. The top left sweater is all about texture and creates a feel (pun intended) all on it's own or would play against a vibrant statement necklace. The top right speaks for itself with it's bright jewel tone and bow tie front, a very festive, vibrant colour. Lace is always a go to, yet for the fun of it, one can button it up, add a necklace, mix it with a jean jacket, pencil skirt and flats for an easy going look. And the Audrey Hepburn look mock neck, while a basic, makes a wonderful item for supporting a fabulous necklace or accessories or even pulled back hair with outstanding, eye catching earrings.
Cream cowl neck fuzzy sweater (peach) $99
Soya Concept tie neck lyocell knit top (black or blue) $55
Soya Concept lace blouse (off white) $65
Soya Concept mock neck sweater (black) $59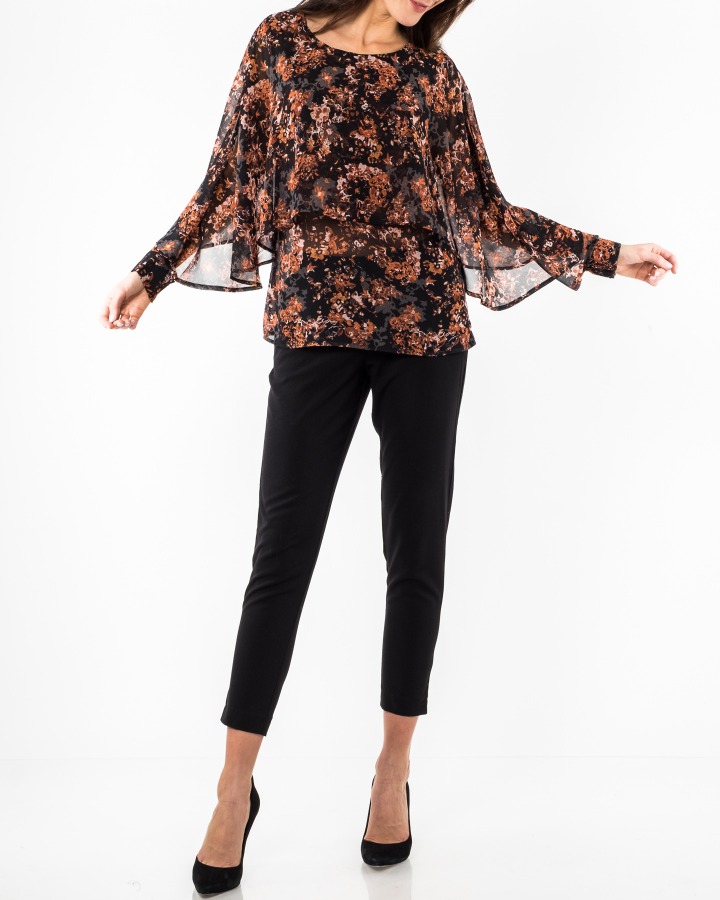 And this top is a nice diversion from the usual of the season with a seeming angelic wingspan; looks fantastic paired with the crop pants. And I must say this stunning little top is rather hard to describe but I'll try. The top part is an overlay and the sleeves (the wingspan), are half with a half stretch cuff. Absolutely heavenly created blouse with a smouldering, autumn colour pallet.
Soya Concept double layer print blouse $69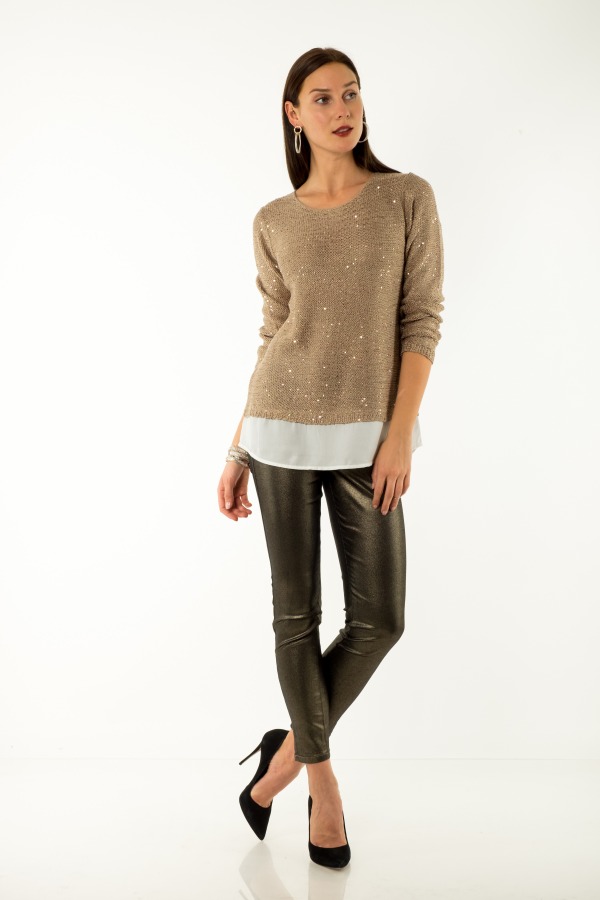 One of my absolute favourites this year, the molten lava coloured pants and lightly dusted with sequins, sweater. Super stretchy pants with back zip and slight side slits. All that glitters isn't gold....sometimes it's just you that glitters!!
Cream double layer knit top $99
For many, while co-ordinates provide great options, it's all about the dress. The above blue velvet just sets the season so perfectly. Either glam it up with a fabulous necklace, maybe a long drop, crystal necklace or simply a pair of dangling earrings.
Kaffe lace insert dress (blue) $119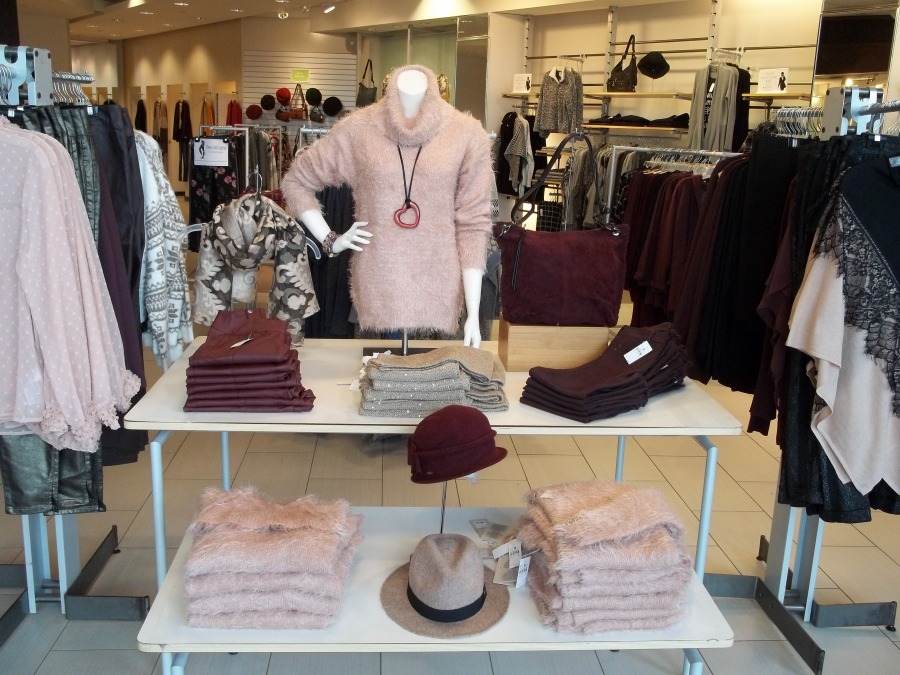 I'm including a display from one of the stores, as they have very well shown how easy it is to pull together a party look with the right components, which combines your personal style with the type of event. Play it up or play it down. I love how pink has emerged and rivals black as a possible colour option for the season.
"You can tell a lot about a person by the way they handle three things, a rainy day, lost luggage and tangled Christmas tree lights!" ~ Maya Angelou. To which I say...pour me a big glass of red and let's get to work on those lights!
Yours in Fashion passion...
Suzanne M. ... read the full post and reader comments