NOVEMBER 1ST to NOVEMBER 18 - $20 OFF MIN PURCHASE OF $95 - restrictions apply - in store and online - follow this link
Do you look to the future and think...I won't be able to wear that any more? Is age in fashion, an inspiration, drawback or irrelevant? It's a total inspiration for me. How will I rock the grey hair, what to wear with trends and which more advanced ladies inspire me? We can choose to be frustrated but realistically we can't go back in time. But, we can stand where we are and observe those who are not fully aged and those who are at prime (lol) and garner inspiration from both. My favourite inspirations are my 30 year old niece and two women who have poll vaulted over 40 (ahem 50). Lyn Slater and Iris Apfel. While neither are my specific style, I cherry pick ideas, gain inspiration and freedom from the 'no-you-can't-wear-that' to 'TRY-TO-STOP-ME-AND-I'LL-DO-IT-TWICE-AND-TAKE-PICTURES'. And on that note, feel inspired my ageless beauties....purchase min. $95 and get $20 off your purchase. Ooh, maybe you can turn it back (the calculator at least).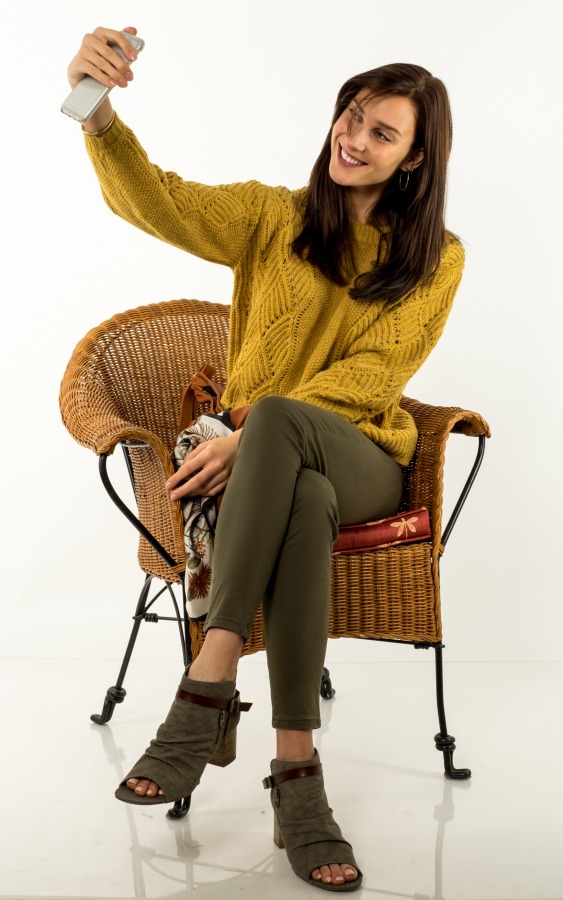 Say yes to the selfie. This is a perfect fall look mimicking the colours of the leaves. Love the cozy sweater and the olive skinnies. Notice how the shoes change the look from a casual ensemble to a dinner out look. Easily transform it by adding a blazer and knee high boots or oxfords for work or plimsolls for casual.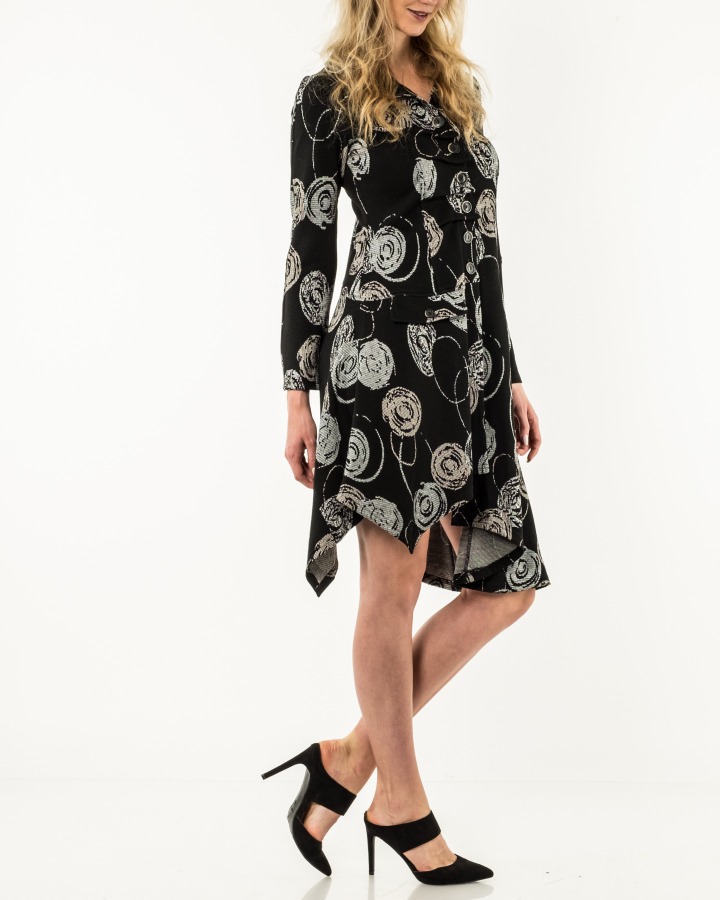 Get the edge on everyone else. This dress is unique and creative with it's free flowing circular, primitive pattern and button down front. Wear it with some equally bold shoes or sky high boots.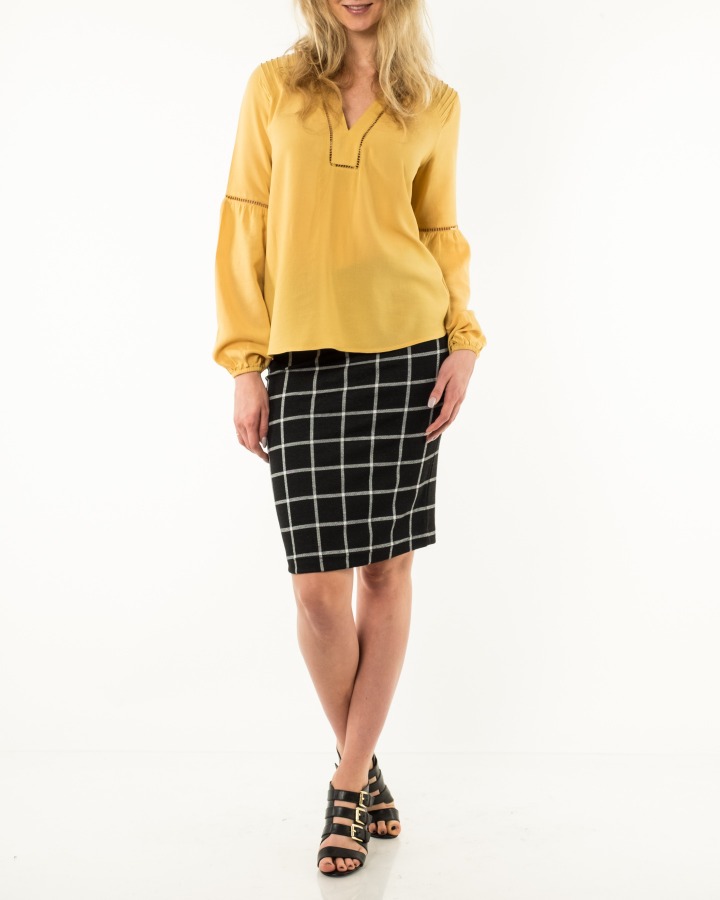 I LOVE this look. Yellow right now is a bold, bright and happy diversion from the usual fall mellow shades. And if it's too much of a challenge to wear it next to your complexion, try adding a scarf, maybe turquoise or red or a print. The window pane skirt pattern is a growing favourite.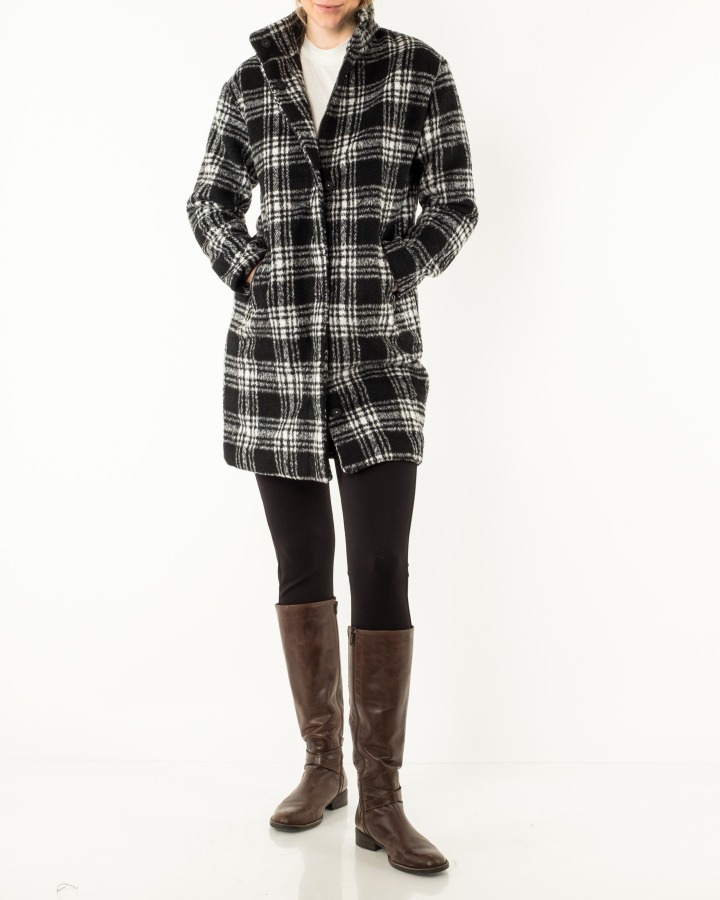 And, insofar as your basic black is a good all around coat for this season, it's nice to have an alternate with a bit more kick. And a universally appealing pattern such as this one, will work into your wardrobe and most other colours with great ease.
Who are your fashion inspirations? Your Mother or Grandmother. A crazy aunt who always lived a bit on the edge? Maybe a popular musician or celebrity? I've mentioned mine above. But from my childhood, all I can think of would be Wilma Flintstone. She really knew how to carry off that one shoulder dress! ;)
Yours in Fashion passion...
Suzanne M.
some fierce women still kickin' it who are nonagenarians and older:
Ida Keeling
Tao Porchon-Lynch
Doris Day
Queen Elizabeth
Iris Apfel
Johanna Quaas
"Granny your face looks beautiful with wrinkles, just like the lake looks beautiful with ripples" ~ Vinita Kinra
... read the full post and reader comments