The beginning of December begins, Christmas shopping, parties and Christmas song season. Christian or not, season celebrator or not, most of us love to belt out the old favourites, performing our own Car-eoke! One tune recently brought to the court of social media was (blog title) 'Baby It's Cold Outside'. Don't know what I'm referring to? Google the lyrics and think #metoo! This had a bigger social backwash publicly recently than an all you can eat buffet. But you know, if you want something to keep you warm but that steps away from any controversy…just go with everyone's old favourite…a sweater!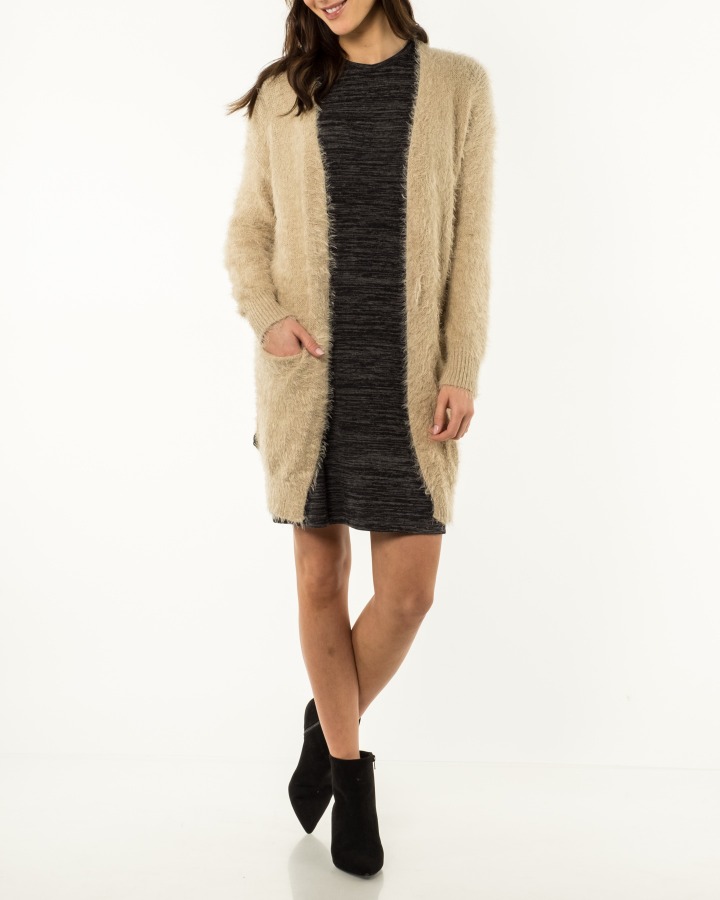 I love this pulled together ensemble. The fuzzy sweater look is a huge favourite in recent years, and probably needs no explanation from me! Together with this great knee length dress, anyone's 'maiden aunts' will not disapprove (see the song lyrics). And needless to say when the 'weather outside is frightful', simply add a pair of tights and the look is complete and functional.
Kayla fuzzy yarn open cardigan (5 colours) was $75 sale price $59
Spencer + Shaw dolman sleeve knit dress (rose or charcoal) was $110 sale price $55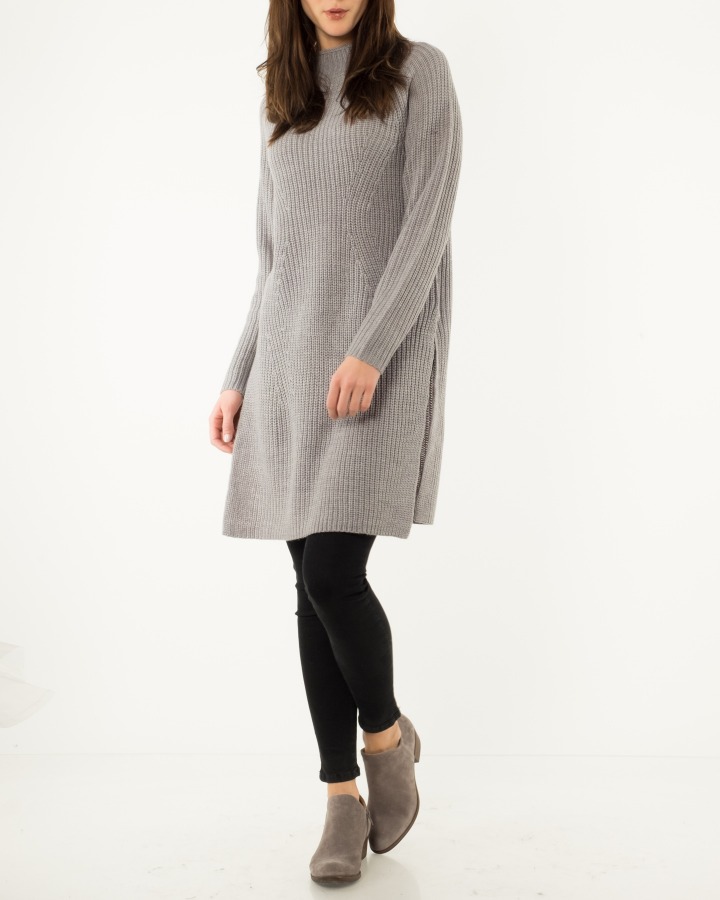 This sweater/tunic is a great seasonal option for so many activities. Everything we do in December is not an upscale party, thus the need for something functional as well. I love the side slits because you don't feel engulfed in fabric. Worn above with skinny pants or perhaps textured leggings or even knee high boots. The grey shade produces an opportunity for creativity either keeping things subdued or a splash of color (as in lipstick, nail polish or a bold necklace or scarf). I can even envision it belted.
B Young side slit tunic sweater (black or medium grey) regular price $69 sale price $52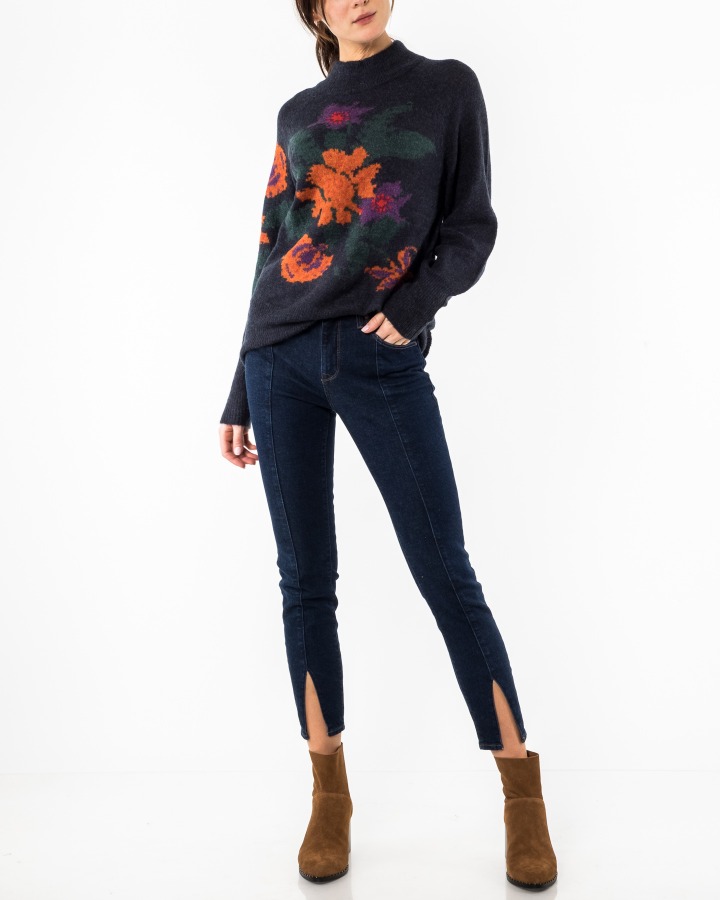 In recent years the move to resuscitate the 'ugly sweater' trend has certainly worked. Centered around sweaters with sometimes garish and quirky patterns, they appeared to have started at least four decades ago, often made by Grandma. Nowadays they're the center of get-togethers (ugly sweater parties etc). Above, while it sports a design on the front, in my mind would be classified as the anti-ugly sweater. Perhaps we can start another trend. One that's less of a fashion comedy and that brings together warmth and style!
B Young flower sweater regular price $99 sale price $59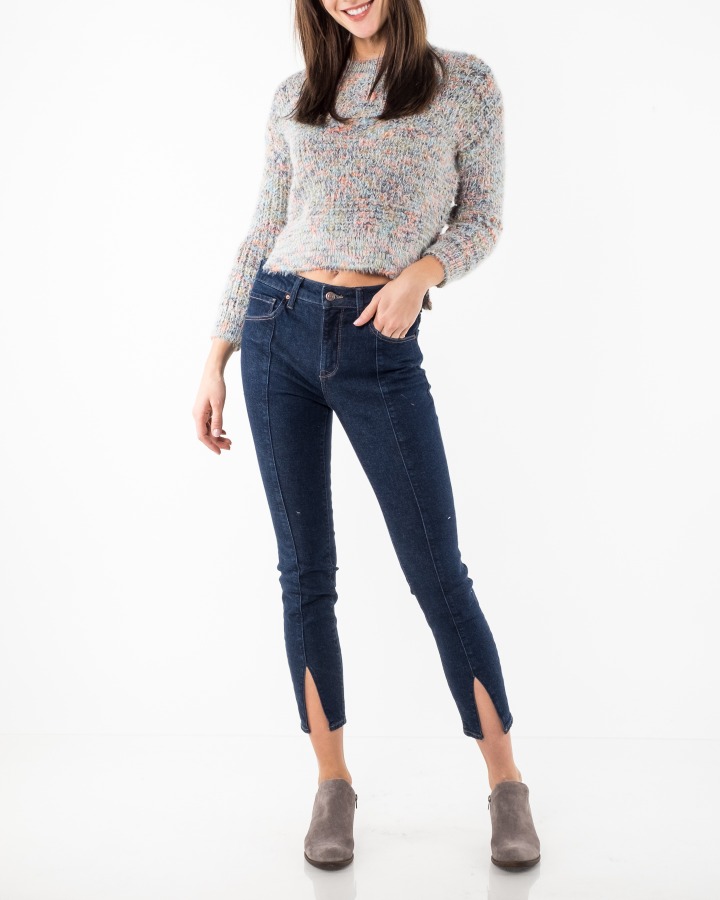 The crop sweater not to be outdone by the tunic sweater. The crop top, t shirt and sweater trend I remember it well from the 80's when it was in its hay day. While it wasn't really something I could easily wear then or now, if you are so inclined to try it out, there are some creative ways to wear it comfortably, if you're not into over sharing! Such as a complimentary t shirt beneath, that perhaps has a contrasting colour, texture or lace. Or wear it with a blouse! Looks great also with skirts of various different lengths.
RD cropped pullover (grey/brick or multi) regular price $82 sale price $59
Apricity:
Definition
: the warmth of the sun in winter
Such a pretty word that was invented in 1623 but not commonly used today, perhaps its use could be re-ignited. 'Baby it's Cold Outside' which was written and first released in 1949 (and multiple times since), from a vastly different era, until now has stood the test of time. But some things, like actual candles on a Christmas tree, as was the case historically, is likely better left in the past, for possibly obvious reasons!
Yours in Fashion passion…
Suzanne M.
"The cold never bothered me anyway" ~ from the movie Frozen
... read the full post and reader comments