PTCHA!!! I can hear you say! You've just spent weeks trolling around shops to find the perfect hairbrush, sweater, garden tool, tire pump with coffee holder (seriously!) and I tritely say this? Yes, I realize this is the ultimate gift giving season, however, think back to the last get-to-gether...do you recall someone NOT bringing a gift? Probably more recall the fun time spent together! After all, more and more we're realizing our planet has enough 'stuff'...we could build another planet with the discards. However, sometimes it's just about finding THE right thing for that one person that was your everything all year, or even just in that moment when you were sure you'd fall apart! Or.....maybe that person is you! I love 'me-gifting'! I'm always appreciative! And it's always perfect!
One pair of show stopping pants, four different takes. Yes, they're bold, yes they're bright...but maybe that reflects you, OR they can also be toned down slightly. Note how the pink just adds a bit of softness! Great contrast. These would be a fantastic option for New Years eve!
Cream snowflake sweater (mocha/cream) $99
Cream sheer 2 pc blouse (light peach) $129
Cream fuzzy cardigan (pale peach) $119
Cream print top (black/blue or blush prints) $59
Cream gold pants (black/gold) $119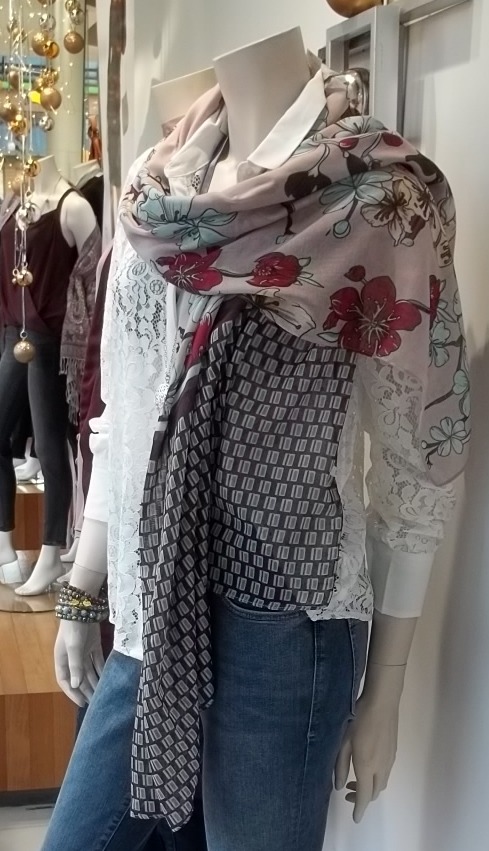 Ok there are several reasons why scarves are the #1 gift given to women...Ok I made that up, but if it were true, I'd say scarves would be near the top. They don't go out of style, one size fits all...and in a pinch can be converted to a shawl or even a table runner! (I've actually done that). Head into a Plum location and see the selection.
worn with
Soya Concept lace blouse (off white) $65
Ok back to dressing you....note how this is one dress, but the jewellery just changes the tone! I happen to be a huge fan of arm candy! Love piling on the bracelets so when I gesticulate, EVERYONE notices (just kidding). Add some stunning pieces that catch the light; Plum always has a great array of accessories to compliment any outfit.
Jewellery sold in store only and varies by store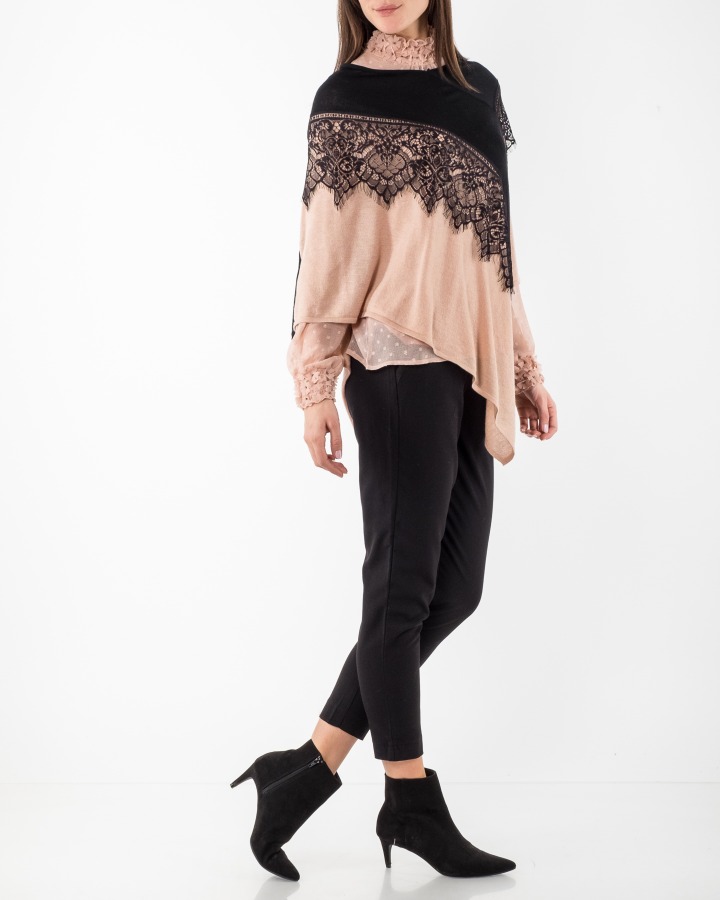 This I saw on a few staff at the Christmas party this year and noted that it's far more interesting in person than the image presents. Here they've paired it with a frill neck blouse which is just such a perfect compliment. The black on pink really produces a lot of drama!
Cream poncho with lace (black/peach) $49
Cream sheer 2 pc blouse (light peach) $129
This cardigan is everything of the season all rolled into one....glittery, cozy and eye catching! Perfectly co-ordinated above with a simple black background; a real Audrey Hepburn feel. Although if you prefer to infuse a bit of silver jewellery, head into a local Plum location and see the selection for yourself.
Soya Concept lurex cardigan (storm grey melange) $125
Jewellery sold in store and varies by store
If I could buy one more thing for myself, I'd buy myself some time...as there barely seems to be enough time to check the clock! But I have children that believe in the magic of Christmas (and Santa), and so I do purchase gifts. However, I do my best to buy or create long lasting and really wanted gifts. And what warmed my heart this year was the final wish item on my youngest child's list to Santa...'PEACE ON EARTH'. Truly a gift that we would all joyfully receive!
Yours in Fashion passion...
Suzanne M.
"Guilt: the gift that keeps on giving!" ~ Erma Bombeck
... read the full post and reader comments