Last blog was about staying indoors; avoiding the cold, reinventing ourselves or...just enjoying being inside and warm. What? You didn't read it? I just may never recover from that. In any case, it's probably time to venture out. The pavement is finally exposed (as will be our blindingly pale skin from the lack of vitamin D). So, just go for it, go for a walk; your body needs the blood pumping. What else gets the blood pumping? A good sale. And Plum has great end of season deals. But you do have to go into a local Plum to grab those great things that you know you missed out on! Get dressed, put on your boots and coat (or go and buy one)!
I can't say enough about the poncho craze. They're a great, functional addition to the wardrobe and can realistically span three seasons. I love layering them on top of jackets or coats or even sweaters and I must admit I wear them around the house for an extra layer.
I'm sure by now you've invested in snow tires, so it's time to make sure you also have a coat. A winter one...because we're in Canada...you know...where it's cold (we sometimes forget this on the far west coast).
Scarves just never go out of style. We pack them away for the next winter, then gleefully pull out our favourites again when the season suits of course. Plum has such a luscious variety of scarves; the price is right now to stock up.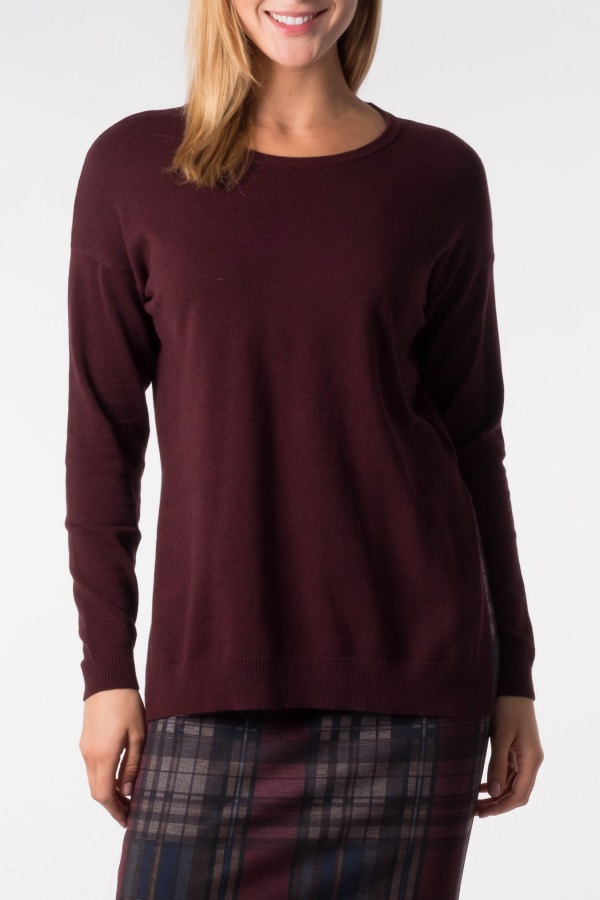 If you're in search of a good basic sweater, look no further. Super soft, long in length (not tunic length but long enough to cover the bum and keep it warm), side slits, 81% cotton, great to belt or wear a necklace with and comes in 6 great fall colours. AND it's an excellent deal.
Kersh crew neck sweater (6 colours) was $59 NOW $29
I'm sure I'm not the only one staring longingly out the window in anticipation of the spring and higher temperatures. But in the words of Thomas Edison "Opportunity is missed by most people because it is dressed in overalls and looks like work". Come to Plum, no overalls are required.
Yours in Fashion passion...
Suzanne M.