Hands up, those of you who, 9 days into 19, haven't abandoned - like 3 day old leftovers - their new years resolutions? I can honestly state, that there was a solid 22 minutes back last Tuesday where I said 'I GOT THIS!'....then 3 O'clock hit and I said...what was I thinking, I can't abandon sarcasm ALL day. Some things are just part of your DNA! Like my devotion to t shirts and maybe you have a sweater compulsion? The fuzzy, the warm, the textures, the colours. How can you not! And currently with the sweaters 50% off....just park the resolution to cut back on sweaters.....just for an hour. You can go back to it later...you have all year to make that work!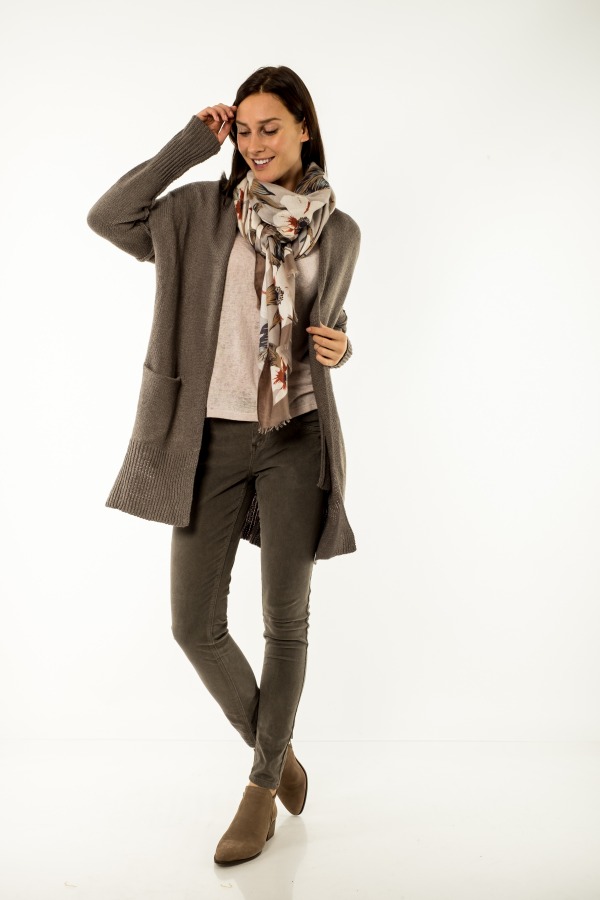 Such an easy to coordinate cardigan. A very comprehensive style, a great length for even most mid length coats, lots of ribbing on the sleeves and bottom edge, side slits and 55% cotton. If you prefer to close it up, try belting it for a bit more of a stylish look.
Miracle open cardigan (3 colours) now $42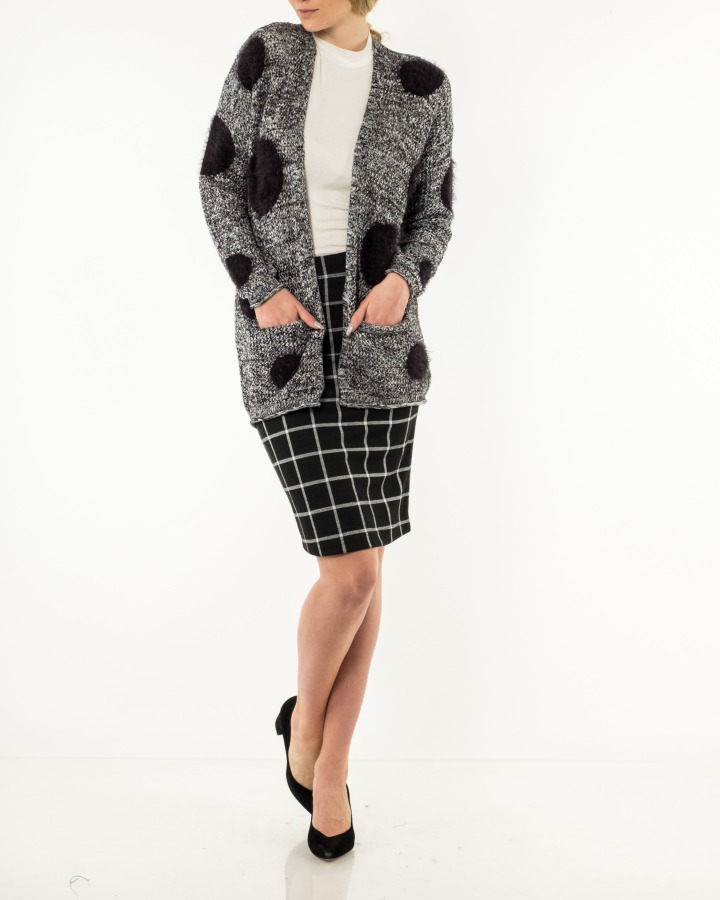 I love the massive dots paired with the window pane pattern on the skirt for a contrasting match. Another easy to coordinate sweater, coupled with a nice cozy feel!
ICHI large dot open cardigan (salt and pepper) now $37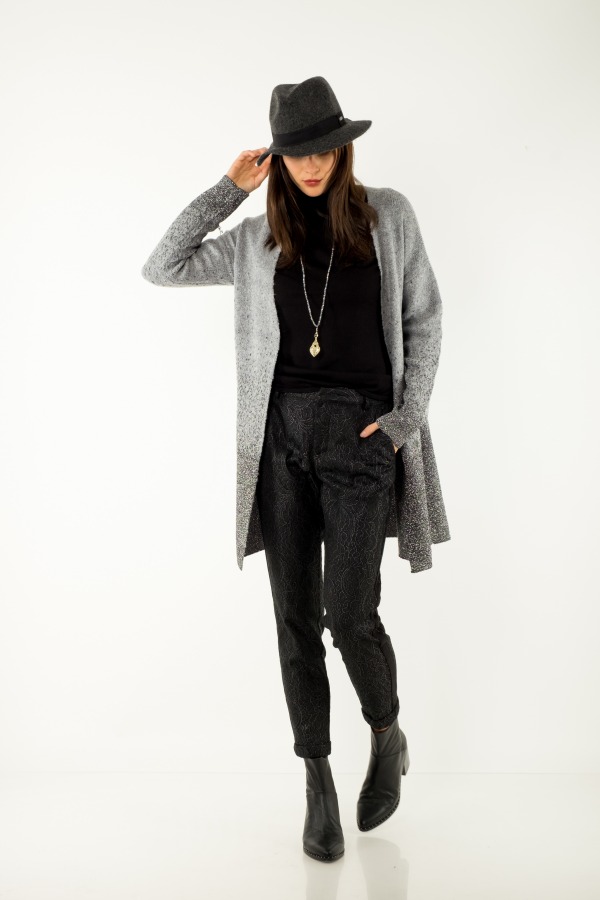 It really takes very little, even during the winter to create some style. Above noted, all that was added was a hat. On my way to work this morning, I noted a woman with a lovely fitted coat, a hat and riding boots...simple but such great style. For fear of looking like a crazy lady on a bike, I didn't stop to tell her how great she looked. (that should be one of my new years resolutions-if it looks good-tell them)!
Kaffe open cardigan now $59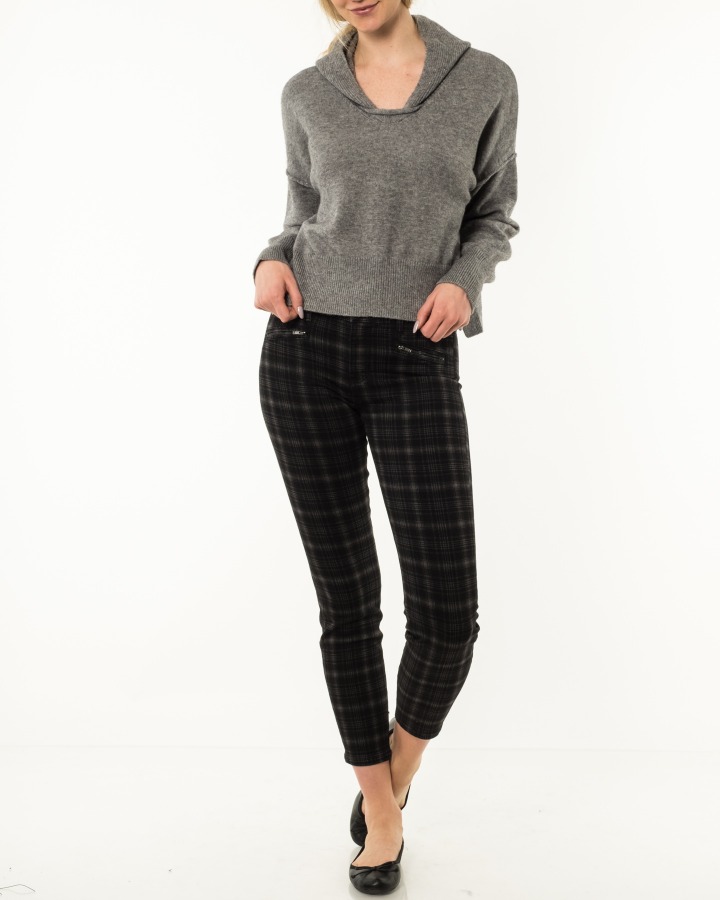 Who needs hats or umbrella's when you have a hood! A nice boxy fit, slight side slits and as I mentioned...a hood. Great as above paired with the cropped pants but also a good contrast with a maxi skirt and boots...add a jean jacket for another layer. And grey, another wonderful neutral that goes with everything!
RD hoody cropped sweater (grey) $34
New Years resolutions are far from a new phenomenon! According to history.com the Babylonians thousands of years ago were said to be the initiators....THANKS!! During a nearly 2 week celebration they would make vows of change for the better in the hopes the gods would bestow good on them for the coming year. Or Clergyman John Wesley who in 1740 created the Covenant Renewal Service on New Years Eve or New Years day. However, in current times, we don't need to answer to anyone but ourselves. I myself aim to organize my very carefully curated casual knit top emporium (aka: pile of t shirts)...although it might be easier to start a sweater emporium!
Yours in Fashion passion...
Suzanne M.
Last years resolutions list:
....buy more shoes, buy more dresses, buy more t shirts
...this years resolutions...don't follow a list follow your heart!
DONE!
... read the full post and reader comments