UNTIL SUNDAY DECEMBER 2 - SALE ITEMS ARE AN EXTRA 25% OFF...
NEED I SAY MORE?
I.C.Y.M.I. (in case you missed it), acronyms are the new pencil! Our time so limited, we can't write full sentences. Imagine trying to explain this (and Twitter) to a distant ancestor, plowing a field, dawn to dusk. So, what was once secretarial shorthand, is now common language. Be right back is condensed like an accordion to BRB, IDK means I don't know; other favourites include LOL, OMG or TBH (to be honest); And did you know, everyone's old favourite...O.K. said to originate from a tongue in cheek piece in an early 19th century Boston Morning Post article on grammar, referring to 'oll korrect'? So, in my mind jumpsuits are like the acronym of the wardrobe. Why bother with a top and pants or skirt when one garment will do. However, perish the thought they should be relegated to casual times or don't represent fashion. S.F.Y. (see for yourself-I made that up)!
I tend not to be the sort that goes for one garment, rather prefer to construct a look. However, one can certainly create a look with jumpsuits. On the left a more casual, layering with the turtleneck, a scarf worn as a sash, and a pendant. On the right a more upscale chic, paired down look, with a simple necklace, understated earrings, a clutch and dynamite, sexy shoes.
Lani capsleeve jumpsuit (black, teal or mocha) was $75 now on sale at $52 (with an additional 25% off - it will be $39 until Sunday-IN STORE ONLY AT THIS PRICE)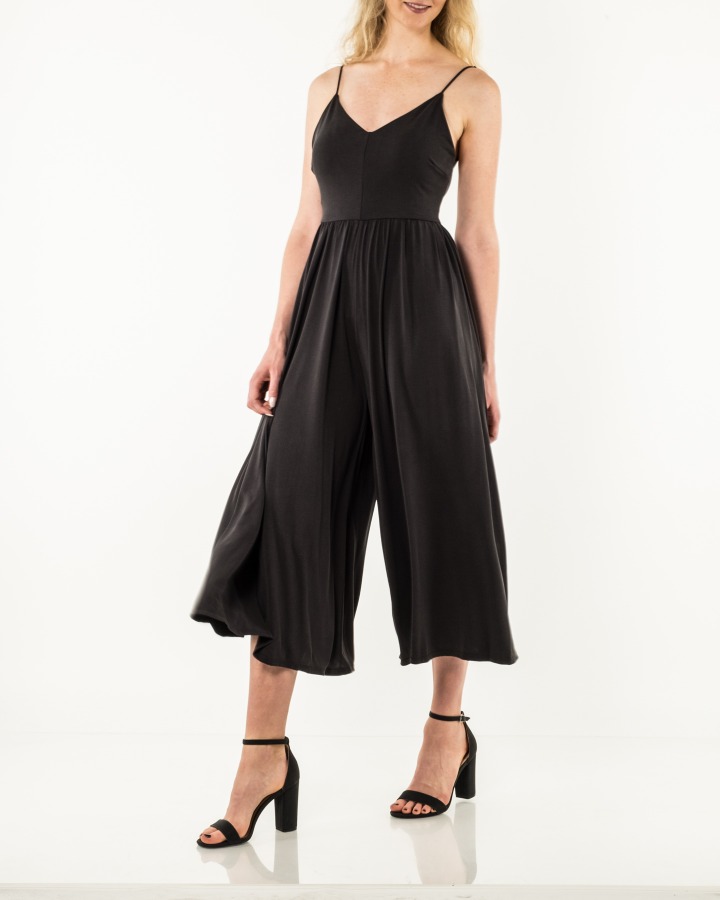 If you prefer a bit of coverage, here are some ideas. For a somewhat more exotic look, try adding a kimono. If you bought one of the above shawl/vests or a jacket during one of the recent promotions, try the jumpsuit with one of them. With the shawl/vest an idea is to close it up and belt it. And the open front jacket adds a slight bit of definition to balance the bottom of the jumpsuit.
Wasabi + Mint criss cross back, cropped jumpsuit (black) $75
KW floral print kimono (black) $59
KW oriental floral kimono (black) $69
Look by M basic shawl vest (8 colours) $69
Soya Concept drape front jacket (ruby) $95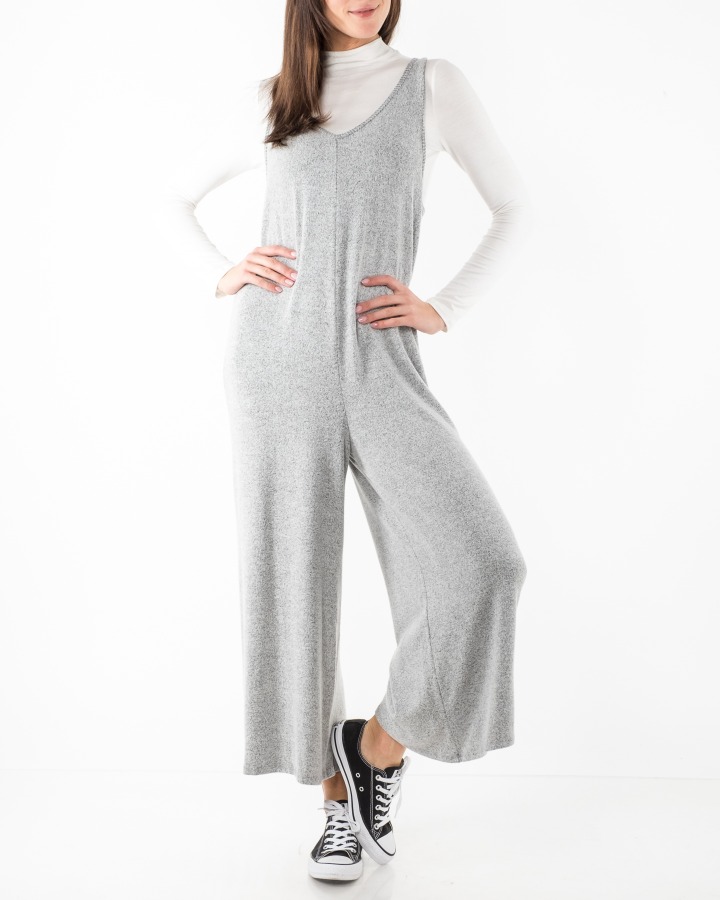 This is such a super soft, cuddly version, perfect for hanging out, running errands or....cuddling!! Perfectly layered with the turtleneck and if heading out, add a jean jacket and scarf. Yes I realize that it means practically disrobing for bathroom trips, but it's a worthwhile payoff for the ease of movement. And let's face it...it's just super cool and easy looking.
Double Zero fuzzy jumpsuit (black or heather grey) $69
Another layering option if seen recently is adding a top or sweater thus resulting in a look of top and bottom; your jumpsuit has now just converted to pants.
Wasabi + Mint cross front jumpsuit (black or burgundy) $69
B.Young flower sweater (purple/orange) $99

It feels as though we're moving in a direction as a society of 'less do, more think and talk'. I envision a time in the future, we'll have devices that can scratch our noses for us, because, you know, our hands are just too busy typing. As you might have guessed, I'm rather a big fan of words; written out in full on paper, on a screen, in a book or even on a clothing label...ETC!!
TTFN
Suzanne M.
"I may have grown up in the age of Aquarius, but I'm growing old in the age of the acronym" ~ Roy Peter Clark
... read the full post and reader comments