I'm so excited! The figures are in for Plum's WHITE NIGHTS SCARF campaign from 2018. Almost Five thousand dollars from the purchase of the white scarves will go to Dress for Success. What an incredible win/win/win. You bought a bright scarf for yourself, you lit up the streets with your beautiful selves, some of you bought multiples for many people and in doing so, donated to Dress for Success. This organization, for over 20 years, has made global efforts to empower women to make safer and better futures for themselves. And Plum has been a proud sponsor since it's inception. How great does it feel to be part of this! Now let's look at another bright side...of fashion...for going away somewhere sunny, or for our soon to be spring. Or just because!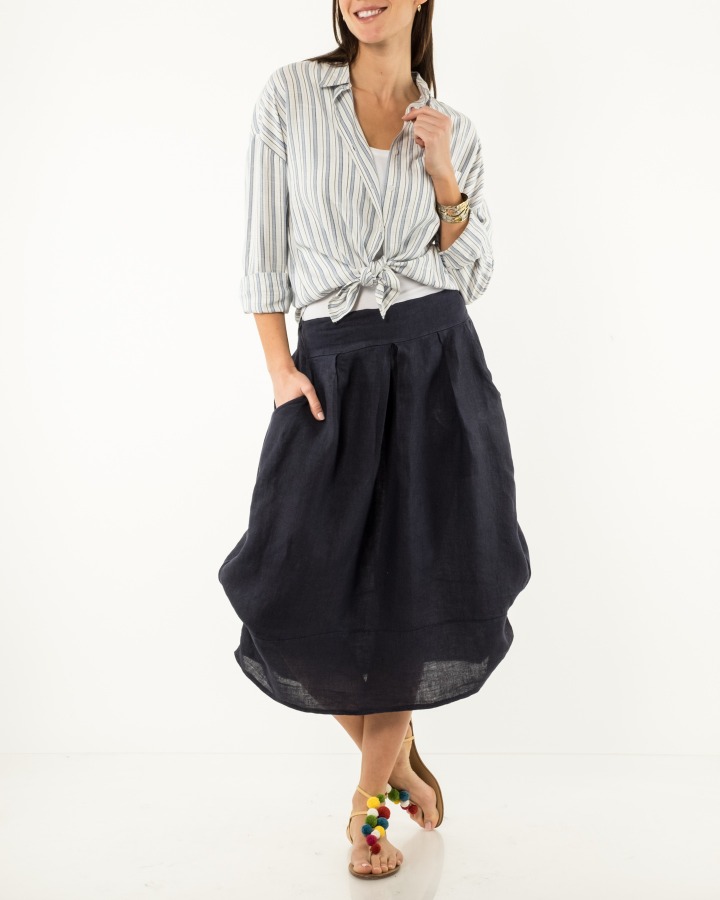 A carefree, breezy combination of very cool pieces that are sure to contribute to your relaxation. 100% linen skirt, with a very simple, pull on, knit band; sure to create the effortless, function and style we need on vacation. The shirt is perfect for a bit of coverage and flows well with any wardrobe.
M adjustable side linen skirt (sand or navy) $65
Always and Forever stripe viscose shirt (3 colour combinations) $59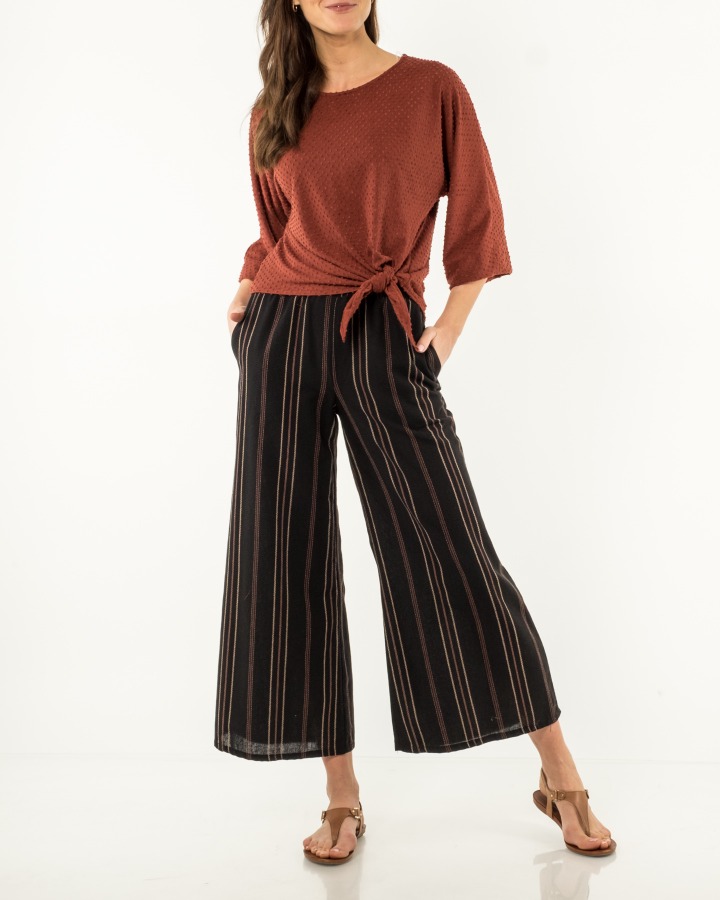 I LOVE this look. Firstly, it's chic...it's light hearted and fresh (the stripe pants are a nice move away from solid bottoms), easy and comfortable, perfect for the warmer climates. BUT there is no reason you can't wear this now. Throw on some boots and for a casual look, a jean jacket... but for work, a blazer or long cardigan! Terrific transitional combination.
Final Touch stripe palazzo pant (black stripe) $85
Final Touch knit textured tie front top (mustard or rust) $59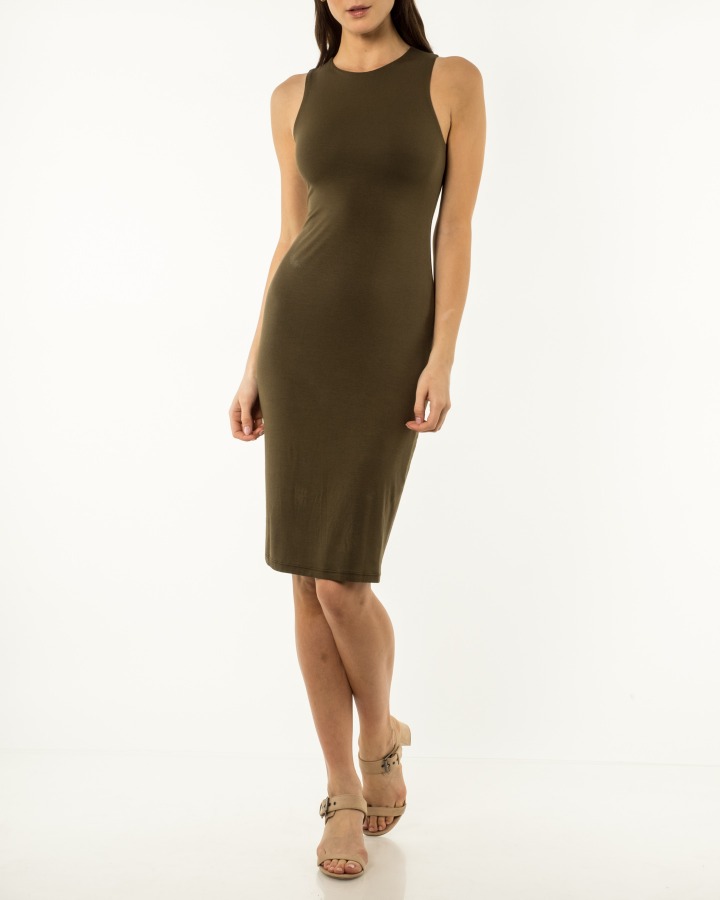 HOT...HOT..HOT...but in a tasteful way! ;) Another perfect for now dress; all that's needed are layers. Add a cardigan or blazer and knee high or equestrian style boots. The neckline cries out for an eye catching necklace, pendant or even lively scarf. But if it's a southern bound trip you're taking, it provides a soft stretchy fabrication and rich, compelling, neutral colour to coordinate with multiple other shades. Terrific worn with a flowing kimono.
Final Touch high neck lined knit dress (black or olive) $89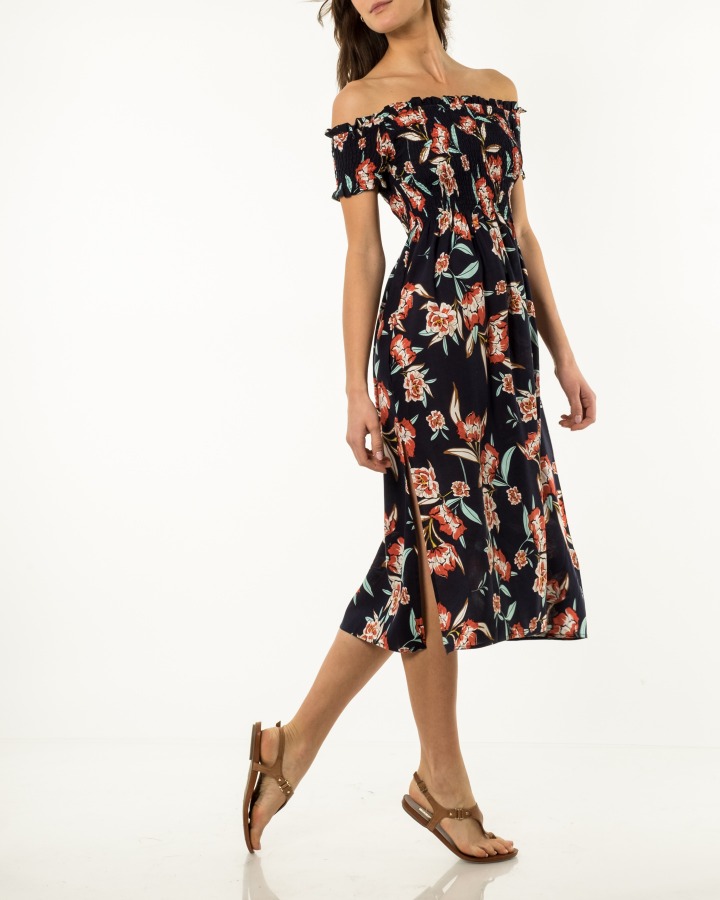 Just an excellent, go-to dress for an all inclusive to Mexico. Lots of shirring on the bodice to accommodate whatever size your 'girls' are, a flowing skirt and side slits...for...dancing...dashing or chasing...you know, children! ;)
Spencer + Shaw off shoulder dress (navy/sunset orange print) $106
These pants are EVERYTHING! A perfect marriage of style and comfort. Linen with a knit top band and an excellent, easy leg width. OR a pair of Bermuda shorts, and if you prefer them shorter, simply cuff them up. Just enough stretch to make the pull on factor effortless. Both come in a variety of neutral shades.
M linen knit waist pant (black, navy or taupe) $75
Jag Gracie bermuda short (black, stone or white) $74
Bear Dance 'cat with glasses' t shirt (black) $35
Michelle Melrose v neck t shirt (5 colours) $39
Great when you can take part in something where, you gain something for yourself, it lights a fire in your soul and helps someone else! Like playing the slots and winning. But life isn't all about our clothing or how expensive they are. BUT what's wrong with looking good? My husband tells me my kids are dressed too nicely. Really? I purchase most of them from thrift stores but, I need not buy the fully pilled and holey garments, after all, that will be something they will easily accomplish!
Yours in Fashion passion...
Suzanne M.
Dress like you're going to blog about it.....(honestly I was unable to locate the source of this but couldn't help myself when I came across it)!
... read the full post and reader comments