COATS!! 60% OFF? This is definitely a deal I can get myself into. I'm not one of the lucky individuals avoiding winter! Although, you do have to brave the elements to find them. IN STORE ONLY!
Do you sometimes think we will see a day where winter will no longer exist? Perhaps not in our lifetime. Some of us escape the grayness of the season during these dreary months by heading south. You therefore, will need to get prepared by exhuming the summer wear. And while we all make our individual attempts at conserving, reusing and recycling, at times, we find the old tank tops are just not possible to resuscitate. And when you discover which of your seasonal favourites just can't make it through another season...enter Plum to the rescue! With an extensive collection to help you replace the out of season wardrobe. Sometimes, one or two things is all it takes to refresh the look!
Maybe you're looking to pack skinny!! You know, very few pieces, carry on only...above, a few fun loving, light hearted t shirts, flowey linen pants, a pair of shorts and a kimono. All of these can likely integrate into your current pieces nicely.
Bear Dance Bonjour pug t shirt (black) $35
Bear Dance cats doing yoga (burgundy) $35
Made in Italy linen cropped pant (black, white, light grey or taupe) $95
Jag Ainsley Bermuda short (grey, jungle palm or navy) $69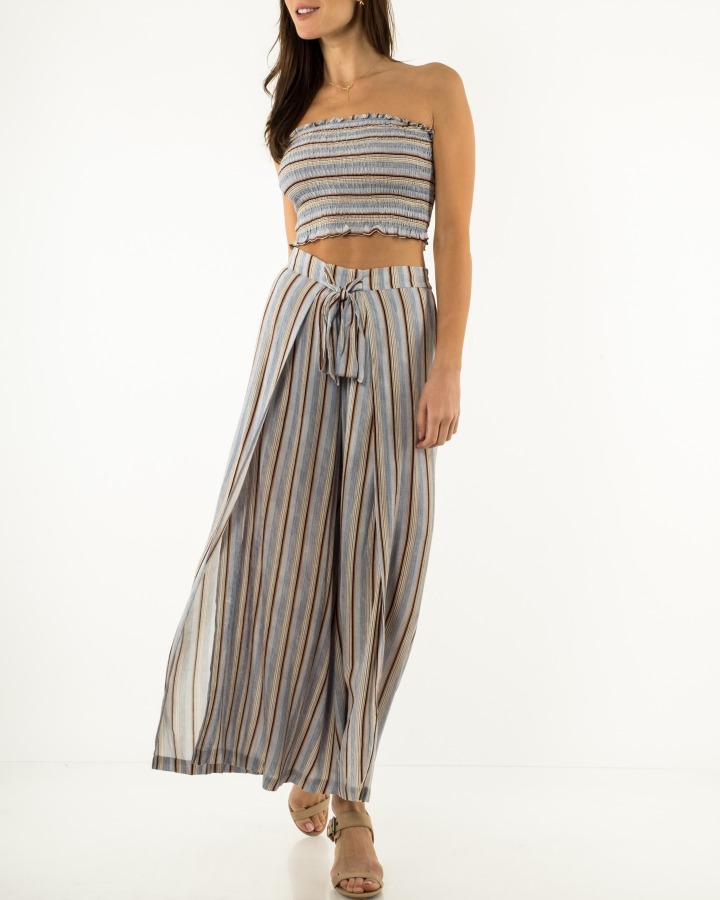 OR...maybe you just need one, head turning outstanding outfit! I'd say this would do the trick! Two pieces that can also be paired with other coordinates, which creates an extension of your wardrobe in a very flowey rayon. Or add a shrug for cooler nights. (pieces sold separately)
Cotton Candy stripe bandeau top (blue or taupe) $28
Cotton Candy stripe Palazzo pant (blue or taupe) $79
Dresses are often the ones we reach for when on vacation or heading to a warmer climate. They're easy, feminine and easy to pack. Above the yellow is just so sweet and pretty and the nude shade is a great neutral for matching with other things, like a shawl or sandals and other accessories. And note the gorgeous back designs!
Spencer + Shaw tie back dress $128
Doe + Rae cutout back sundress (blush) $89
Another great addition is the ethnic look top. Loose fitting and light. They go with so many other things from shorts, to skirts, to jeans.
M embroidered cotton blouse (white/navy) $70
M embroidered open shoulder blouse (white) $90
Climate change is just something we must face, it's here to stay and for us to fix. Although we feel it's a current phenomenon, two hundred years ago, when Mary Shelley's 'Frankenstein' was published, her husband Percy, wrote of the earth's perceived dire state even then in his poem 'Mont Blanc'. So, this is perhaps not current news. Just something we must again revisit...like last years wardrobe!
Yours in Fashion passion...
Suzanne M.
"Global warming isn't real because I was cold today...also good news, world hunger is over...because I just ate!" ~ Stephen Colbert
Many more out of season wear to check out. Head into a Plum location and as staff to direct you to the collection! Lots of options in the webstore and more in store! Enjoy your travels! ... read the full post and reader comments