What does it take to design a gorgeous dress like this one? A lot of creativity, skill and a superior eye for fashion. I asked Plum's designer Claudia "What was your inspiration for this dress"? Her surprising answer was..."It started with the fabric, I loved the strong hounds tooth pattern of this print and the weight and texture of the fabric. I wanted to do something that looked somewhat tailored but was comfortable and easy to wear." I'm sure the inspiration for your own creative endeavors is also something unexpected (a colour, a food group, even a person)... And yet another one of Claudia's many great talents, is in the unique details of each of her designs. Details that help give unique definition to your look.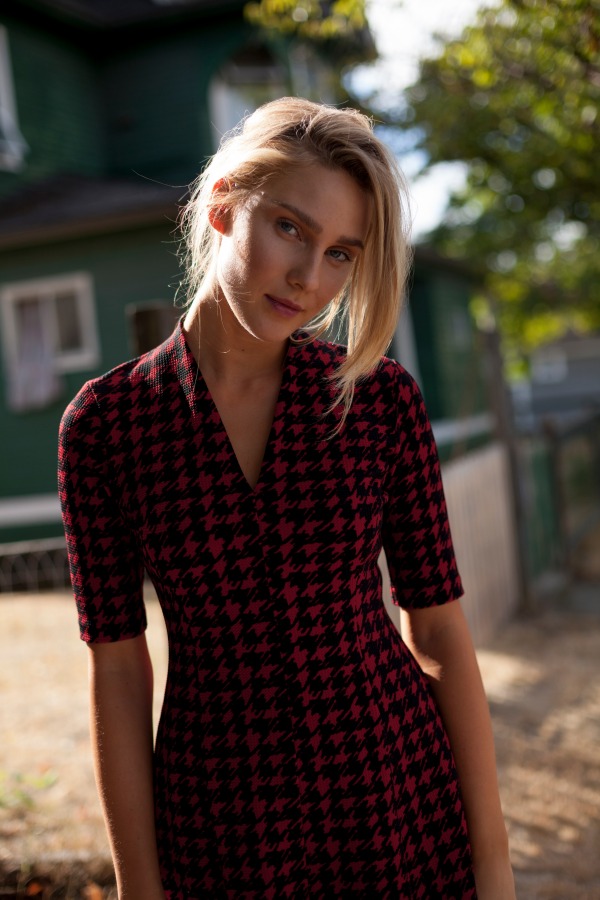 This is really a sweet little dress with a hint of retro, given a bit of punch by the exaggerated hounds tooth print. A very functional fabric, with a sculpted looking cut, but very cute and fun at the same time. Try it with tights and booties or a kitten heel. Add a hat for a bit of a funky look.
Simone short sleeve A-line dress (purple or red) $129 now $98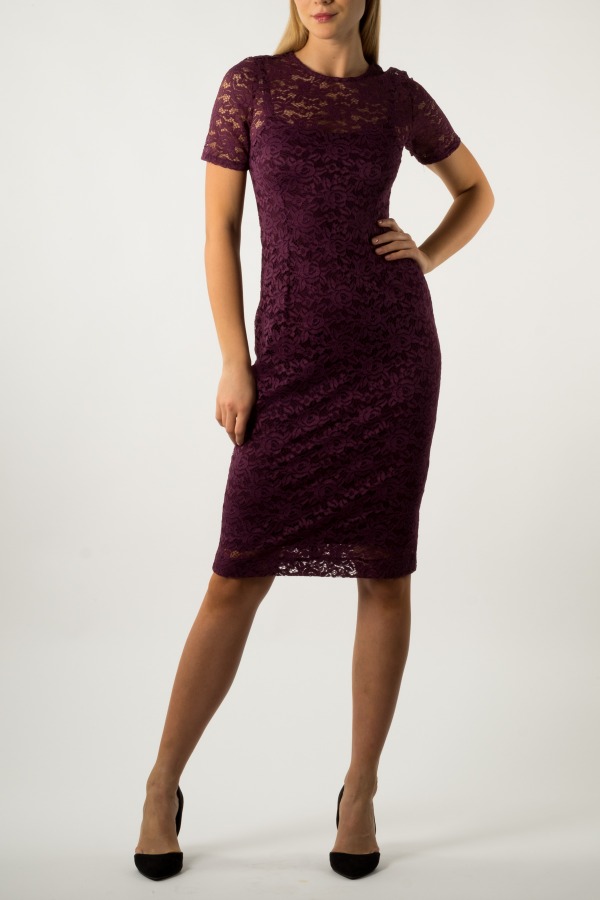 Do not even try to talk yourself out of this one. I certainly won't help you because I could barely contain myself when I saw it. This is a dress that is so sexy and fits like a dream, yet by no means is too risque or impedes movement. And don't let the stretch lace fool you into thinking you can only wear this for a Christmas party...Try it with the new embroidered bomber jackets or a distressed jean jacket, add Cuban heel boots or skin tight, knee high velvet boots for a 'date night' look.
Simone lace sheath dress with slip (black or plum) $169
The colour of the season is a deep wine, burgundy...or Plum ;)...The Simone dress above is such a fantastic innovation. Comprised of a knee length tank style dress with a flowey, arc shaped, pleated back, over top. Wear the tank dress on it's own, wear the top on it's own (perhaps with a high waisted pencil skirt) or wear them together, ultimately giving a subtle, goddess like, look.
Simone tank dress with layered top (black or Plum) $149
More than meets the eye! At first glance, this dress appears to be a simple, unstructured knit...which it is however, there's more to it. A beautiful, light knit and sweet ribbon tie back, apart from the feminine touch, allows the wearer to ever so slightly alter the length based on how tight the back is done up. So ingenious!
Simone flared dress with tie back (brown or navy/magenta) $110
Given that most of us cannot afford our own personal couturier's, Claudia designs with form and function in mind, her designs are as close as one could come. Her ability to always incorporate what's practical while never loosing sight of what's interesting and fun makes her designs work for everyone. And in her words "you cannot underestimate the importance of comfort". I'm only grateful she doesn't also design shoes or I'd have to live in one!
Yours in Fashion passion...
Suzanne M. ... read the full post and reader comments