SUPPORT BIG SISTERS WITH PLUM
(+get a chance to win a $350 GIFT CARD).
I know the importance of big sisters...I'm fortunate to have three!
Let's help Plum make it happen for a little girl!
Que sera sera...Ah, the weather, like the ex...forever unpredictable and unreliable! Oh! Were you thinking of Doris Day? Of course you were. Having appeared in 38 films in her career, Doris Day who died recently at age 97, was well known as both a singer and actress. But let's not forget her girl next door image and the freckled bright smile that was pervasive in her films. Her fashion image, perhaps not always one she loved, was one of clean cut, pristine and fresh. But it was a look that she mastered and will frankly never go out of style. Unlike the weather, it's consistent and easy to procure. Let me show you a few modern takes: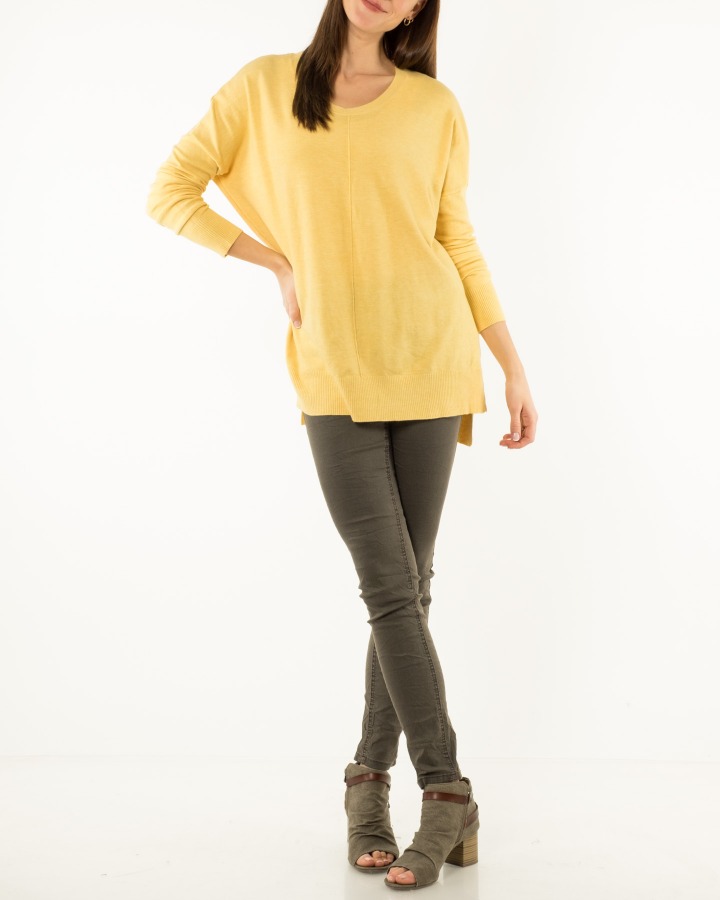 I'm fairly convinced that if Doris were a young woman today, she'd likely opt for a similar look. Simply fresh and sporty, at times presenting a tom boy image (Calamity Jane). However, maybe she'd wear saddle shoes...does anyone remember those? First introduced in 1906 by Spalding, designed and intended to create added reinforcement at the instep, for indoor sports; they quickly gathered steam and popularity over decades that followed.
Dreamers v neck pullover sweater regularly (6 COLOURS) $75 until Monday May 20 $55
The sweetheart look, was an image I'm sure she grew weary of over the years, perhaps because of not wanting to be tied to one image. Regardless, even today, it's easy if the goal is to look pulled together. A look represented by minimal accessories, precise makeup and very well coifed hair. I'm sure I'd sooner find myself a world class, medal winning Olympian before I could pull this off, lovely as it is!
Bandana, heart necklace find in store ~ selection may vary by location
Motion embroidered t shirt (oatmeal) $55
Soya Concept skinny pant with bottom zipper (army or powder pink) $135
The dress on the left is indicative of a style and fit that would have been common to see on women of her era, very fitted and defined. Timeless, effortless chic, and perfect for a professional setting. While the dress on the right is just a sweet, simple summer dress, complete with adjustable spaghetti straps and a shirred back panel.
Spencer+Shaw capsleeve dress (black herringbone) $119
Spencer+Shaw fit and flare dress (red/white) $99
Today's version of yesterday's pedal pushers is the crop pant (on the left). Perhaps she would have worn them with ballet flats or even penny loafers...the penny is gone but the loafer remains! Oh but I digress (as I often do). And to the right another sweet fresh, summer pick, distinctly feminine, yet simple.
Cream front seam slit pant (corn yellow or white) $109
Dreamers gathered back dress (multi stripe) sale price $65
Find Plum's hats in store ~ selection varies
Joseph D'Arezzo large round wicker shopper $59
Hats were also a key part of her image, from straw hats with a quaint flower bunch to pill box to dramatic wide brims to leopard print designs. They will never go out of style, it's merely a matter of what suits our face shape and what we're drawn to. And of course one of the hot trends of the summer is the straw bag.
Doris Day represented an era that was full of restrictions and fairly well defined expectations of women and society in general. However, the style itself should not be overlooked, as it's freshness and ease endures and emerges as a steady consistent uncomplicated look each summer.
Yours in Fashion passion...
Suzanne M.
"As we journey under our individual umbrellas, we should not forget, we all share the same sky" ~ Doris Day ... read the full post and reader comments