LINEN
LOTS of great selection,check them out instore and online!
Until July 1, 20% off the regular price linens
(try the search field-find a linen style that's you)
I am now in the upper section of the human age range, more specifically (I'm past the Wednesday of our human lifespan if you will...like...I'm at Wednesday evening!)! I truly applaud those of you who found your fashion vibe at 40, 30 or heck...12! You over achiever you! Because I finally found mine! It seems the fashion era and society's wider acceptance of all, has certainly helped it come together for me. I finally have an up to date hair style and enough shoes for an auditorium full of people (the parentheses of a 'look')...mind you, they'd all have to wear size 8! And I now love jeans, as apposed to back in the day when I dreamed of a great fitting pair (perhaps I should have dreamed bigger)! But what about you? Have you found your look/style/vibe...UNIFORM!? A very simple way to get a great look that says 'I got this fashion thing worked out'...one word-LINEN!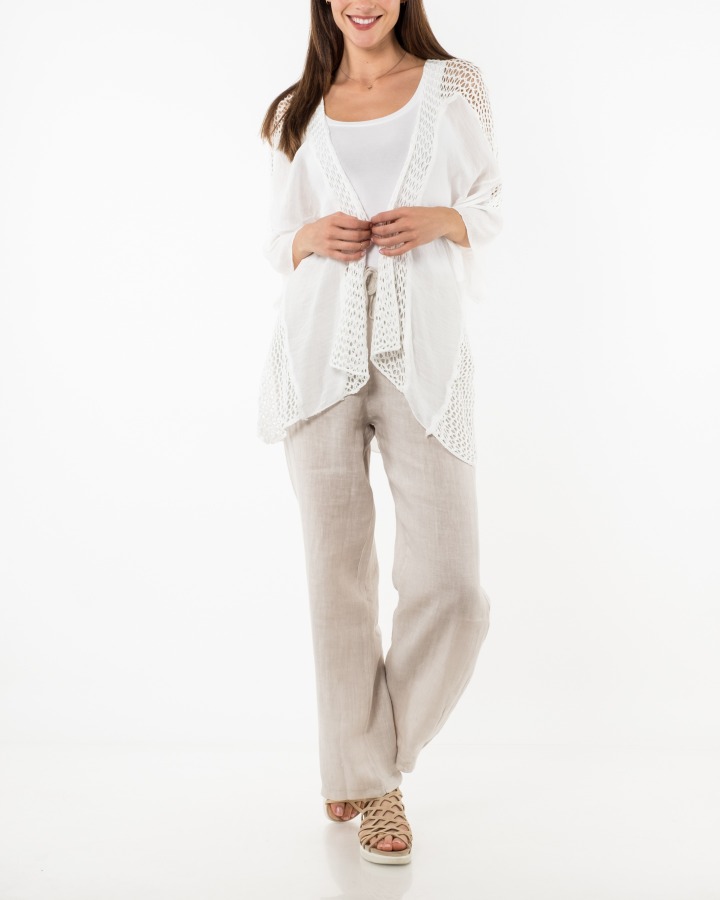 I find this so angelic looking with the fresh, light, clean tones with a bit of pattern and open work in the kimono/sweater! I couldn't look angelic if I sprouted wings and a halo! But that's ok!
M Linen pant (blue, olive or sand) for 5 days to July 1 $52
Millibon crochet and woven kimono (black, white or taupe) $75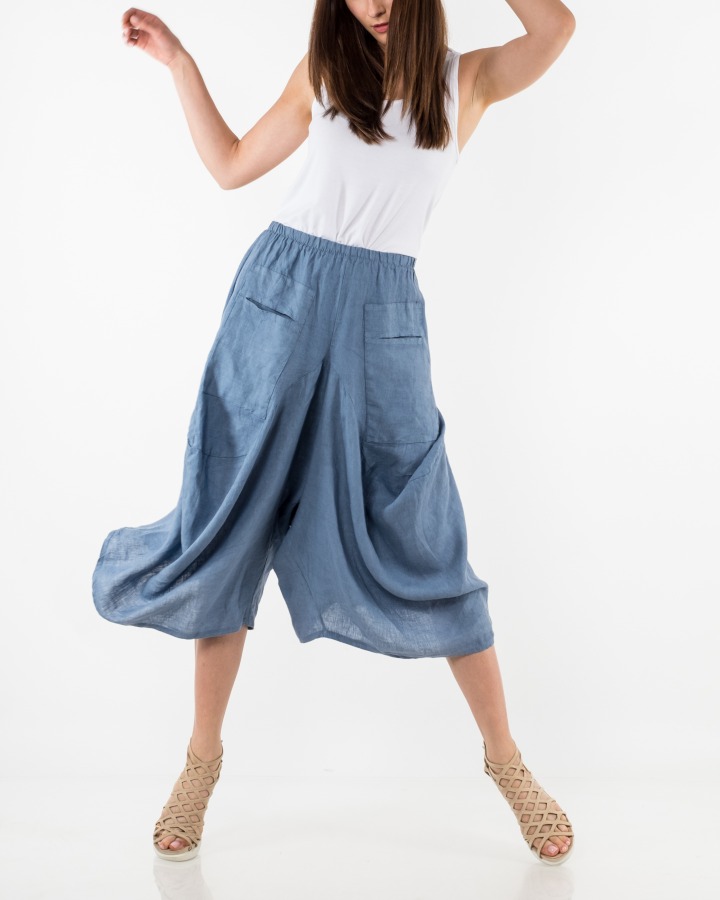 Here's a unique marriage of a skirt and wide leg crops...complete with pockets and a comfy, stretch waist. With the flowey drape of linen, it really gives you the look of a graceful dancer....for sure you...not me!
Mio Meli Gaucho linen skirt/pant (black, denim or pink) until July 1 $88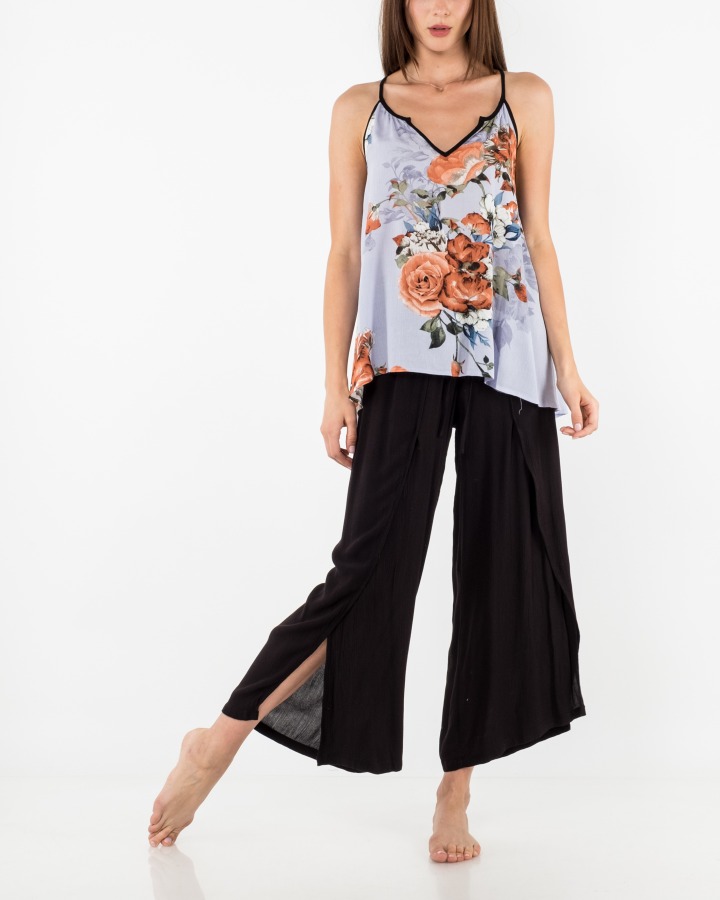 Linen has a look of 'I'm so well to do, I'm only passing through your neighborhood on my way to the airport to fly to Lake Como to have lunch with George Clooney'...or something like that! I'm imagining that's all he and Amal wear all summer, especially during this scorching European heat wave!
Cream drapey pant (black) until July 1 $75
Millibon large floral print shell top (lavender or yellow print) $49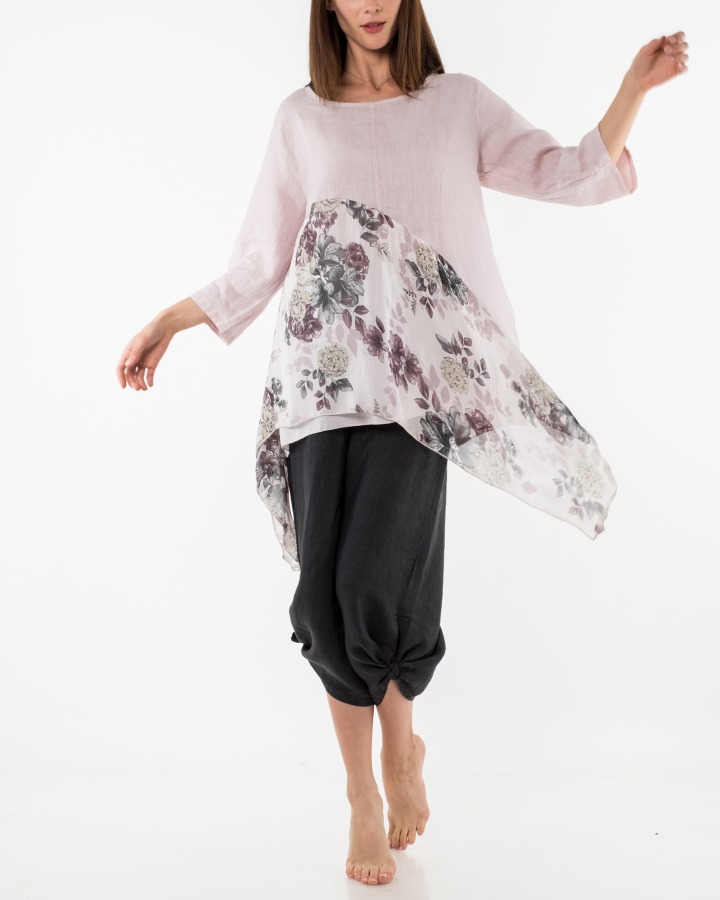 Perhaps you're the creative type. All they've done here is knotted them in the front for something different, or maybe a stroll on the beach.
Mio Meli rolled sleeve linen top (pink, silver or white) until July 1 $88
Mio Meli pull on linen pant (6 colours) until July 1 $76
And if you belong to the ONE-AND-DONE crowd, this big trend is you! Made of linen/cotton with side ties for a more cinched in silhouette and a gorgeous back design. Did you forget your top? Heaven's no, it's fine like this BUT if you'd feel more comfortable definitely layer away!
HYFVE linen/cotton jumpsuit (oatmeal or rust) until July 1 $71.20
While finding your look will not change the course of evolution, it can be as easy as tapping into your emotional and fashion comfort zone...as in... 'I only wear jeans and t shirts' to 'I need a new look and hair colour monthly' to my personal morning... 'old bathrobe, disheveled hair, on the sidewalk yelling at the kids, on their way to school' look....and YES THAT'S A LOOK (unfortunately)!
Yours in Fashion passion...
Suzanne M.
Remember: Every time you get dressed...If you die, that's your ghost outfit forever!! ~ unknown
... read the full post and reader comments