Wanting to look more sexy? I don't think you need to wear clothes so tight that your blood flow is restricted to be sexy! It's being comfortable with yourself, in your clothes, in your own skin. If sexy to you is how plunging your neckline is, well, that's ok too...but it doesn't have to be. What's sexiest is confidence and an overall self assuredness! Linen provides this general, sophisticated cool appearance, that few other fabrics can...and ultimately makes you look like you could rule the world. I know you know this already....just reminding you! You're already pretty hot!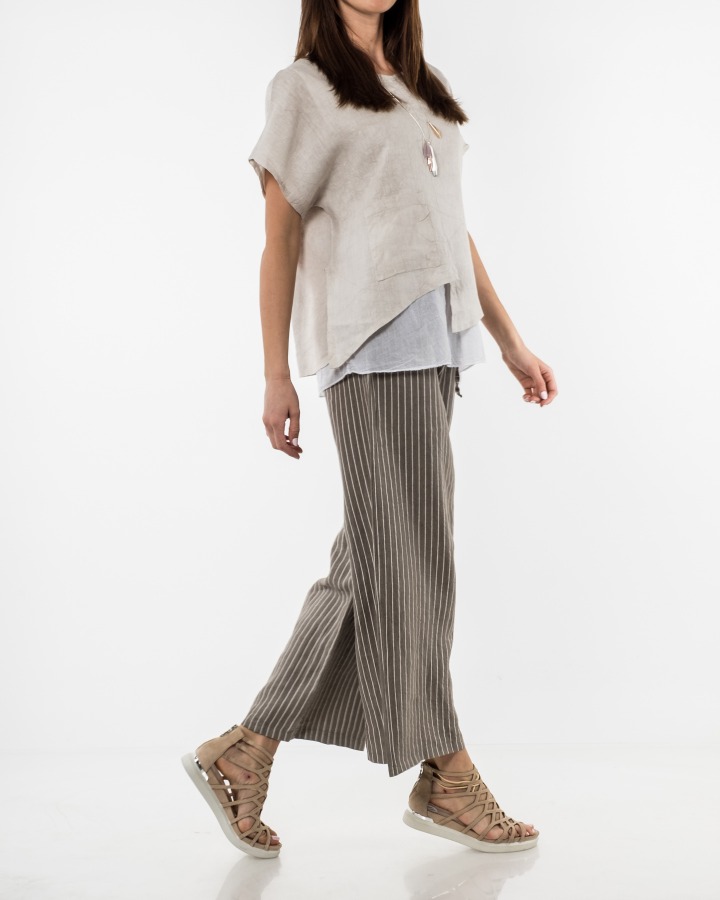 So...why is this sexy? Well, it's not the classic, 'bending-over-to-pour-a-glass-of-wine' for someone while the girls are in plain view' kind of way....more of a cool, fresh, classic, confident kind of way. Like you just strutted off your Italian villa, on your way to buy fresh groceries for your evening dinner party...an ease within yourself-way (really you're just going to pick up the kids). Linen is very often sought after in warmer climates for it's incredible breathability, durability which soften's with wash and wear over time.
Mio Meli double layer blouse (beige, denim, navy or pink) $105
Mio Meli stripe linen pant (denim, pink, taupe or white) $115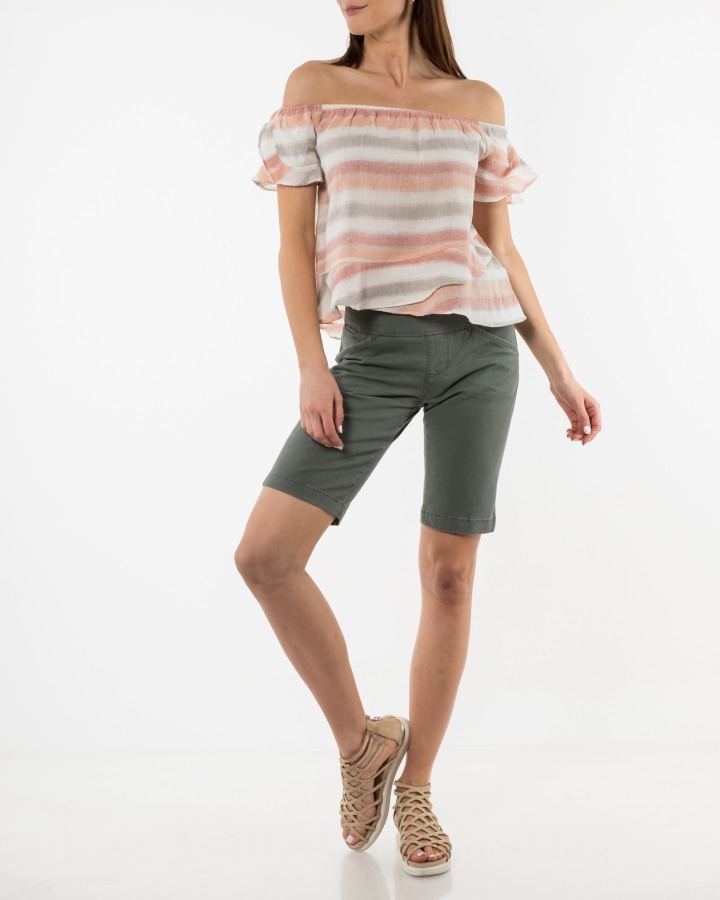 The above is a far more provocative presentation. Although, the off the shoulder look is a perfect look for, well...getting looks, it's also great for very warm climates. This particular top combines cotton with linen, bringing forth the more malleable quality of cotton combined with the strength of linen. Great with a long flowey skirt, a denim skirt and heels or wide leg pants. Some great possibilities.
Ganji stripe linen/cotton blouse (blue/pink) $55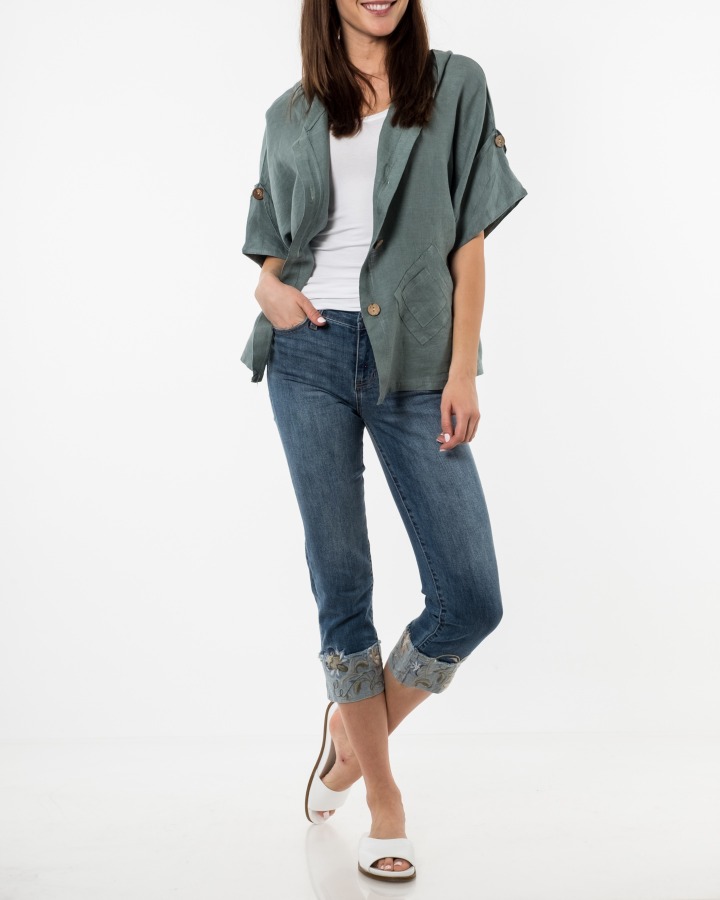 Linen is made from the fibers that grow inside the flax plant. So...it's a grain? So...it's also good for you!? Just don't eat it! But it is a very eco friendly fiber, nonetheless! The beauty of a linen jacket is, no one would accuse you of being overdressed on a sunny day. This is definitely a casual cool look, accentuated with the slides, BUT again, footwear can convert any look.
M hooded short jacket (blue, olive or white) $95
Liverpool embroidered hem jean (denim) $109
Note that you are not limited to the usual oatmeal and sage...with the trousers on the left presenting with a blossoming print, it would be easy to be a bit more bold with complimentary colours and accessories. OR on the right the pale pink stripe, to go with more muted softer compliments.
M printed linen pant (olive) $65
Mio Meli stripe linen pant (denim, pink, taupe or white) $115
Again...in a not so obvious way, this look is everything you want for warm weather! A very airy, unstructured linen top, which affords you the ability to go more showy and alluring on the bottom...a shorter skirt, skinny jeans and heels perhaps. All the while, linen providing some chic balance.
Mio Meli back button linen tunic (olive, taupe or white) $109
Perhaps we could expand the view of what's sexy to include men baking bread, people plogging (the new trend of picking up random garbage while jogging), or wait for it....actually talking to people and not burying ourselves in our phones. We also generally don't associate, HOT with 'old' or something thousands of years old! However, linen can certainly invade that category, after all...the way it wards off sweat, that alone has to count for something, or, those 'meant to be' wrinkles...on fabric ('or skin' she said hopefully!) :)
Yours in Fashion passion...
Suzanne M.
"I'm not trying to be sexy. It's just my way of expressing myself when I move around" ~ Elvis Presley (sounds like linen)!
... read the full post and reader comments