REALLY you need to DROP what you're doing and go to Plum! (and online)
TWENTY SEVEN DIFFERENT STYLES of pants to choose from
How could you not find a favourite or two?
Until March 24...20% off a Spring pant with a purchase of any top
(Jeans not included)
online PROMO CODE: SP2019
Theoretically, the smartest people are the ones that effortlessly memorize long passages, clean everyone's clocks at trivial pursuit or earn math degrees. BUT there are infinitely more types of smart! Think...artistic, poetic, fashion, grammatical (that's not likely my category) or emotional intelligence! I'm not sure I associate someone specifically who wears 'pants' as the most intelligent...That being said, if you spend your day chasing toddlers, riding a bike or cleaning the top shelf of a cupboard, pants might be the more clever and sensible choice...but also a great fashion option. Especially this week! And it's the buyers choice! (I let her pick the photos-lol). And I think she did a great job! Have a look: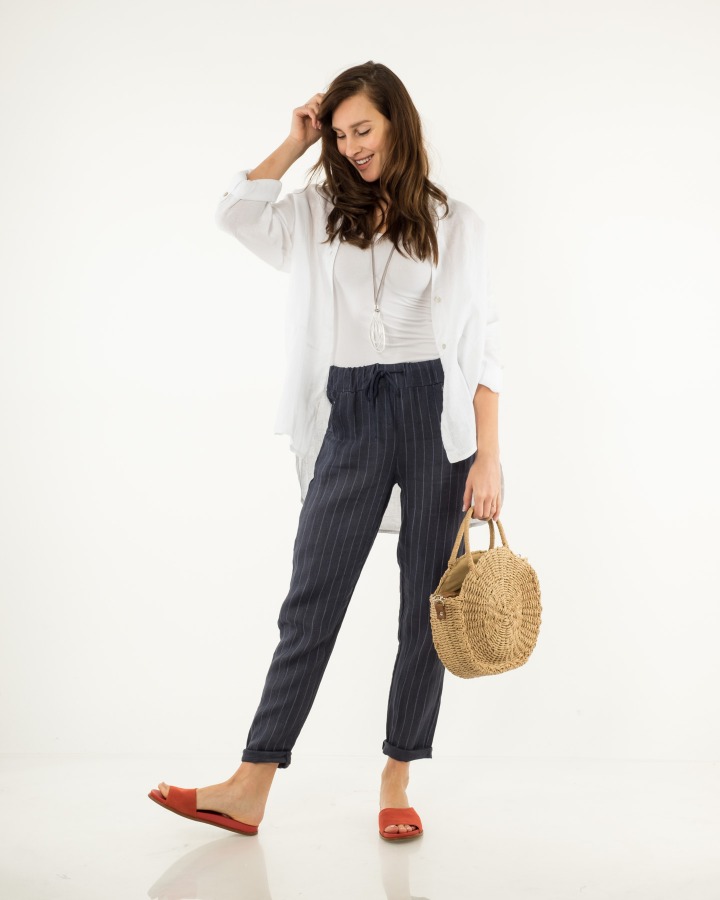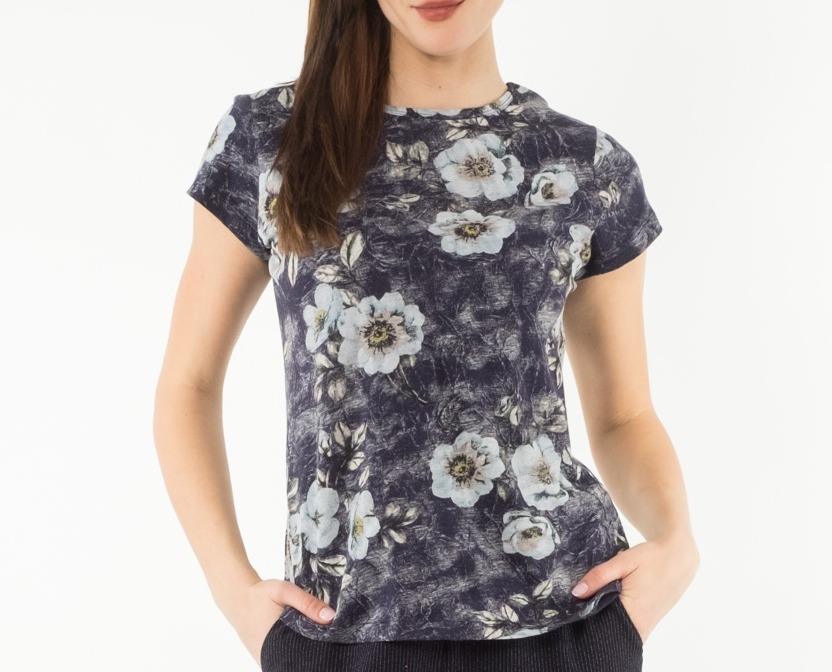 Needless to say, pants, provide freedom of movement but they also offer style options in that they give more ways to change the mood for varied outings! Such as a quick weekend escape. I love printed pants. They provide diversity and distraction from solids. While I greatly appreciate the freshness of the white top, I can also envision this with a print (such as above) and kitten heels! Kate says she likes to up her game with scarves. Another effortless way to add some flair!
M Striped linen tie front pants (navy/white stripe or white/navy stripe) $80
Point Zero slub cotton print t shirt (navy) $45
B Young tank top (6 colours) $29
Made In Italy jacket/shirt (black, pale pink or white) $98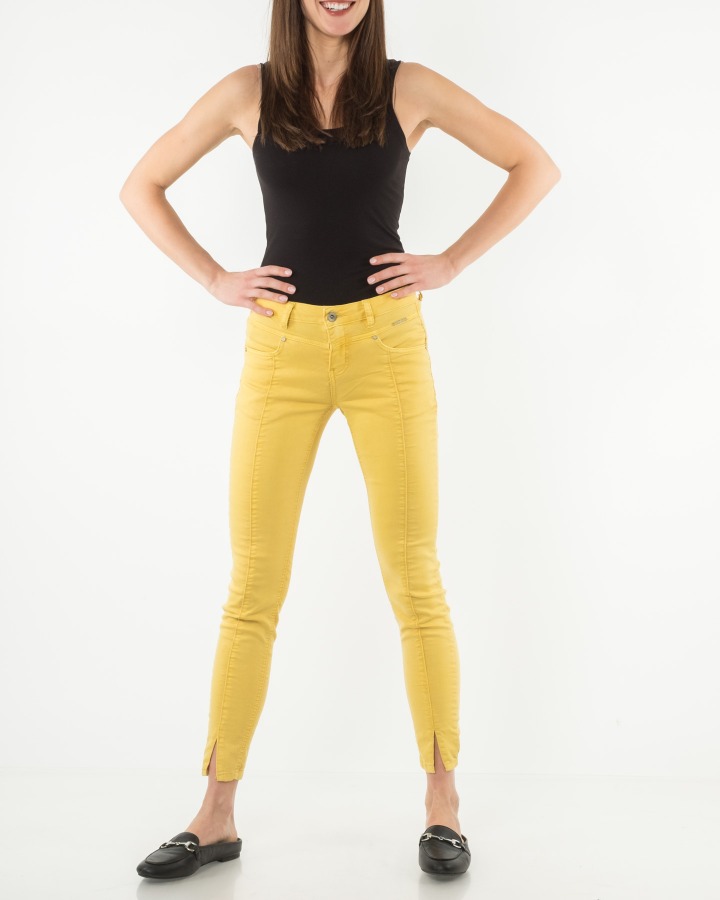 Perhaps these are the proverbial 'happy pants'! Sunny, bright and joy inducing. Like dandelions! The contrast with the black creates a feeling of courage and boldness. Like...I'm sweet but don't mess with me (or spill anything on my pants!). And the addition of the style tweak, the front slits. Trend note: crops are the ultimate garment elect this season. And a great choice they are! Worn with with slides (as above) or cut out booties or runners, easy peasy...And yellow is brilliant (no pun intended) for matching...serving as a basic and thus plays well with any colour.
Cream front seam slit pants (corn yellow or white) $109
B Young tank top (6 colours) $29
The two images above display how (on the left), the same pants can go from a more professional setting to play (on the right) with a few easy change ups. If a cardigan is too informal for your workplace, toss it aside and add a blazer and if need be, uncuff the pants. And what a warm colour invitation to spring.
Jag Carter girlfriend pants (black, khaki or rosehip) $99
Point Zero tank top (pink floral print) $42
Cream long open cardigan (melon sorbet) $119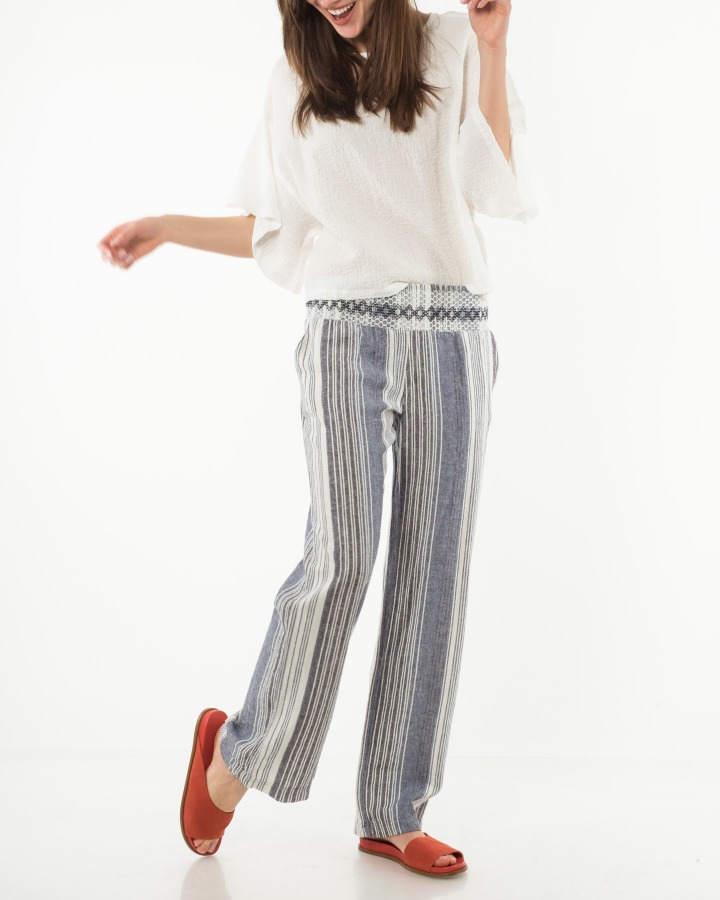 Maybe I'm a bit of a broken record with the print bottoms, but I couldn't resist. They remind me so much of the 70's....you know, when I was 3! (oh the lies we tell ourselves-lol). And pull on...they could not be easier if they went to work for you (actually, you can see they will work hard for you this season)! I digress, these are fabulous pants creating a combination of sophistication, with the combo of the linen and rayon and fun...meaning they dance when you move!
Point Zero striped linen pull-on pant (blue/white) $89
Grade + Gather crinkle cotton classic blouse (black or off white) $69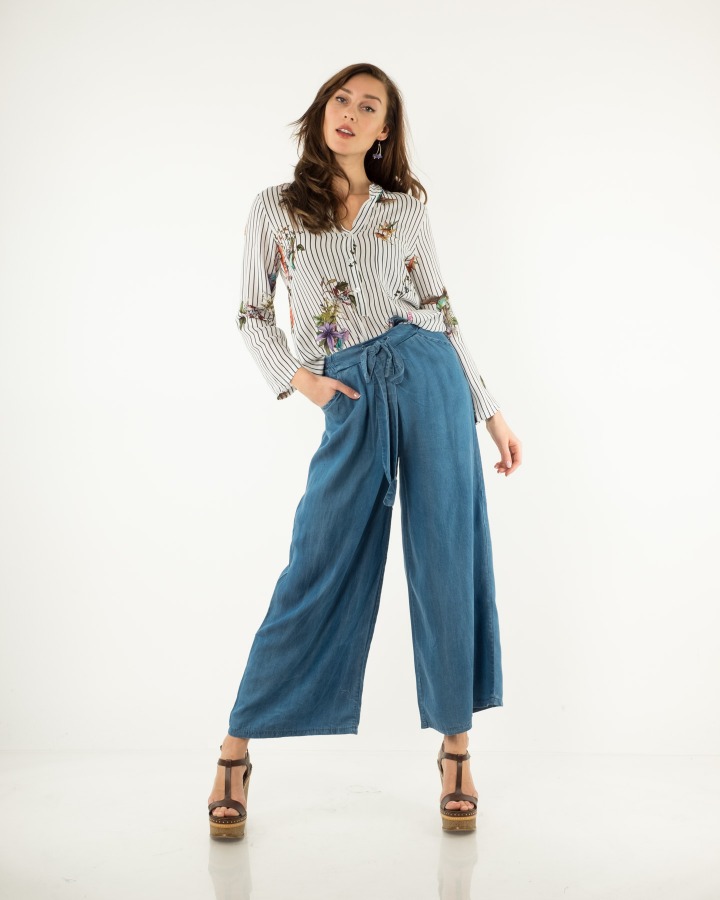 In keeping with the same posh/coolness...we have tencel. A unique fabric that acts like silk but with more attitude and durability. The denim look provides a casual vibe; however, adding accessories can create a more uptown look! And does she not look like John Travolta's dance partner in Saturday Night Fever with those intimidating wedges? I think my head is stuck in the 70's this week!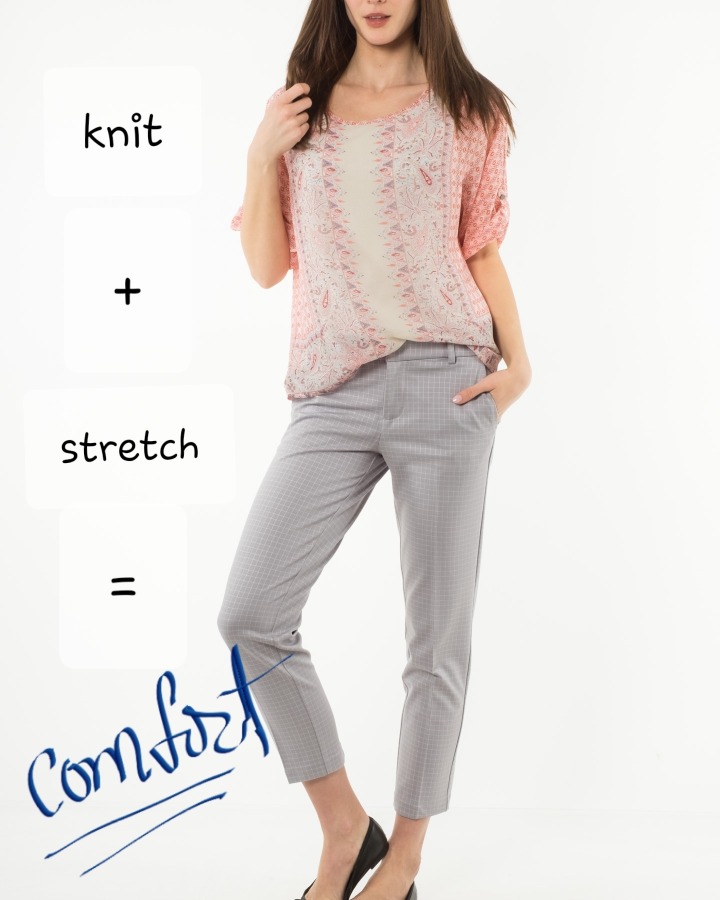 And if comfort is your thing....well, wasn't that a dumb question! In any case, these are the pants for you. Just where have these pants been all our working lives!? Gone are the days where we were stuck with stiff pants with no give! And I'm in love with how they paired the defined lines of the pants with an unexpected, romantic print top. Great contrasting pattern play!
Liverpool knit trouser (grey or black grid) $99
Soya Concept scarf print blouse (multi) $75
The saying 'Smarty Pants'....smarty references back over 150 years and pants...well...as long as there have been pants. The words together, go back roughly 80 years to a newspaper article, where a coach is offering advice to one of his players! OR there's the British version 'Smarty Boots'...but, well...Plum doesn't sell boots!
Yours in Fashion passion...
Suzanne M.
"A man who correctly guesses a woman's age may be smart, but he's not very bright" ~ Lucille Ball
10 days 27 styles, get into it!! Who's the smarty pants now?