~Don't forget about your coupon until April 14~
I admit, it is a macabre introduction into spring and it's efflorescent happiness! Leave it to me, somehow to find this to be somehow a pleasing image, despite it's dark meaning. It's earliest utterance appeared in a letter from a Lieutenant to his regiment in 1915 while he was in hospital. Yet, to me, the meaning of this idiom doesn't fully match the visual. Clearly, when you think that some of the boldest blooms erupt in spring....beautiful things, can come from impurities, malevolence or sadness and pain if bright blossoming lushness can burst forth from...you know...dirt (and manure)! Hope somehow springs eternal. Anyway let's look at some perennial lovely prints to push us forth into Spring and Summer.
This delightful print skirt can totally be paired with a cheeky graphic t shirt, for an even more lighthearted tone. The simple little black and white print, can nearly pass as a neutral, thus allowing it to go with any colour (if you prefer a solid) and other types of prints, like the graphic t or a larger print. Perhaps tuck in the shirt, add a belt, a jean jacket and boots or shoes to suit your mood as well. Just experiment!
B Young button front skirt (black/white print) $89
Bear Dance 'I work hard' t shirt (black) $35
This is a really great casual look. The blush coloured tunic/blouse helps balance the bursting florals. Although if you wanted to go for more drama, perhaps throw on a pair of Doc's and a long cardigan. Pluck out one of the colours from the many on the bottoms. Add a scarf if you need a bit more layering.
Leggings in store only
Ichi long tunic shirt (rose dust or white) $69
Soya Concept duster sweater (rapture rose) $95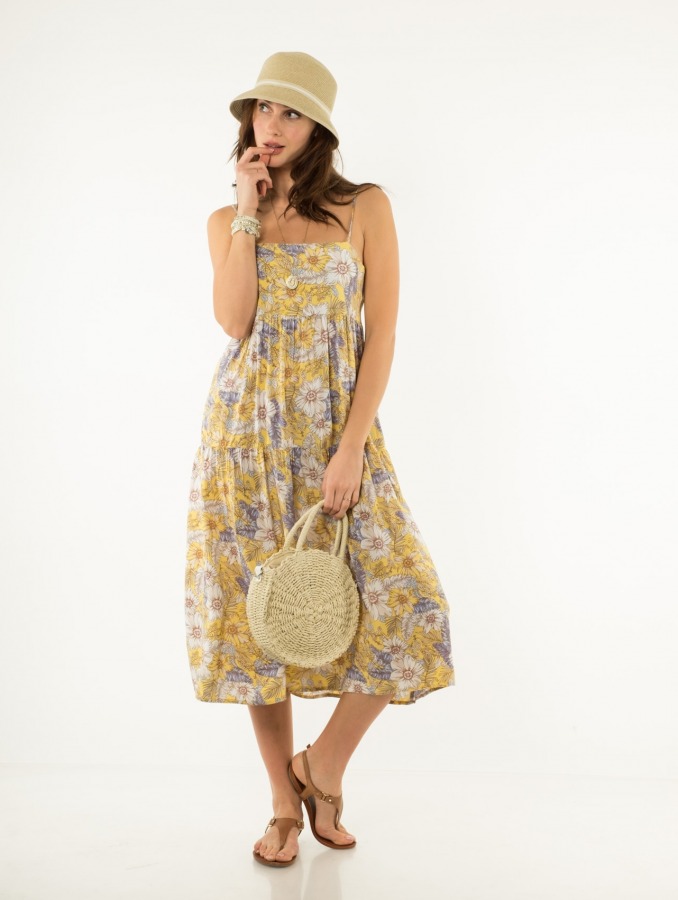 Think about it. Don't you just love the easy, fresh cut of a bohemian style dress for summer? Midi length, luminous, botanical print...put together with a straw hat and bag...Such a sweet, easy weekend...heading to the beach or brunch look.
Final Touch spaghetti strap dress (yellow or blue prints) $89
Other accessories found in store and may vary by quantity and by store
Another example of things I've recently seen successfully joined together is stripes and florals. Yes I realize the above left top is not floral, more foliage or jungle than floral. Nonetheless it shows how the sleek lines of the stripe bring out the best in each other. Like Katie Holmes and Tom Cruise....ok that didn't work out, never mind. Stick with the stripes and florals!
Cream border print shell top (black) $89
All In Favor stripe palazzo pant (black) $65 now $52
Let's return to uncomplicated florals. Just a bouquet of colour and really, that's all that's needed. The above chosen pants are excellent neutrals. The tops are great picks for professional or where more structured settings require a less creative look. Accessories can be as simple as a pair of earrings. Easy grab and go style.
Bolide floral blouse (white print) $85
Cream twill jean (major brown) $129
Yoga high rise skinny ankle jean (white) $138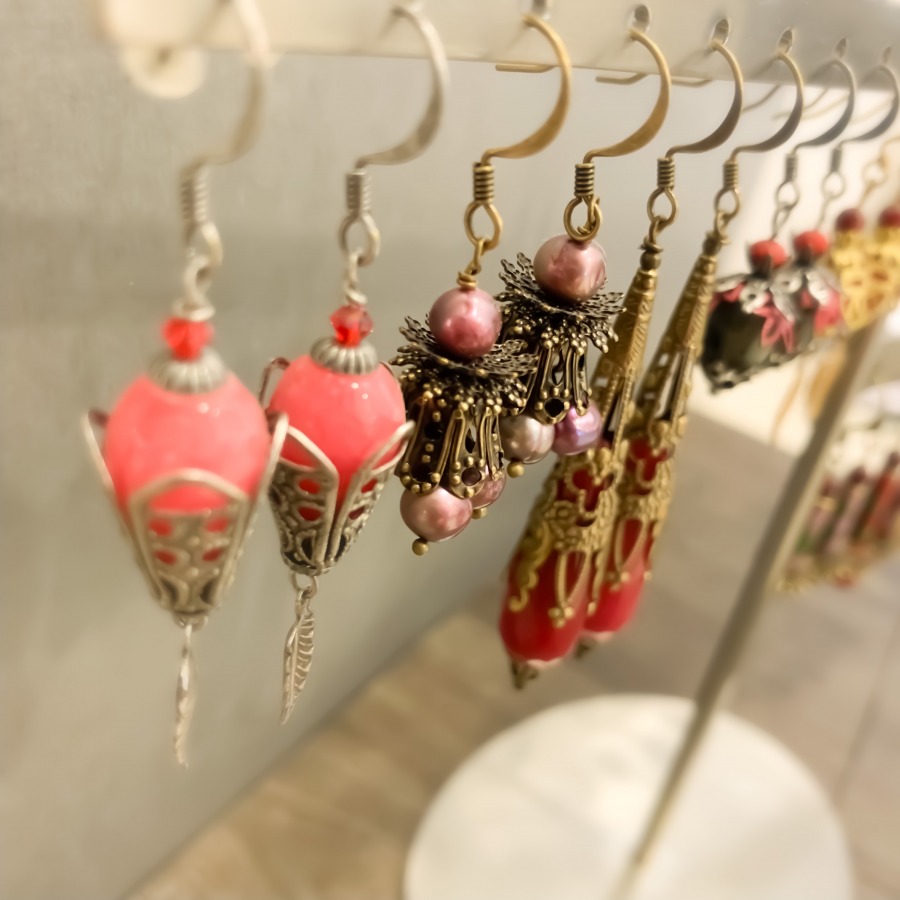 Don't these fabulous earrings look like flowers? Delicately bursting elegance and an essence of antiquity! Midnight Cactus earrings are only sold at Plum here on the west coast. Hand made in Dartmouth Nova Scotia! I've bought so many of these, I should have them shipped directly to my home!! Follow our new Instagrammer Rebecca for more fabulous images like this! Thanks Rebecca for this amazing image of my favourite earring line!
In store only
It's such an interesting phenomenon that something with such magnificently wonderful colour can push forth from the ground from a mere seed, dirt, and of course the oh so colourfully pungent fertilizer! Makes me wonder why the desperate fear of death, when we can come back blooming and making people more happy than we did in life...hmm!!!
Yours in Fashion passion...
'And the day came that the risk to remain tight in a bud, was more painful than the risk it took to blossom' ~ Anais Nin ... read the full post and reader comments