We thought we'd crawled out from under the doldrums of the darkness and 'burr' of winter with the time change, longer days, sunshine and temperatures that pushed past 1 digit! YES!!!! Suddenly to be unceremoniously, pulled back to reality...like that peaceful, deep 10 minute snooze that carries you away to a barren beach with crystal clear waters and then the BUS jolts to a stop...BACK to reality! Mother Nature, like most mothers, is very sternly telling us 'PUT THAT SWEATER BACK ON!' That's o-kay! It's spring people. We love sweaters! Let's have a look at a few.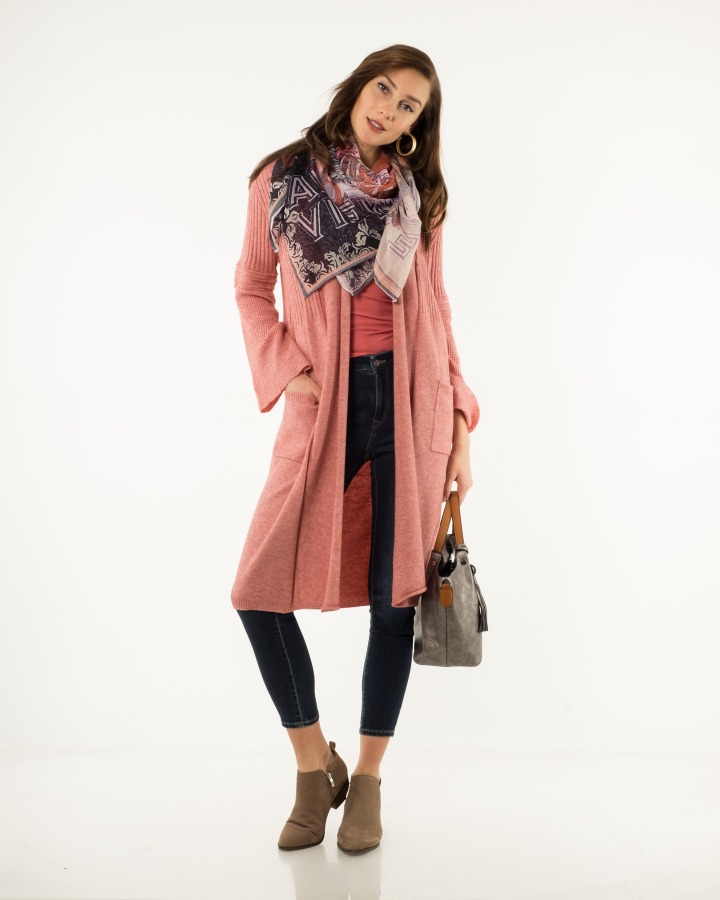 A more exaggerated feminine take on a long cardigan...note the shade, the bell sleeves and the ribbing. The open front trend, lends itself to the ease of wear....no more buttons to sew back on...just grab and go. A creative way to wear it, wrap it up tight, overlapping the front, then add a rustic looking belt..for a more random, unstructured look.
Cream open front rib top cardigan (melon sorbet) $119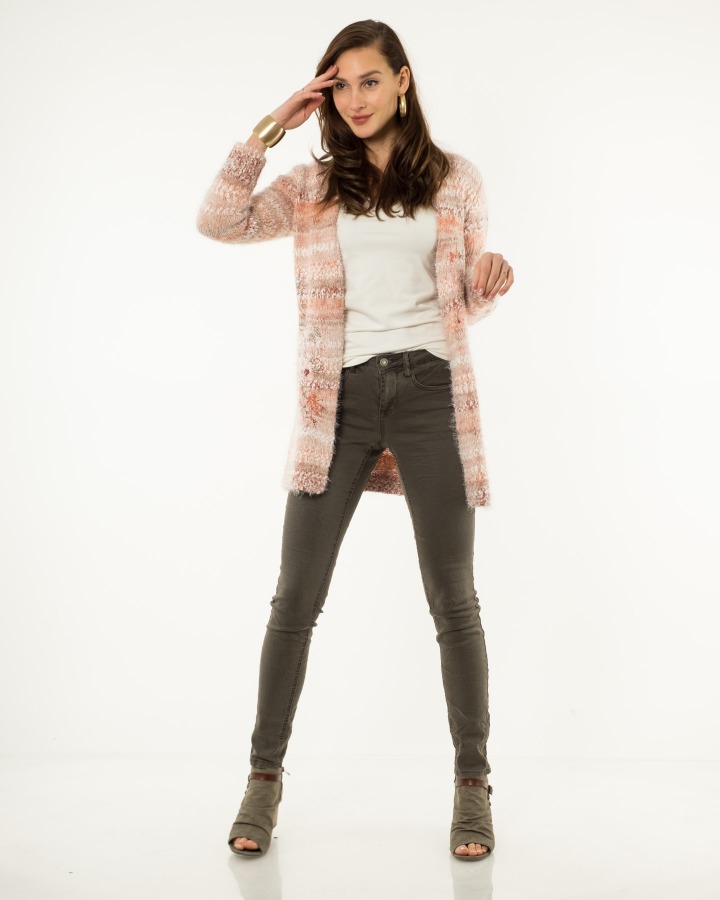 I think she must be looking for summer!! It's a ways off....but in the mean time, she looks fantastic. They've paired the varied textured sweater with the ruggedness of the khaki denim, adding the sleek gold accessories...make the threesome a great ensemble!
Cream high textured cardigan (multi) $149 now $119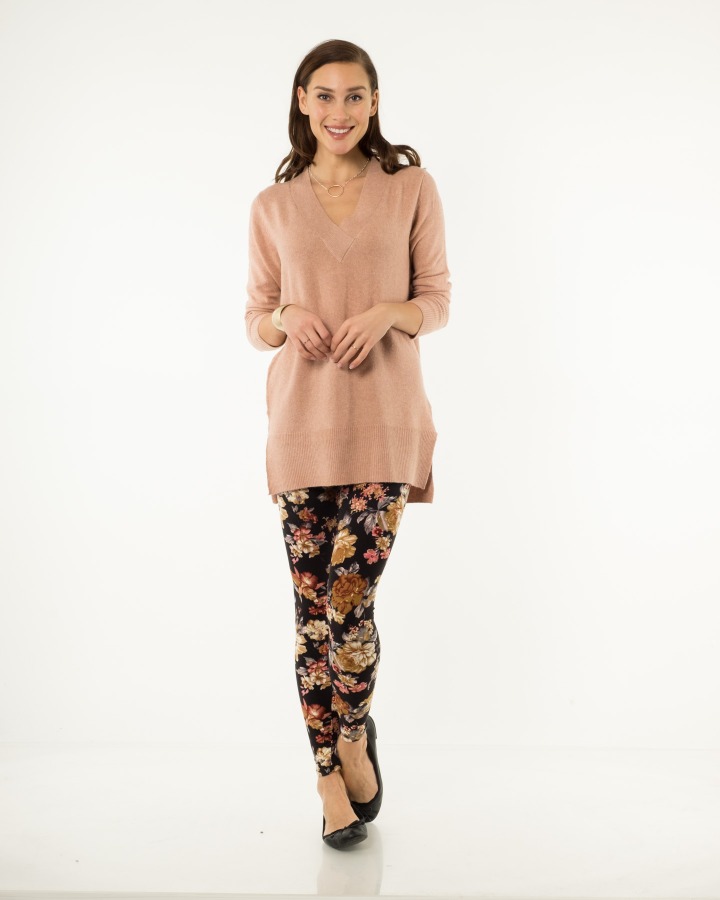 It's nice to have just a classic vneck sweater; a style that we often reach for. Great as above with the floral tights, however, worn with cropped pants and the ballet flats, and possibly a string of pearls... evokes an image of Audrey Hepburn. Sweet, easy and yet still very stylish in it's simplicity!
Ichi long vneck sweater (canyon clay or pale blue) $69 now $59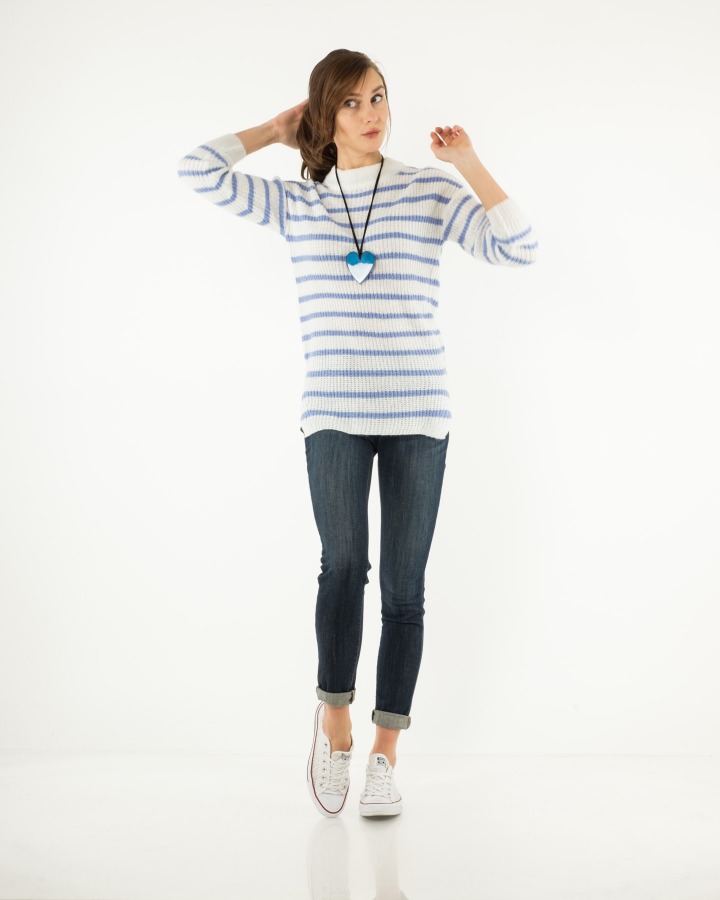 Once again I'm putting forth my vote for stripes!! So many people think that if you're any wider than Celine Dion, you should be 3 blocks away from ANY stripes.....really? I just feel like that advise is not worth the time it takes to count the stripes! BUT that's just my opinion. I love the structure and how they can play against multiple other prints OR simply add just a dash of variation without a lot of visual busy-ness!
B Young stripe pullover (blue combo, orange combo or violet combo) IN STORE ONLY $59 now $29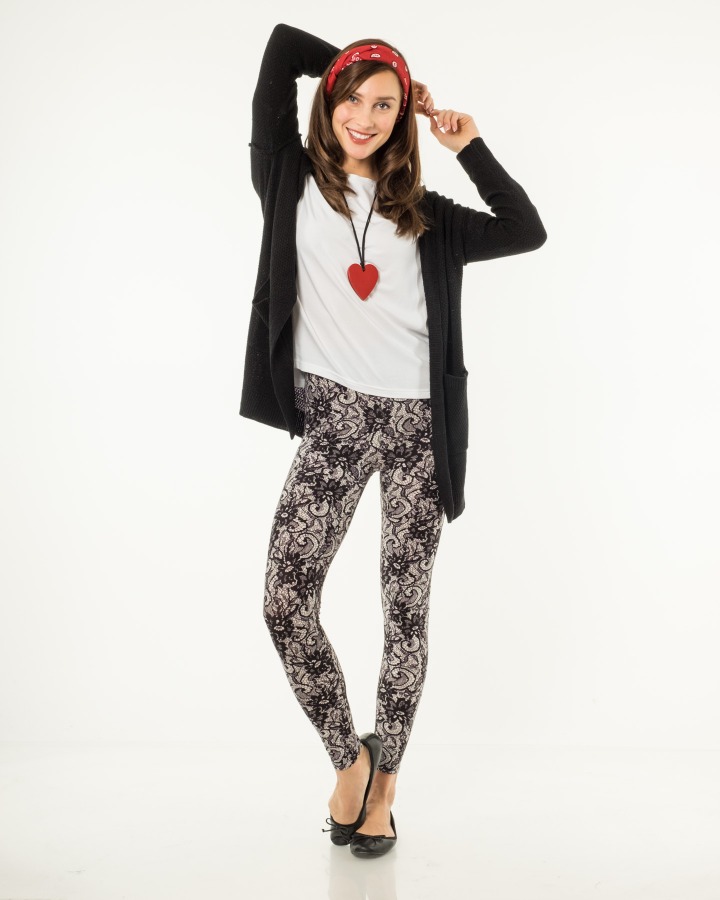 Again, basic/solid bottoms take a back seat to the usual print-less style that we've become accustomed to. The above are fully knit and very comfortable, but since they mimic intricate lace, they can be easily styled up, with a variety of means...with the use of footwear changes and/or accessories. Again, sometimes, as in this case, all that is needed is a change in the outerwear...casual choice of cardigan. But note they've added a few splashes of colour with the bold red heart and bandana!
Be Cool hooded sweater (black or lavender) $69
Opposites attract they say. Well, yes, sometimes we like oversized and sometimes we like fitted. We don't have to be committed to one or the other always. The unstructured open front with large pockets on the left is great with leggings or skinny jeans and so easy. The fitted v neck not only is a cardigan but looks great also under a structured jacket. Needless to say if it's inappropriate as is, add a cami or t shirt under!
Ichi oversized open cardigan (navy or light blue) $69 now $55
Soya Concept button down cardigan (navy, blue sky or shell coral) $69 now $59
From Audrey Hepburn pictured in a turtleneck sweater, to Marilyn in the unforgettable images in 'Let's Make Love' where she sports merely an Irish Aran knit and stockings, to Jeff Bridges in the 'Big Lebowski'; sweaters are forever etched in our memories for the iconic fashion they help create. But 'I just want to keep warm' you say? Well, as they say, 'a sweater is just a blanket you can wear to work'. Just remember though, your pillow is not a hat!
Yours in Fashion passion...
Suzanne M.
'To think, a sweater is made entirely of knots. My stomach could clothe a village.' ~ Andrea Gibson (poet) ... read the full post and reader comments