Don't forget...until Mar.24, get 20% off a pair of spring pants with the purchase of a top!
Web promo code: SP2019
27 STYLES TO CHOOSE FROM
I've attended enough Plum staff events whereby the same dress was worn by multiple staff. Perhaps because it's fashion, no one batted an eye. In fact, I think we all looked with fascination at how each had put their mark on it. Hair done differently, various footwear, worn with leggings or of course, the different accessories to punctuate it. I looked forward to them for the lessons in style they provided. It's Iris Apfel who said 'Fashion you can buy, but style you must posses' (I'd alter that by changing the word posses to create). And I don't think we all need to look like Iris with her bold, traffic stopping looks! If you like that style, go crazy! But really, creating your own personal look, is really about finding your own formula!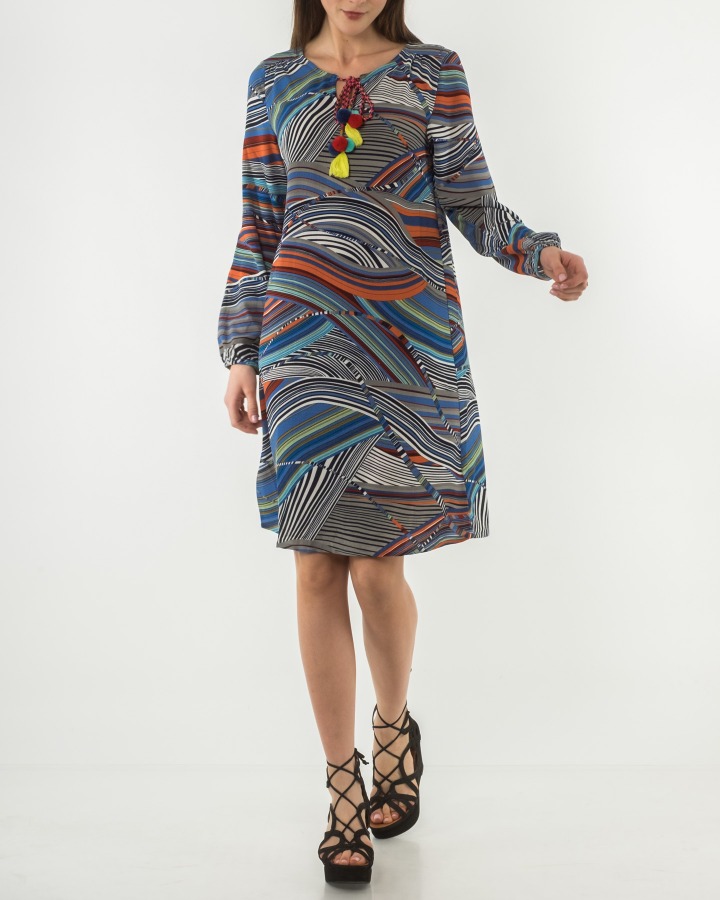 I adore this dress, despite it's lack of black dominance. What does dominate here is it's playful pattern and easy fit. In fact, part of my own personal formula is, I love a handful of colours, black being one, and rainbow stripes. I realize how odd that seems, however, with a dress like this, it's really quite simple. On any given day, a change in accessories is easy, add a scarf or hat for that matter. The colour won't matter, because everything will match. What's your formula? Do you swear by earrings? Cannot leave the house without a hat or scarf?
Cream front tie dress (multi) $139
I've been musing lately on how very old ladies (not Iris), or children (ok my children), seem to like to randomly throw on multiple patterns (if only unmanageable hair was also a 'thing'). My lovely (albeit now deceased) Aunts, in their day were fashion plates. Ultimately as very old ladies, I recall, they would, however wear two contrasting plaids together. I think wearing differing patterns, is a skillfully, curated fashion talent. One that I love, but have yet to fully master. Above, is an example of 2 patterns that can work. One an eastern influenced print and the other a very rigid stripe. Unlike the Kardashian sisters, they do not compete! Perhaps wear an obi belt and heels, hair up and shoulder grazing earrings.
Yoga high rise ankle skinny jeans (white) $138
Motion stripe palazzo pant (blue) $86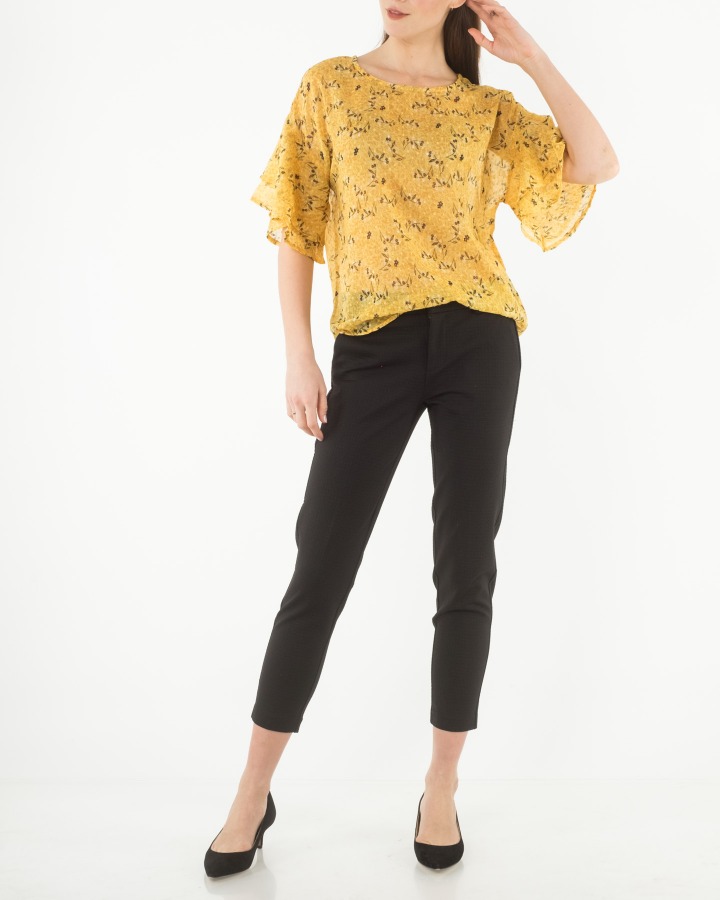 Yellow is one of 'the' biggest fashion colours this season. Not merely because it's spring and bright, but because it gets noticed. And if you do not like to be noticed, I would advise against wearing this, light, lovely, warm, smile coaxing colour. Why would you want people smiling at you! Seriously, if your colouring is right for this, yellow can be a wonderful addition to your wardrobe. And frankly, at times, we need to change our formula....or, simply add to it!
Cream ruffle sleeve print blouse (corn yellow) $69
Liverpool knit trouser (black) $99
If you happen to be a dress loving girl, why change that, I think this one is SPOT ON for summer. Features a a shirred back and pockets. If you prefer a bit of layering, such as a tank underneath, just experiment. If you need a bit of coverage, try a crop jean jacket or perhaps an open front cardigan, such as above.
Dreamers gathered back dress (stripe) $79
RD open front cardigan (black or white beach) $69
A personal style doesn't means, you must wear earrings, you must wear a scarf or any accessories at all....throw away the 'musts'. In fact a minimalist look is such a classic. Either go for a simple, basic cut such as the one on the right, or find a top with a unique design. The frill, while it currently clearly has a female association, centuries ago was worn by soldiers and thus carries with it a certain, dignified and powerful image.
Point Zero tank top (floral print) $42
Jag Carter girlfriend pant (black, khaki or rose) $99
Side note: SHOUT OUT to Plum's Granville staff! I recently went into Plum's Granville store. I bought a simple t shirt, and what I left with was some excellent advice on how to style my simple graphic t that I had not thought of! (happy customer here)! :)
I'm a huge fan of Iris Apfel. She's 97 years old, which inspires me to believe that there is no park your style here at 40, 50, 60, 70 and so on...there is just no reason..I love that she continues to have a passion for all things fashion and if she could eat accessories, I'm sure she would! It's also extremely humorous that Iris does not view herself as nutsy nor does it seem she would care if anyone else did. So many style icons of every age; who is your style inspiration? A model, a designer, a major performer/singer, or maybe someone close to you.
Yours in Fashion passion...
Suzanne M.
"You've got to make your own kind of music, sing your own special song, make your own kind of music, even if nobody else sings along" ~ Cass Elliot ~ 1969