CAN'T SUGAR COAT IT, IT'S STILL COLD...SO
PLUM HAS FASHION THAT'S PRACTICAL as well...at
$30 OFF UNTIL Sunday April 21
3 coat styles, 4 days only
IT'S MY 5 YEAR BLOG-VERSARY WRITING FOR PLUM. Considering I'm imposing my opinions on you, weekly, I realized a big miss was never introducing myself. Well, no time like the present. A little about me...I'm obsessed with t shirts, I love bold colour (and non colour). I have a black belt...literally a black belt to wear, with clothes...well...more than one, if I'm honest. I have a PHD in new arrivals! And my pastimes are sewing, reading books half way through and abandoning them and sarcasm (in no particular order). In any case, I truly hope you've enjoyed my guided tours through Plum fashions. And feel free to tell me about you. But right now, let's look at things I like, because, you know, I'm making it all about me, this week!
A tiny snowflake of a lie. Not really all about me...but that's ok. I love outerwear. The feature this week is coats, and the weather dictates that we're not totally done with them. The one on the left is fully rainproof with sealed seams, drawstring, for more definition and cold protection and features a detachable hood; to provide for less of a function and more fashion look. The one on the right has a soft interior for a bit of warmth. These will be good for years to come, and my picks for layering at this time of year.
Soya Concept polka dot coat (navy) $159 until Apr 21 $129
Soya Concept softshell jacket (black or sand) $ 155 until Apr 21 $125
Let's talk about the wide leg pants trend. Not only are they super comfortable, and offer an air of sophistication, but they're everywhere! I'm seeing lots of crops, worn very street style. As in, with very masculine boots, or loafers, as above, with slides, or for a more night out vibe, pumps or cut out booties! What else to wear with them? Feeling like you want something more edgy? Try a graphic t, knot it in the front and casual white kicks. OR, as noted in the above bottom right, they look great with a kimono. Or maybe go a different route - a la Katherine Hepburn and other great women of the 30's and 40's. Hair up, and a string of pearls or a big hat to balance out the pants. Best advice I can give...poker straight posture gives off the air of 'I'm a trend setter'!
B Young cropped pant (black) $89
Motion stripe Palazzo pant (blue) $86
Final Touch pull on palazzo pant (black or mustard) $69
Final Touch palazzo pant with waist tie (sage) $74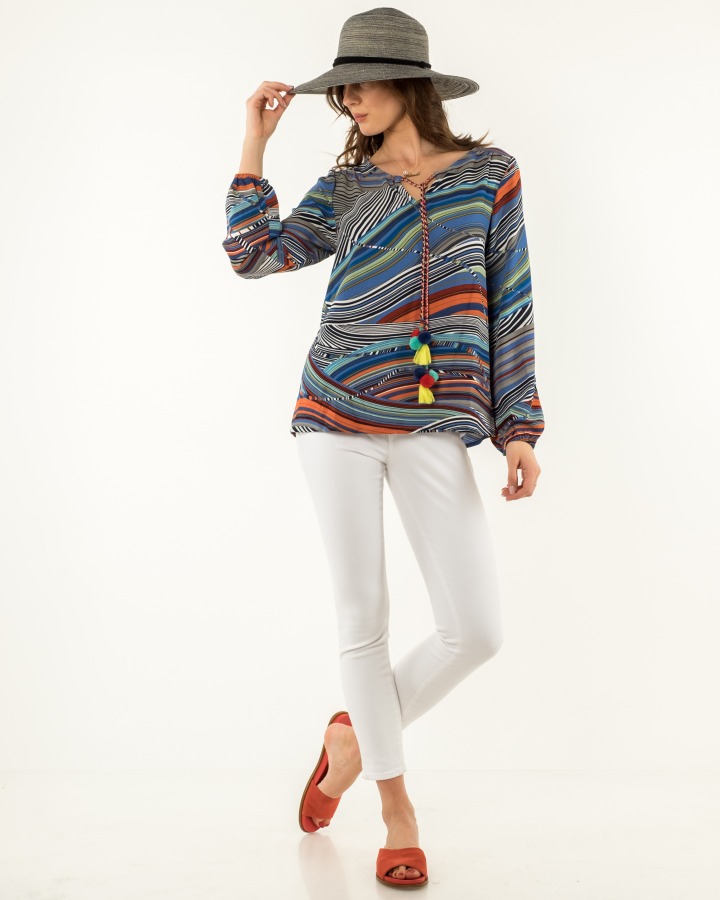 As I've previously mentioned, I love multiple or stripe colours and patterns. They're bright and lively, and on a practical note, grab any colour and it's easy as pie to match with accessories and shoes. (Is it funny only to me, that they picked white?)!
Cream front tie blouse (multi) $89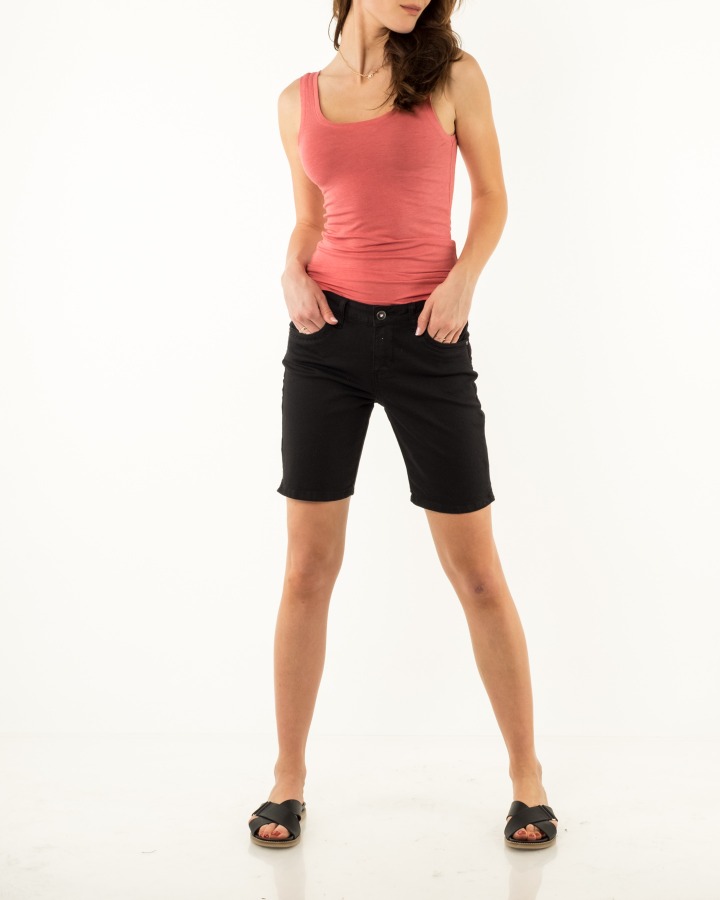 Another trend I'm super happy about, shorts are getting longer, yay!! I personally don't need to flash everyone the blinding, untanned 13 inches above my knees. And I don't think an explanation is required for how to wear them, but maybe a reminder, that they're not just for gardening and walking the dog. One can certainly upscale them a bit. A long cardigan or Kimono, slingbacks and a hat.
Cream Bermuda shorts (black) $79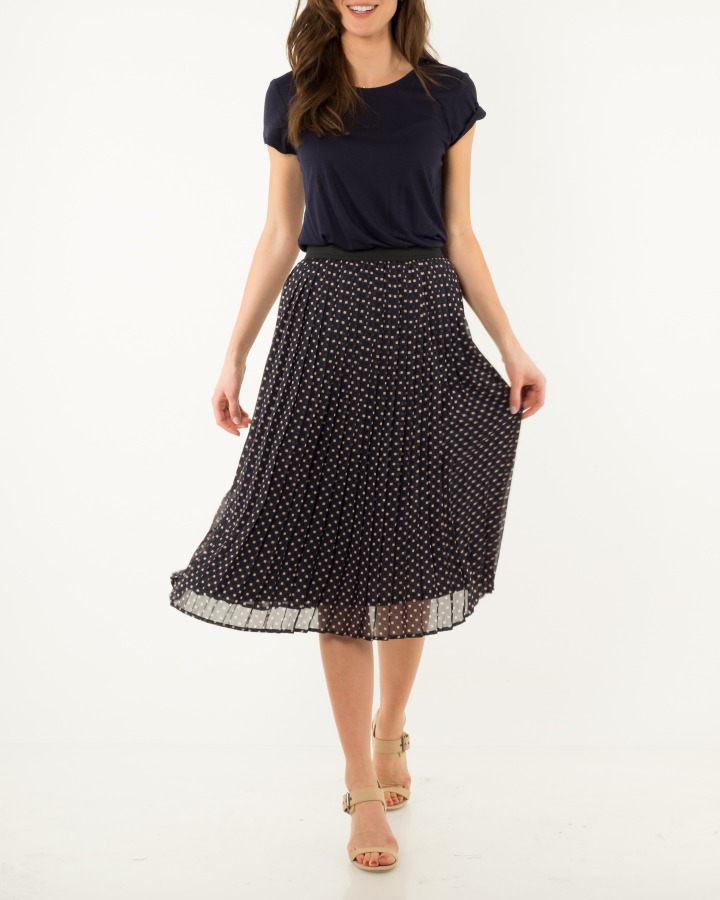 I'm also a huge fan of skirts. In part because dresses pose a specific challenge for my proportions and skirts offer the same feminine flair, but with a few more options for changing up the style, with different tops. This one above is so pretty with it's floaty, light weight fabric and dotted pattern.
Ichi mid length skirt (navy dot) $69
Ok really...about me...I'm from New Brunswick (the other edge of Canada), married and over 20...ok, ok...40...no, really 50...8 (but who's' counting); I have 2 beautiful girls and a black (of course) lab! I've gone from being a 70's girl, where being bold for me was wearing beige and green together to...ok let's just say, I no longer wear beige! Fast forward to now, and I love how the internet has provided us with the ability to virtually find those who blaze trails for us and I continue to be inspired by women of all ages and sages. And fashion expression to me is like what words are to communicating...sometimes they're colourful, sometimes they're strong but sometimes they're barely a whisper and minimalism is best.
Yours in Fashion passion...
Suzanne M.
"I myself am entirely made of flaws, stitched together with good intentions" ~ Augusten Burroughs