The power of wearing white! So easy to recognize....think...a doctors lab coat, the cricketers uniform, the blushing bride...However, back in the day ('the day' being the 16th century), white was typically worn by French Queens representing mourning. It was not until Mary Queen of Scots married her first husband, she chose white as she felt it was her most flattering colour. And why not; it's bright, it's fresh and it goes with everything. Which is why diamonds are a girls best friend!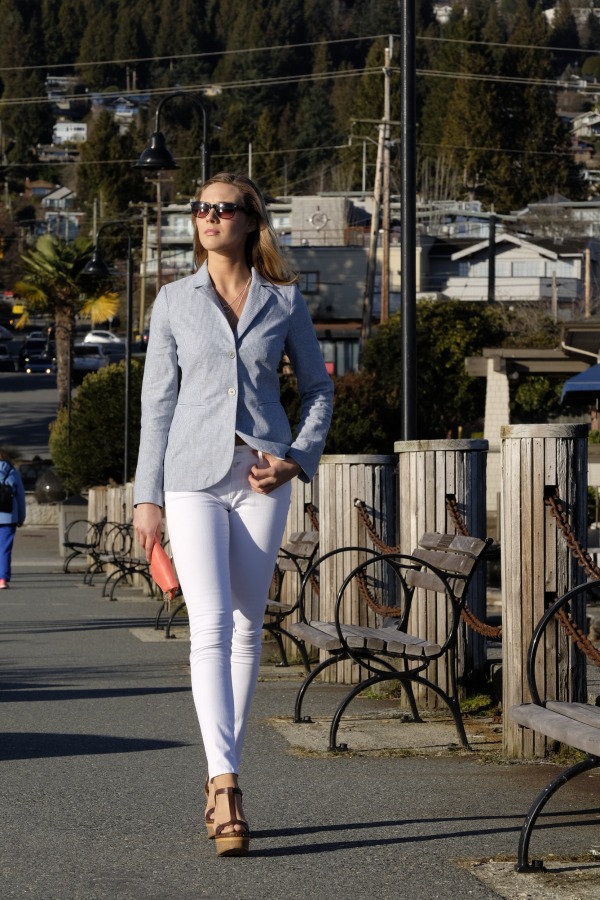 I have a tendency to want to scotch guard myself (is that still a product?) when wearing white. However, why should the fear of stains hold us back? After all there are multiple stain removing methods and products. My favourite among them is this: Merely hold the spot of your garment tightly over a bowl, carefully pour boiling water over the stain and watch it drip out of the fibers and into the bowl. This method works with wine, juice and berry stains. Love this, as there are no chemicals. So go forth and immerse yourself in white (and have another glass of Merlot)!
Mavi Adrianna glam white rinse $118 now at $89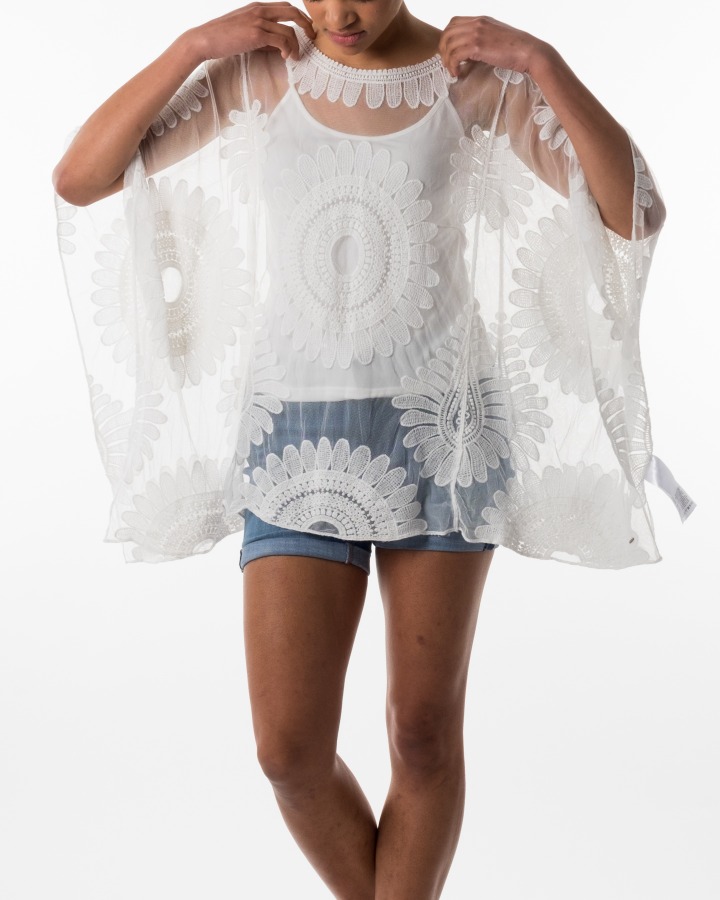 This is just an utter show stopper! Just a breath of extra layer, with gorgeous embroidery detail. Wear it with destroyed jeans or even a tank dress. Just a few of many possibilities.
Cream sheer embroidered blouse $79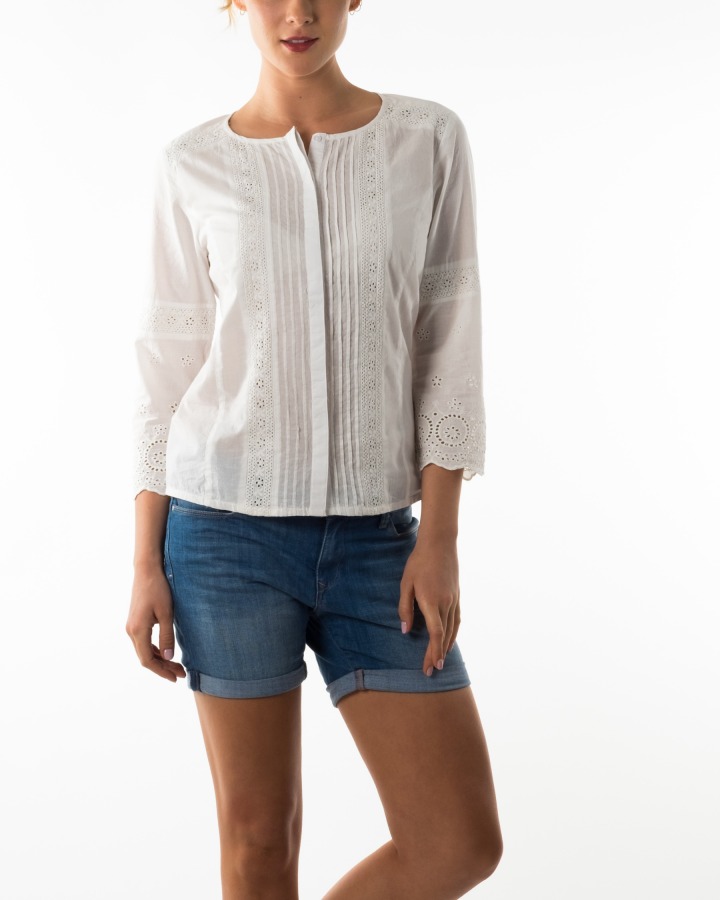 Maybe a fresh crisp blouse is your preference. White offers so many possibilities as, it's like a blank slate, adding colours is a total breeze. With the lovely detailing here, it still offers the possibility of just wearing it as is. Or build on the vintage look of the eyelet!
Cream Zina pintuck blouse $99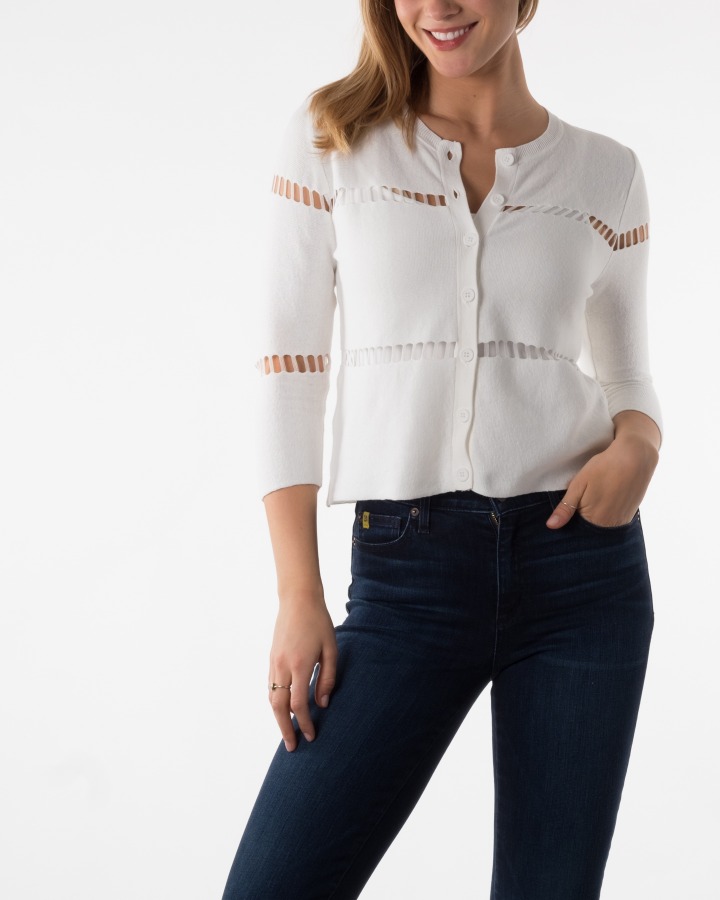 Because mosquito's would have more access to your beautiful skin, is no reason to pass up this great sweater. Just slightly out of the ordinary with slight open work giving that little extra something.
French Connection sweater (black or white) $68

White is kind of the 'smile' of the colour palate, people just naturally give you a head tilt and lighten up when you sport a bit of white, be it a big toothy grin, a diamond (yes please) or a garment. So don't be afraid of white, it's the colour of comforting things, our pillows, sugar for our tea or Gramma's hair.
Yours in fashion passion....
Suzanne M.
"I used to be Snow White, but I drifted" ~Mae West ... read the full post and reader comments