Plum has carried many styles of Mavi jeans for years. This season we also have Mavi shorts, skirts, and jackets.
For those who are curious, here is some product knowledge that Mavi recently sent us. (Make sure to check out the video at the end, who knew the crazy technology that goes into making our favorite washes!)
Founded in Istanbul over 30 years ago, Mavi designs contemporary, fashion-premium denim with the forethought of maintaing inspiration, modern design and ensuring accessibility for all; this also applies to our environmental footprint. Mavi continues to work tirelessly on minimizing or eliminating the use of water, energy and chemicals in its production.
We start with selecting the right fabric to best achieve the final look with the least amount of dyes, ingredients and water possible. The quality of the dyes and ingredients accounts for a large amount of savings: the higher the quality, the less used, and the more water saved in the rinse process.
The introduction of 3 different machine sizes has also helped us to produce small batches, or sample runs, with just the necessary amount of water and chemical components. Working together with our laundry machine suppliers we have developed machines that use a scientific spray method, timed perfectly with the spin cycle for efficient penetration and optimal coverage in the least amount of time, helping us reduce the water and ingredient used by 50% and the energy use by 40% while producing 70% less waste water compared to conventional machines.
Currently we are working on our ozone bleach process. The completion of this project will prove to further increase water savings by a substantial amount.
Inspirational, modern and accessible. Mavi Fits our planet.
This is a promotional video from the company that manufactures the machines used by Mavi for washes.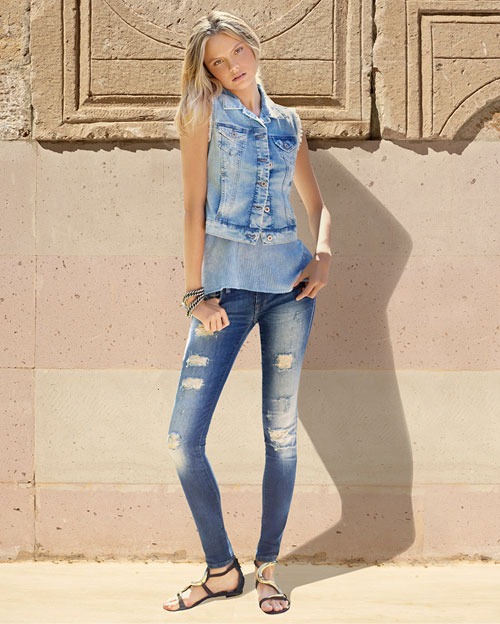 Mavi Alexa mid-rise skinny jean. Available at Plum.