Follow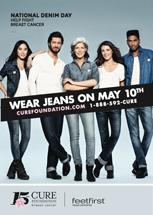 "In May 1997, the CURE Foundation inaugurated NATIONAL DENIM DAY, its main fundraiser. This event is held annually on the Tuesday following Mother's Day. Businesses, organizations and institutions across Canada are encouraged to allow employees, members and/or students to wear denim and receive CURE's 'pink flower' ribbon in exchange for a suggested $5 donation.
According to statistics from the Canadian Cancer Society, 23,200 new cases of breast cancer in women and 180 new cases in men were diagnosed in 2010. Of these, 5,350 proved to be fatal.
Wearing jeans has never been so important!"
From April 28th until May 10th, 2011, Plum will contribute $5 to the Cure Foundation for every pair of jeans we sell. Get involved and don't forget to wear your denim on May 10th!
... read the full post and reader comments