Don't forget your MINIMUM PURCHASE coupon (until March 26,2017)
Unless you're employed at a workout studio, you can probably leave the hoodie, yoga pants and performance apparel at home for the weekend. There are ample ways to look stylish while still accommodating comfortable travels to work. Consider this; you'll be providing some much needed interesting visuals for the other bored bus riders or the grocery store cashier! Back in the day (nearly a hundred years ago) men and women wore formal wear and suits nearly all the time; choices were quite limited. We've evolved now to a place where we have far more options. We may not always be commuting by car, however, must we park our style at home?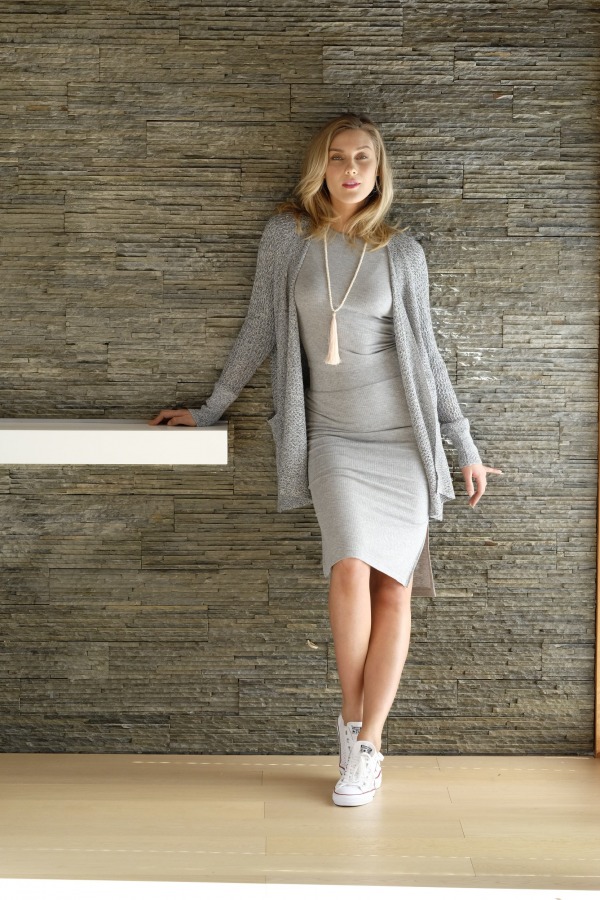 This is such a polished, fresh and uncomplicated look. Note the cute kicks for a nice comfortable walk. Layer it with the Soya concept trench coat if the weather is less than fabulous! All in all, this is how many European's tend to dress, simple yet with a bit of flair!
Orb Milea ribbed long sleeve cropped knit top (black or heather grey) $49
Orb pencil skirt side slit (black or heather grey) $55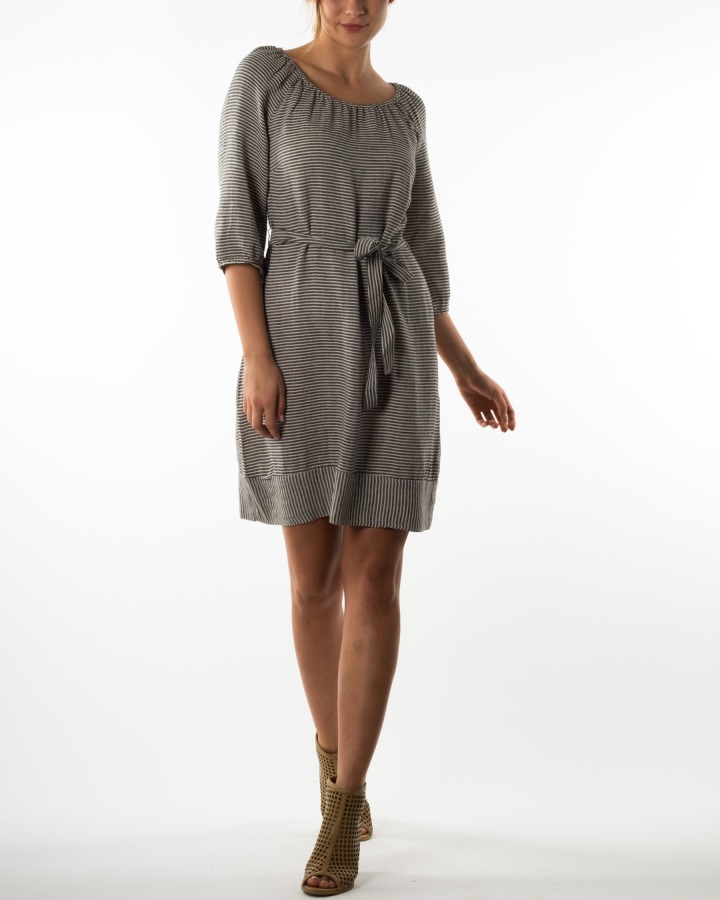 Perhaps you have a day of errands and appointments planned. This does not mean you need to bury yourself in sweatshirt material. This is a great little dress, with some simple added features. Easy to pair with a long cardigan or open front sweater or poncho, and tights. Keep the self belt or try it with a wide one.
Cream gathered neck stripe dress (black) $119
There is simply no reason we must always resort to wearing jean jackets or blazers. This really lovely, water colour inspired print jacket can easily be worn with jeans OR a pencil skirt, simple flats and you're set for the day.
Cream Evallan watercolour print bomber jacket (blue mix) $149
Speaking of Europe. This certainly has that vibe...easy yet stylish, fresh yet sexy! See how the simple addition of a scarf adds a little something without going over the top? And there is no reason not to try this with a lace cami....after all, when it belongs to you, you can experiment!
Orb Maja stripe off shoulder fitted t shirt (Navy) $55
Look paisley cotton scarf (navy) $39
Well, sometimes, you just can't do without a sweatshirt...however, there are sweatshirts and then there are sweatshirts with style! Given the choice, I'd go for the one with a bit of a unique design feature.
Ellison crew neck open back knit top (burgundy or cement) $59
A complicated life doesn't mean we need to leave part of our personalities at home, in a closet, saved for a weekend date night, or party (like the good china). Style is merely an extension of your personality, not the entire contents of it.
Yours in Fashion passion...
Suzanne M.
ps: life is short, style it with your personality! ;)
... read the full post and reader comments