Picture this...You're meeting with a real estate agent for the first time about to view various properties in the hopes of making a purchase. If you live in Vancouver, this would be substantial money (an understatement). Your Real Estate agent stands in front of you, she smiles warmly..but you look down, threads hang from her suit and the lining of the hem is buckling...You worry...not because she isn't attentive, seems to recycle and drives a hybrid (lol), about her attention to detail. Plum's attention to detail is never in question. Suits that can stand next to any internationally known, high end label at more than fair prices.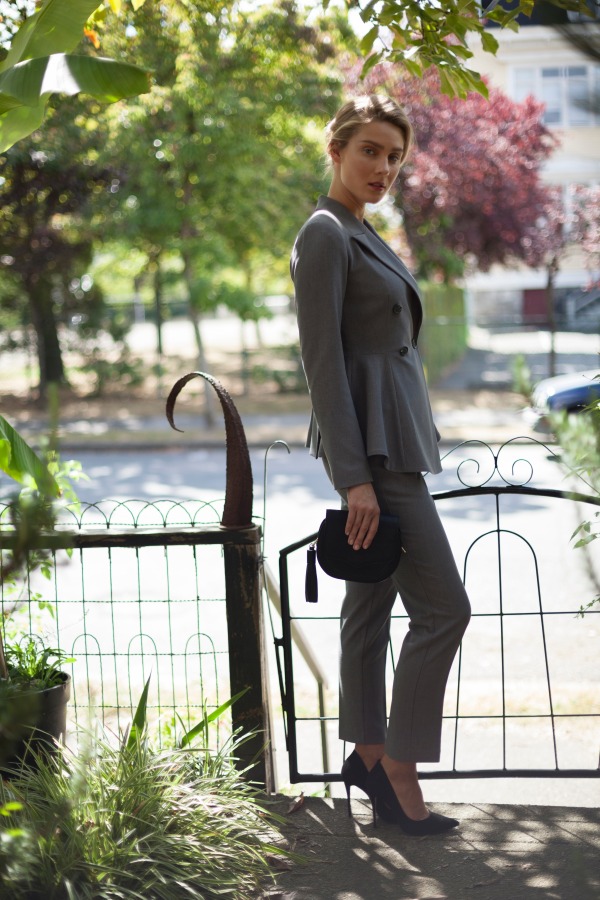 I adore this suit. It's only drawback is, if you're giving a presentation, there is a distinct possibility no one will hear what's been said, so distractingly gorgeous. A stunning addition to your professional wardrobe, with a slight feminine edge.
Tobias double breasted jacket with flared hem (black or pewter) $230
Tobias slim pant with welt pocket (black or pewter) $110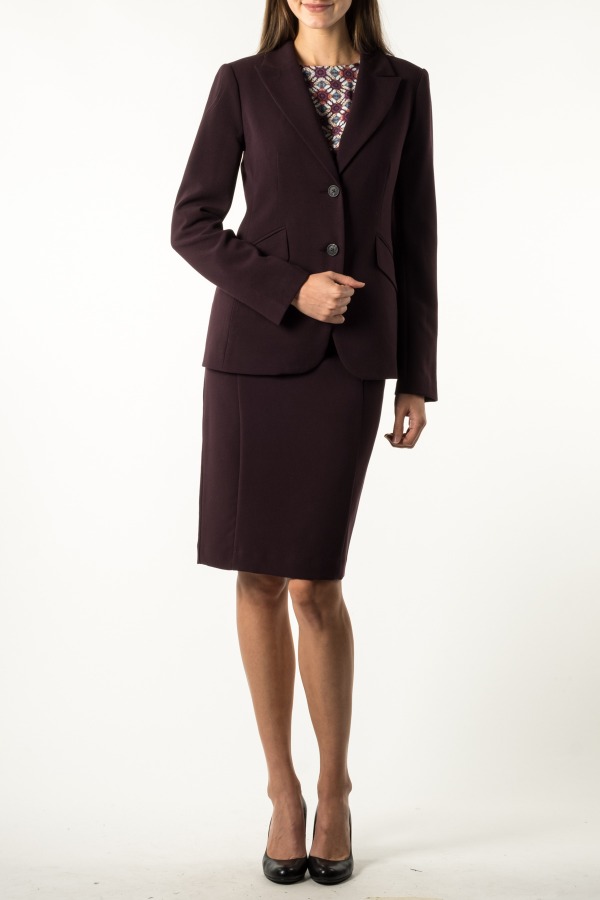 Maybe it's your first day on the job and it's a traditional suit style you need. This is Plum's latest two button. Just a superior fitting jacket worn here with the matching, paneled, back slit skirt. An office wardrobe basic.
Tobias two button jacket with peak lapels (Merlot and black) $215
Tobias pencil skirt (Merlot and black) $95
Here is an absolutely wonderful addition to anyone's wardrobe. On the left worn with a pencil skirt and Kersh cardi for more of an office look, on the right suitable for casual/weekend times. A wonderful, wool blend mix. Yet light weight enough to be layered and worn as outerwear. A really versatile piece.
Tobias draped front boiled wool coat (black, peacock or purple) $225
And some co-ordinates to go with your suits. Because embroidered anything is very big right now. From scarves, to jackets to even footwear, you'll find embroidery. This sweet top is allover embroidered georgette lace. And a shell top is an easy match with any suit.
Kersh capsleeve lace top (cream) $65
Plum sleeveless top with high low hem (black or pink) $69
Exchange 'Real Estate Agent' with Doctor, Interior Decorator, Financial Advisor...many professions necessitate flawless presentations requiring the client to trust in, at times, risky endeavors. Stepping down from the seriousness of work attire, however, jackets are also ok on weekends, just double check for the chocolate croissant stains before you step into that meeting on Monday!
Just remember, the quality of your work need not hang by a thread!
Yours in Fashion Passion...
Suzanne M.