"All books are judged by their covers, until they are read" Maryrose Wood. Being judged 'is' a fact of life. However, when I feel fully pulled together, I feel as though people see me, my clothing is no longer the focus, because there is no 'one thing' to distract. For the most part, do you not find that a jacket pulls together the outfit giving a finished look? A key piece. Maybe it's just me but I adore fall and love my jackets. My collection is growing and I'd sleep in them if I could.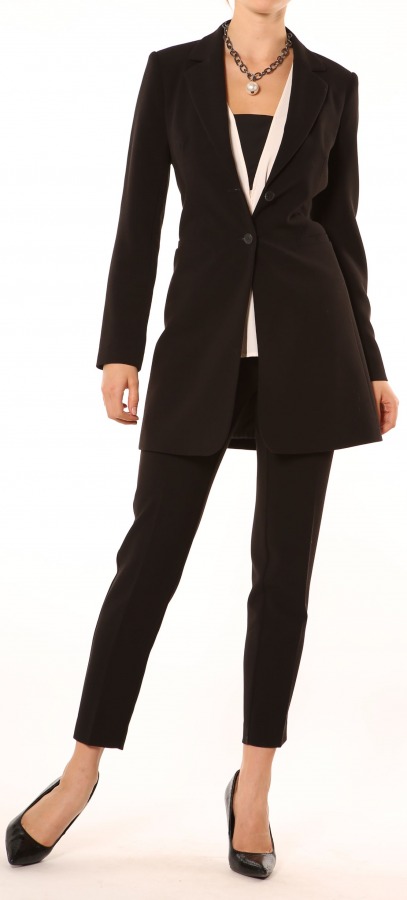 The fabrication and cut of this jacket is simply exquisite. Most often I find the sleeves of jackets rather large and bulky; these are just perfectly tailored. Don't be fooled by the slightly longer length, falling below thigh level. I've worn mine with jeans and doc's and have seen it worn with a knee length skirt and funky ankle boots. So deceptively versatile, creating a multitude of outfits from one piece, taking you from work, to weekend brunch. It's really a 'try on' must!
Tobias equestrian long jacket (comes in black or grey) $ 220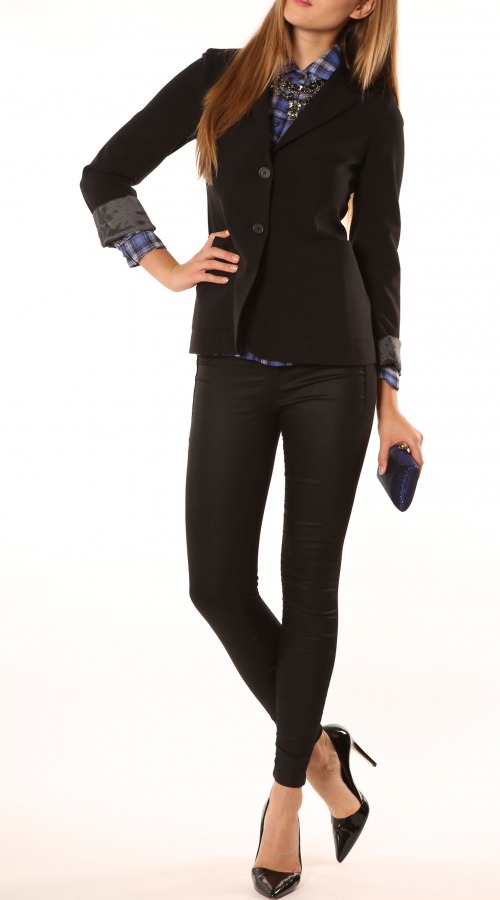 Isn't this a fun outfit? Yet so doable for a work environment; of course depending on the nature of the business. I love the skinny pants paired with the dangerous heels.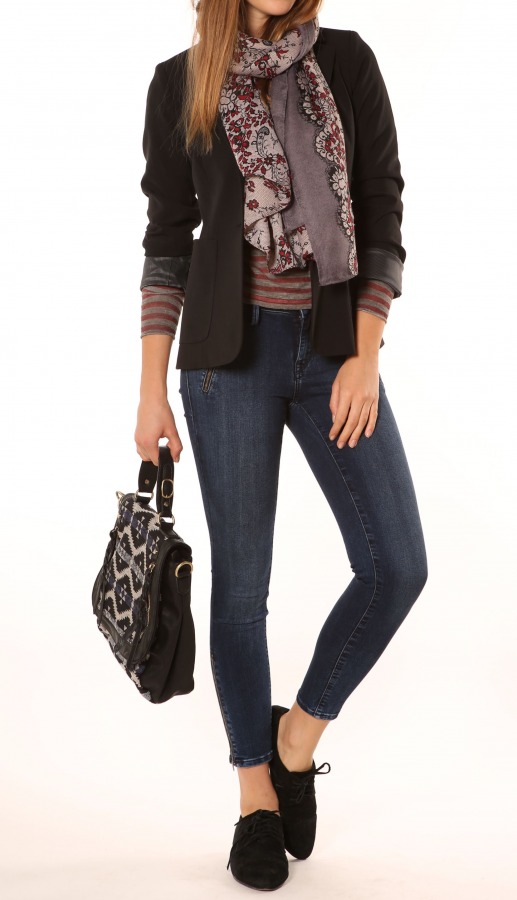 This classic notched collar blazer is so transferrable and convertable. My favorite weekend outfit is (as above) jeans, t shirt and 'the blazer.' Just so simple and pulled together looking (but comfortable as well). Just add whatever bit of your own personality you like (scarf, hat) your mood gets to choose.
Tobias notch collar jacket with patch pockets $ 179
The length of the jacket, however, often dictates the balance of co-ordinating pieces. Such as how long the skirt, pants or top would best be to look balanced head to toe. When in doubt, Plum staff are only too happy to help with deciphering the possible perplexities of proportions (say that 3 times). This is a mere whiff of the jackets Plum has in store. There is one for everyone (or 3, if you're me). And so beautifully made and designed; will remain your favorites for years to come (as long as you don't sleep in them).
Plum's Tobias jackets are designed and constructed right here in Vancouver and many have co-ordinating pants and skirts. Take a look at some of Plum's other jackets.
Yours in jacket passion
Suzanne M
... read the full post and reader comments