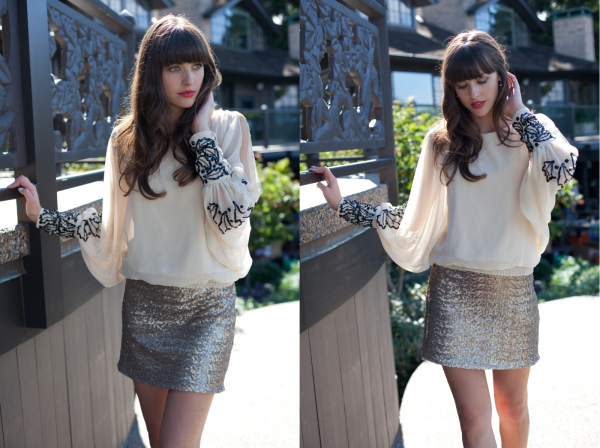 Embroidered Sleeve Blouse, $75, and Sequinned Mini Skirt, in Black and in Chai Melange (pictured) $69
The typical afternoon before a holiday party for me has typically gone one way: try on every remotely festive article in my closet (making a huge mess that I will inevitably have to tidy post-party), panic as I start to realize I have not a thing to wear, and then end up dashing off to the party in an ensemble I am less than excited about. But not this year. This year I am determined to plan ahead and avoid the dreaded holiday party stress mess! With that in mind, I thought it would be good (for all of us) to do a little outfit inspiration.
The beauty of holiday dressing is that once you have a selection of key pieces, you can mix and match to create as many new looks as you want! To illustrate this, let's take a look about how you can create two completely different looks using one base piece.
Look one: Glitter Cardigan, in Black and Walnut (pictured), $79, Twist Back Blouse, in Kelly Green and Oyster, $65, Sequinned Mini Skirt, in Black and in Chai Melange (pictured) $69
Look two: Embroidered Sleeve Blouse, $75, and Sequinned Mini Skirt, $69
Some people can get scared off by glitter or sparkles. If this describes you, please refer to my cardinal rule: Just try it on. You may be pleasantly surprised! For example, the reason that these two looks work is because, even though the skirts are sequinned, they are still neutrals. This will up the glam factor without looking over-the-top. You can even try pairing the skirt with a plain t-shirt! The contrast of sparkly with plain is an easy way to create a unique and interesting outfit.
Sequinned Evening Sweater, $89, Art Deco Skirt, $95
If you don't feel inspired by the sparkles, there is always the classic Little Black Dress. This is an absolute fail-safe for an holiday party you might have this season. It's also a great backdrop if you want to experiment with some jewellery to ease yourself into glittery territory.
Simone Purple lace over ponte de roma black lining with keyhole back $135
Simone Grecian style dress with draped sleeve, in Black and Plum, $135
For more holiday inspiration, check out our latest board on Pinterest
What do you think? Are you a glitter pro or a skeptic?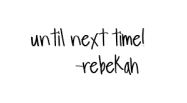 ... read the full post and reader comments