Follow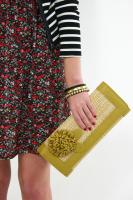 Mixing prints is a playful way to add personality and style to your wardrobe. The art in not looking like a walking optical illusion is in considering a few easy guidelines:
Even if oversized is in this season, you still want to look like you are well put together. Fit is the important guideline in dressing well and this is no exception. Frumpy, ill-fitting garments will only make you look like the only reason you are jumping on this trend is because you are out of laundry soap.
Mixing prints of differing scales is an easy way to begin styling your prints. For instance, thinly striped knit top, layered under a cozy thick striped cardigan is approachable. Considering the scales of some prints, such as a houndstooth, you can really consider these to be a solid, so you can be more brazen with your other print.
Colour is also key in mixing patterns. Having your prints in a similar colour range will allow them blend together enough while still maintaining visual interest. Or, by pairing a neutral pattern with a brightly coloured pattern, the prints won't compete for the eye's attention so they will work together in a way that's easy on the eyes.
Once you have these three guidelines in mind, consider the nature of the pattern and find your own combo through trial and error. Florals and stripes are classic examples if you are in a French mood (C'est tres chique! ) While stripes of varying sizes and scales are a beginner mixer's dream and very nautical in Spring. Mix ikat prints with stripes, plaids with leopard, in small or large doses. The real trick is to be confident and have fun! ... read the full post and reader comments