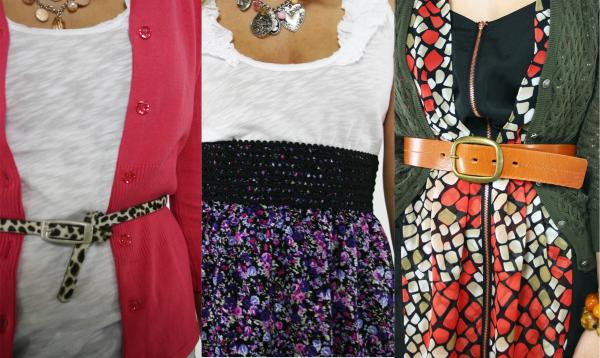 Belts are a fun accessory that can polish off any outfit. Layered over cardigans, cinching in loose fitting blouses, slung off your hips, belts can also emphasize your best assets. That is, if you follow a few good rules of thumb:
If you are pear shaped, go for a belt that emphasizes your waist, without being too tight. If the belt is too fitted to your waist, you will draw attention to the proportions of your top half compared to your lower half. Also, avoid belts that are worn slung on the hips as this will draw the attention of the eyes. Your best bet is a thicker belt worn around your waist.
If you have an hourglass figure, go for a fun, fitted waist-cincher to draw attention to your curvy shape. But if you are larger busted, avoid belts that are too wide, as these draw attention to the size of your bust.
If you are triangle shaped, with broad shoulders, wear a belt to define your waist and emphasize the natural curve. A skinny belt would do just that!
If you are apple shaped, go for a belt that is in proportion to your body. You want to avoid super skinny belts, but you could wear a chunkier belt quite well. Try wearing the belt slung asymmetrically on your hips for a little personality.
If you have a long waist, belts are your best ally for breaking up the length of your body, and creating balance in your shape. Belts in fun, bright colours will work wonders.
If you have a short waist, however, you would want to wear a belt lower on your body to lengthen your upper half, and it's best to look for belts that match the colours of your top.
In the end, belts are worn best when creating balance in your body shape. It's all about proportions! Once you've mastered this key, you'll be infatuated with this accessory. Belts could be the one accessory that will take you from looking like the slums, to looking like a starlet! ... read the full post and reader comments