NOTE: some items that are featured here are part of the sale, and some are new arrivals. Prices are noted or check in store for details.
One more month of official summer remains, then back to it...school, work or, as in my case...back to…um, what I'm doing now (lol). In any case BOHO, technically speaking is short for bohemian homeless originating in the 19th century, meant to describe the unconventional lifestyle of journalists, writers and artists. The style is characterized by large floppy hats, long flowey skirts and Joni Mitchell songs. A look typically representing, free thinking, creativeness and long, lazy days of summer. In 30 days, fall will abruptly attempt to put an end to all the free thinking fun...but for now, we have a reason to look like we haven't a care in the world.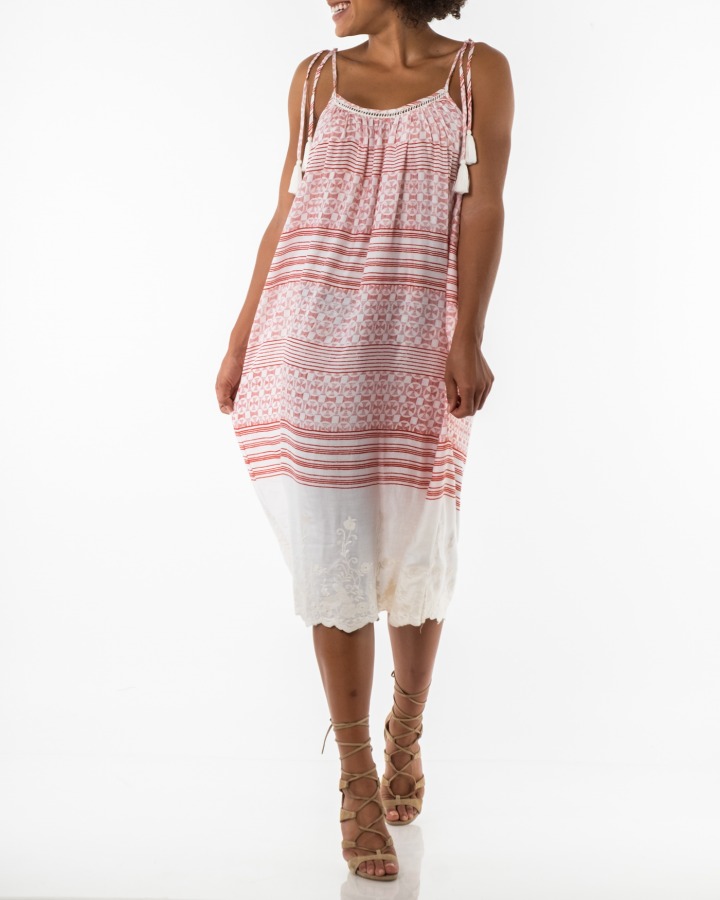 I think lace, in particular, can be viewed as a central part of bohemian style. Presenting an image of light, easy, fresh and vintage. The above dress can be just as comfortable at an evening out, as at the beach. As I often note, the footwear and accessories most often punctuates the look.
En Creme sundress with tassel straps (red/white) was $89 is now $69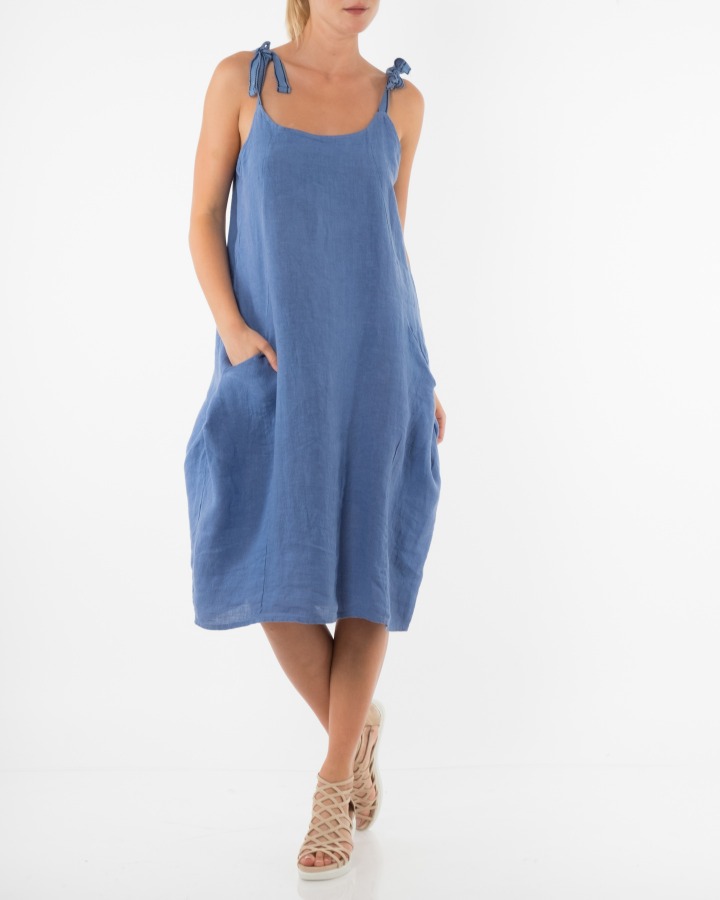 One of my favourite features of this dress, aside from the open weave linen and pockets, is the shoulder ties, which offers the ability to slightly adjust the length. Aside from the every day, wear-for-tasking/lack-of-conformity style, I can see this worn with a shawl, and a long pendant.
Catwalk linen jumper dress (black, denim blue, pink or white) $110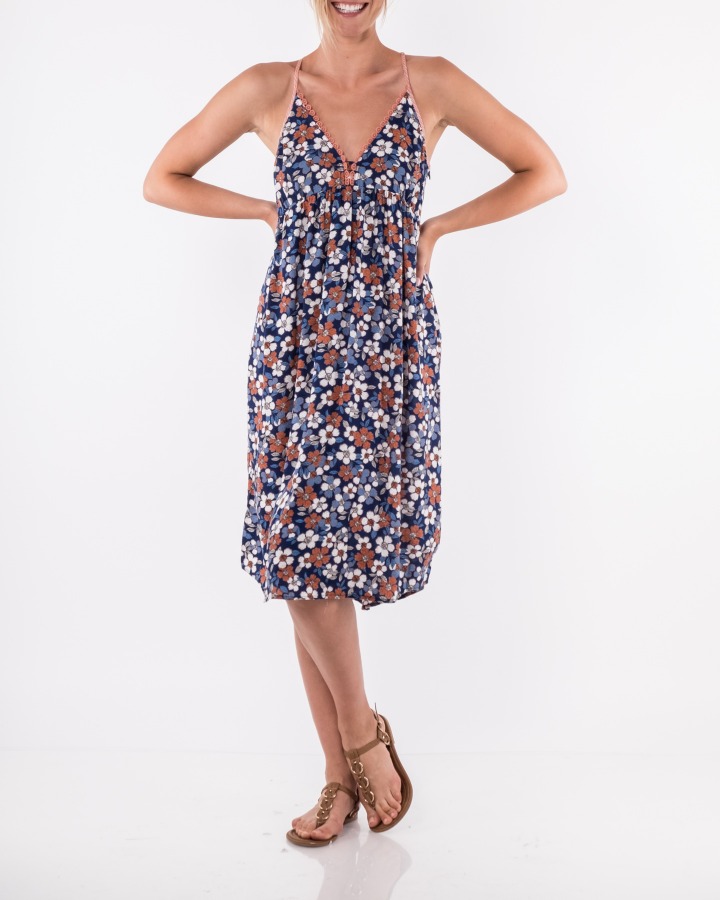 Aside from the sweet, floral pattern, what's lovely about this dress is the length, not too long... not too short...just right Goldilocks! If the neckline looks slightly too plunging for where you're going, easily add a lace tank and if your air conditioned office is where you're headed, add a jacket.
Hem & Thread spaghetti strap dress (navy/orange) was $85 is now $65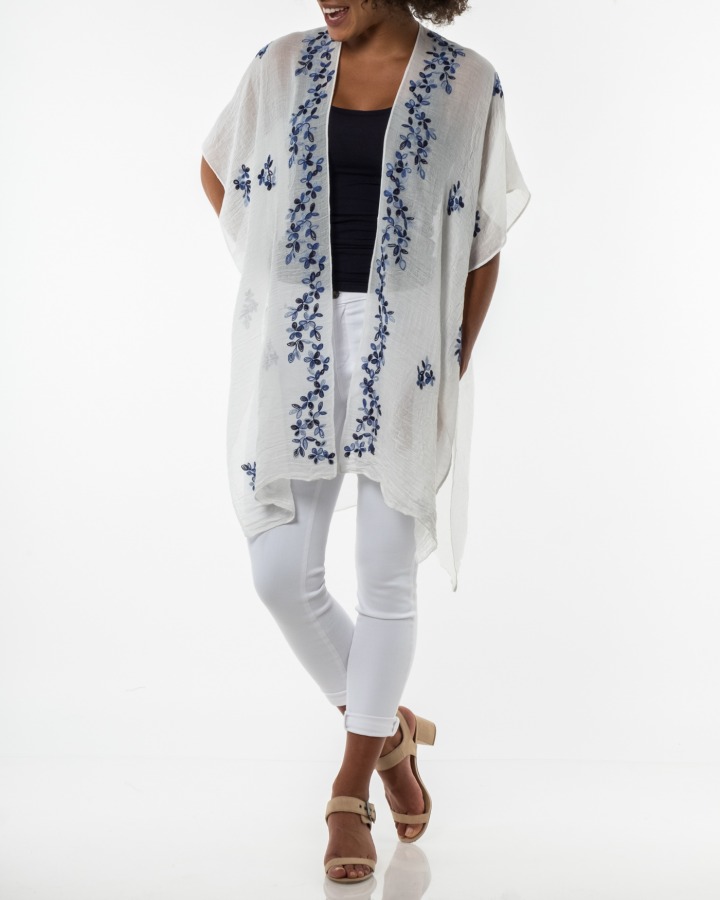 And of course embroidery is yet another common theme. The kimono featured here is bound to be another seasonal favourite for its very light texture.
Embroidered kimono (white) $79
There is definitely a way to add elements of the boho style to your outfit without being head to toe 70's. A little bit of lace, a hat, or an embroidered jacket. I once went all out on Halloween as a hippy. I could very easily see from the passersby on the street, it was rather unclear if this was my usual style. Lesson I learned? You can take the girl out of the 70's but it's best to leave that entire 10 years where it was, maybe grab a piece or two, but it's in the past for a reason!
Peace...
Suzanne M
"Rows and flows of angel hair, and ice cream castles in the air, and feather canyons everywhere, I've looked at clouds that way" ~ Joni Mitchell ... read the full post and reader comments