For the casual holiday party, most women wear a dress or a printed blouse to look their best. These looks are flattering and fun, but this year, why don't you wear something different? If you want to stand out from the crowd, put on a pair of the Mavi printed jeans.
Dress your pair up or down depending on the invite. For the casual holiday party, wear the jacquard jeans in wine with a white button-up, a black jacket and tons of jewels like we've shown below. If you like to show off your legs, this is the look for you. These wardrobe basics play up the print of the jeans so people will look straight at the print. Wear a pair of black high heels and you'll have legs for days.
Printed jeans are versatile so you'll get more wear out of them than just at the party. On Monday, wear your pair again with a black collared shirt, a belted cardigan and ballet flats to go to work. When worn with these essentials, the printed jeans create easy stylish looks.
With the 50% off sale on the Mavi printed jeans, now is the time to give your legs the attention they deserve.
From now until the December 24th, get three styles of Mavi Printed Jeans for 50% off.

The three styles include the Alexa Printed Jacquard Jeans in Wine, the Alexa Printed Flower Cord in Caramel, and the Alexa Paisley Jeans in Caramel. (Shown clockwise below.)
Plus, buy one piece of jewellery and get the second piece (of equal or lesser value) for 50% off!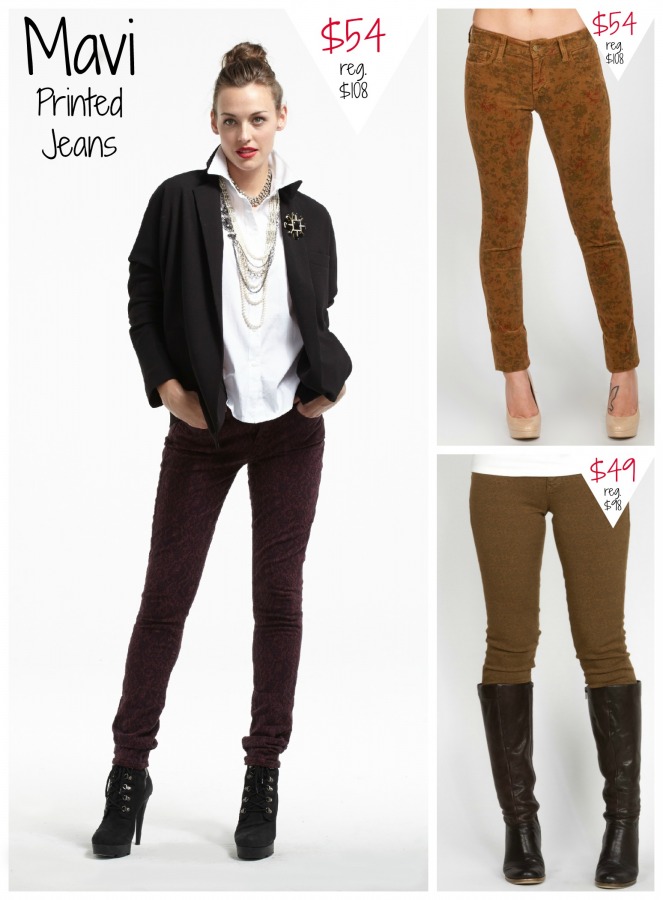 ... read the full post and reader comments