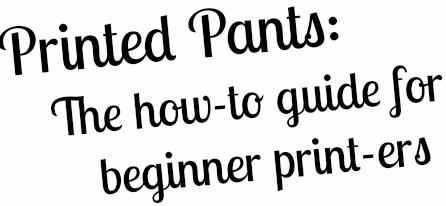 Coloured denim (and cords and dress pants and every other conceivable kind of pants) were h-u-g-e this year. Which left me wondering, can we ever go back to wearing exclusively blue and black jeans? I mean, I guess we could, but why would we want to? Blue and black denim are the Little Black Dress of the pant world - they go with everything and we love them - an undeniable wardrobe staple. But we still need to mix it up with a little colour every now and then.
While coloured pants are certainly not going anywhere (look for stunning new colours this spring), the favourite new style on the block is printed pants. Floral, polka dot, geometric - whatever your pleasure, there is a print for you. Just follow these tricks, and wear with confidence!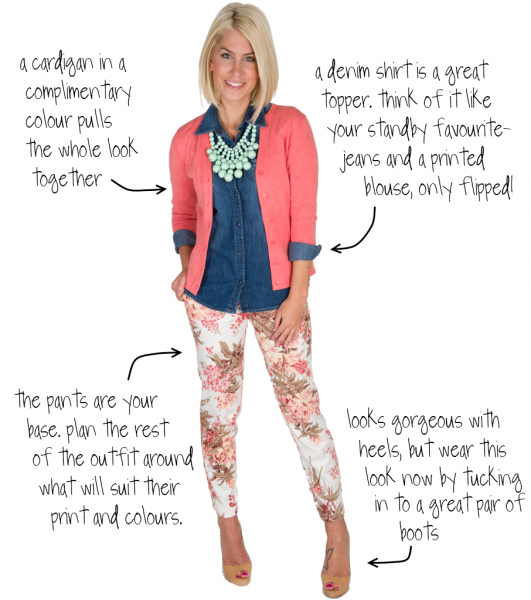 Slim printed pants by Plum, $92. Mavi Denim shirt, $78. Kersh ribbed waist cardigan, $49.
If you're a print pro already, challenge yourself to wear these beauties with a printed blouse! The trick is to just keep the two prints in the same general colour family so that they're not competing with each other. A nice warm-toned leopard print would do very nicely with the floral glory pictured above, for example. Don't believe me? Check out this interpretation of the pattern mixing trend. It is bold and beautiful.
Now tell me what you think! Will you be a printed pant pioneer? How are you planning on styling them? As always, feel free to leave me a comment here, on our Facebook page, or tweet me @PlumClothing!