LB works at our White Rock Plum location and will be our newest Plum.ca web model. She's in the process of finishing a Psychology degree, but wants to take a different path into the world of fashion. She has her own fashion blog, and spends an equal amount of time on other people's blogs gathering inspiration. Let me introduce you to my latest girl crush, Laura Beth.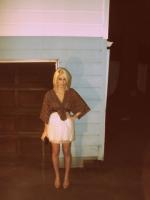 How would you describe your personal style?

I can't pinpoint what exactly my personal style is. Feminine, classic, weird & wild. I usually like to wear things that generate a conversation… although sometimes people mistake my outfits for Hallowe'en costumes.
Vintage or Brand New?

Vintage, hands down. I love wondering who owned the clothing before me, where they wore it, what their story was.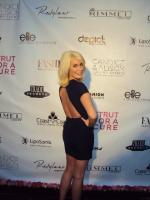 If you could have your dream job in the Vancouver fashion industry, what would it be?

I would love to be a fashion writer or stylist for a media outlet, such as a newspaper or magazine.
My next flight will be taking me to…

Saskatchewan.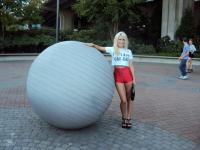 Tell us, what are your top places to shop? Do you ever shop online?

I do a lot of my shopping at thrift stores, H&M, Plum, Zara, Holt Renfrew. I do enjoy shopping online, although I can't justify doing it very often. Online, I love ShopBop, Nasty Gal, Etsy, and Topshop.
My most recent purchase was...

a pair of thrifted black velvet Ralph Lauren monogrammed loafers.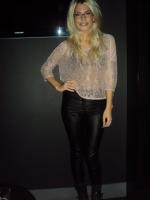 If you were trapped on a desert island, which 3 cds would you choose to have with you?

Dragonette – Fixin' to Thrill, Third Eye Blind – A Collection & Lil Wayne – Tha Carter III.
Favourite piece in your wardrobe right now and why?

I can't decide! I am really loving my black Mavi jeggings… so versatile – they can be dressed up or dressed down, and feel a bit more structured compared to a pair of thin leggings! ... read the full post and reader comments