Did someone just flip a switch? As much as I love the spring, and try to embrace the wardrobe change, I cling to my blacks and darks. As soon as the weather brightens, I feel a bit like an evil spirit coming surreptitiously out during the daylight hours. Suddenly I feel compelled to bury my blacks in the back yard, however, still clinging to them like a lifeline! It is possible to liven up your wardrobe (I tell myself), while still being ones self! Here are a few ideas.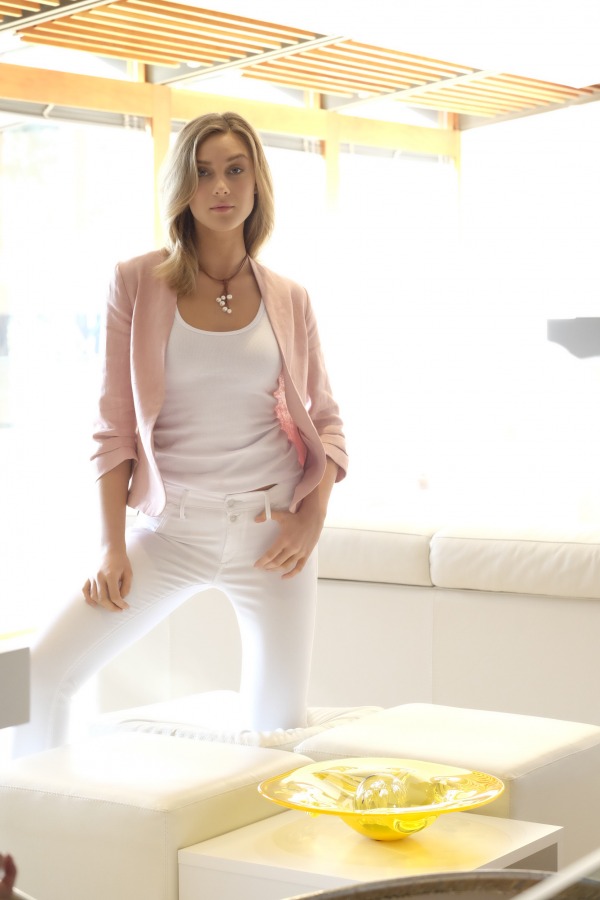 This supremely beautiful jacket is simple, comprised of clean lines, with pucker pleated sleeves and 100% linen. You know...the fabric that wrinkles when you look at it, but that just adds to it's character (that's what I tell myself about my wrinkles)! Great for those who like to dive right into the season!
Tobias linen jacket with pleated sleeves (grey, natural or rose) $179
Mavi Adrianna glam white rinse (white) $118
Plum ribbed tank top (12 colours) $18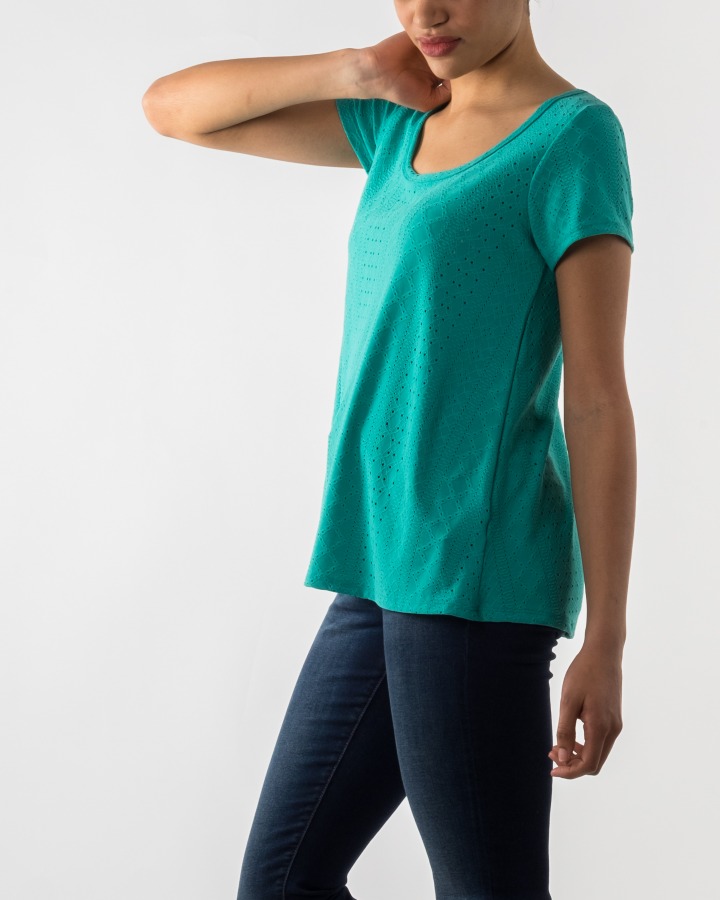 If you're like me, you're not ready to drown yourself in a vat of happy colours. Not ready for the white, or even light...well what about bright? This jewel shade top is just the thing to pump up the colour in your wardrobe. Stick with the dark or denim bottoms but light next to the face...people will think you started a new relationship! Just a wonderful marriage of eyelet in a knit fabrication.
Wink wink cap sleeve eyelet t shirt (jade, pink or white) $49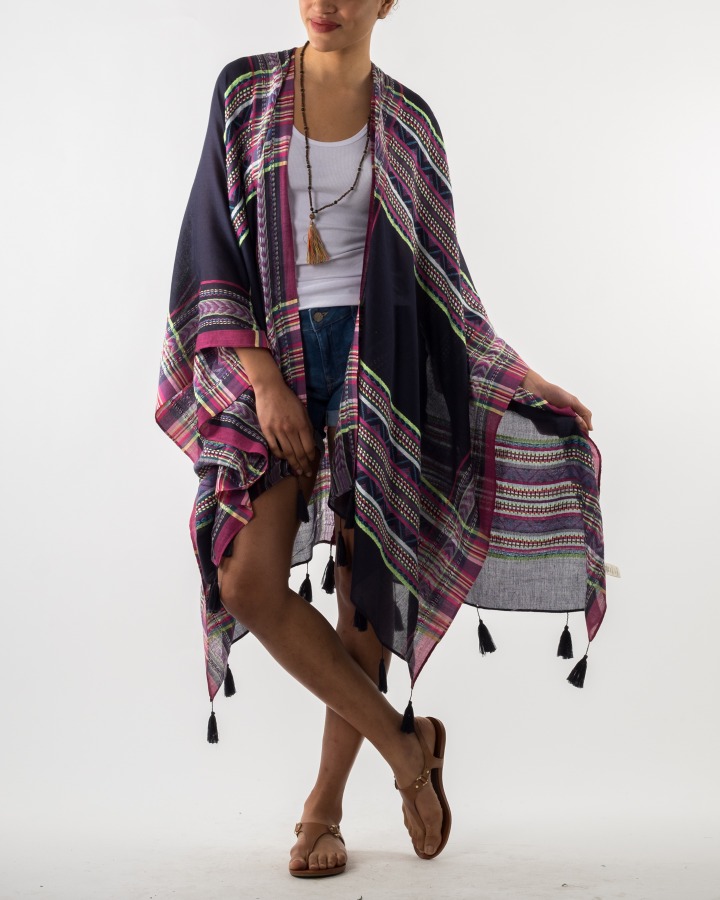 And another idea...a throw/shawl. So many fresh, lively colours, yet still merging nicely from the dark season. A great ethnic feel, with wonderful ribbons of bold colours woven through the edges. Complete with tassels.
KW stripe yarn die Ruana shawl $49
Another true sign of spring is flowers. Whether it be planting them or wearing them. This is such a delightful botanical print with an undeniably feminine shape and adorable back bow tie.
Creme Rosemary tie back t shirt $69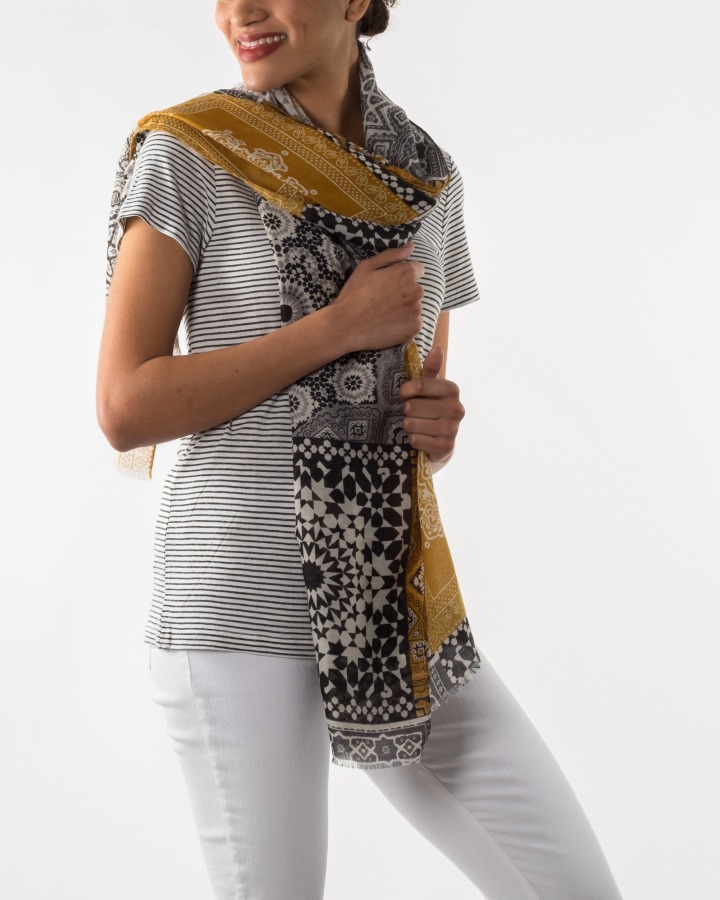 Maybe it's just as simple as adding a cheerful scarf. The one above is nicely paired with a stripe shirt, which acts as a neutral against the complexities of the faux patchwork scarf.
KW multi print scarf (blue or mustard) $35
So if you're like me and drench yourself in dark, somber shades through most of the year, maybe you feel slightly compelled to climb out of the darkness for a few months....sometimes, begrudgingly! There are subtle ways though, without turning into the wardrobe equivalent of a sheet of unlined paper.
Yours in Fashion passion...
Suzanne M.
Give light and the darkness will disappear of itself~ Desiderius Erasmus