It doesn't take a style guru to know that you feel the most fashionable and put-together in a well-fitting garment. I spoke with Plum designer Claudia Agusti about fitting dresses for every woman. The focus is of course on accentuating a woman's best features. For Claudia, the neckline and the waistline are key.
One of the most exciting formal dresses for Spring 2012 is this classic LBD (available in a dreamy cream colour as well). You can take this number from work, to a wedding, on a date, and back again. The natural waistline falls at the smallest part of a woman's figure. This slims the body and gives the illusion of an hourglass figure, if you need a little help faking it like most of us do!
This ultra-feminine neckline shows off another great ladylike feature, the décolletage. It also makes a great backdrop for any kind of necklace you want to showcase.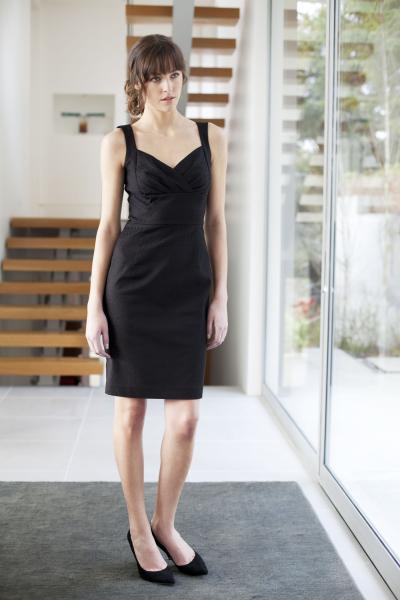 Sheath Dress with Bust Detail in Black and Cream, $129
If you're looking for a colour with a little more pop, try this one on for size. It has similar design features as the dress pictured above and a to-die-for peekaboo back. It's still appropriate for any formal event, and the eye-catching print is fun and feminine.
Dress with Peekaboo Back in Green, Pink, Purple, and Red, $120
When you look great, you feel great! That's why Plum invests so much time and care into each Simone dress it produces. Check out this video from Shaw TV and watch the design and production process from start to finish.
Think of your favourite Simone dress. What is your favourite feature of it?
... read the full post and reader comments