DON'T FORGET about the coupon,(minimum purchase-some restrictions*), still in effect until October 9, get it here
I'm dedicating this weeks blog to my big brother. And what in heaven's blue sky does an older brother have to do with shopping or fashion? Well, his actions reminded me, we don't always purchase clothing for ourselves, sometimes as gifts. As, my brother regularly does things for others, some would say it's his part time job. Recently, he bought Plum gift cards and donated them to a couple who were the victims of theft of all of their worldly goods, having just moved across the country. While precious memories and meaningless trinkets that to us, hold the souls of our loved ones, when lost, cannot be replaced...knowing we have new fresh clothes on our backs...can somewhat lighten the challenge. This morning I didn't yell while ushering the children off to school, and I thought that was tremendous! It seems I should aim slightly higher. ;)
I'm a huge fan of the poncho phase, which appears to not be slowing down. In part because it fills many gaps...they're warm, they look great, they go with most other garments and layer extremely well. This one would make a fantastic gift for someone because of it's ubiquitous fall shades, unique curved, ribbed edge and sleeves and it's universal appeal!
Kaffe Maria poncho (dark grey mix) $89
This season at Plum we're noticing that people are reaching for designs that are unique and different. I can't think of anything that personifies that description more than this 'PURE' Jacquard coat dress. An absolute head turner, but what I also love about this is, it's divine feminine shape.
PURE Jacquard coat dress with asymmetric hem (charcoal or silver) $179
As I mentioned in previous blogs, jumpsuits are massively popular this season. With our harried lives, we often gravitate to what's simplest. While this is classified as easy, I can think of multiple ways to funk this up, if your usual is to be creative. Add a wide belt AND even add a chain belt as well. Or a wide belt and a collection of pendants, or a scarf and the newest trend is embellished boots.
SPRING HAZE 3/4 sleeve jumpsuit (black or olive) $89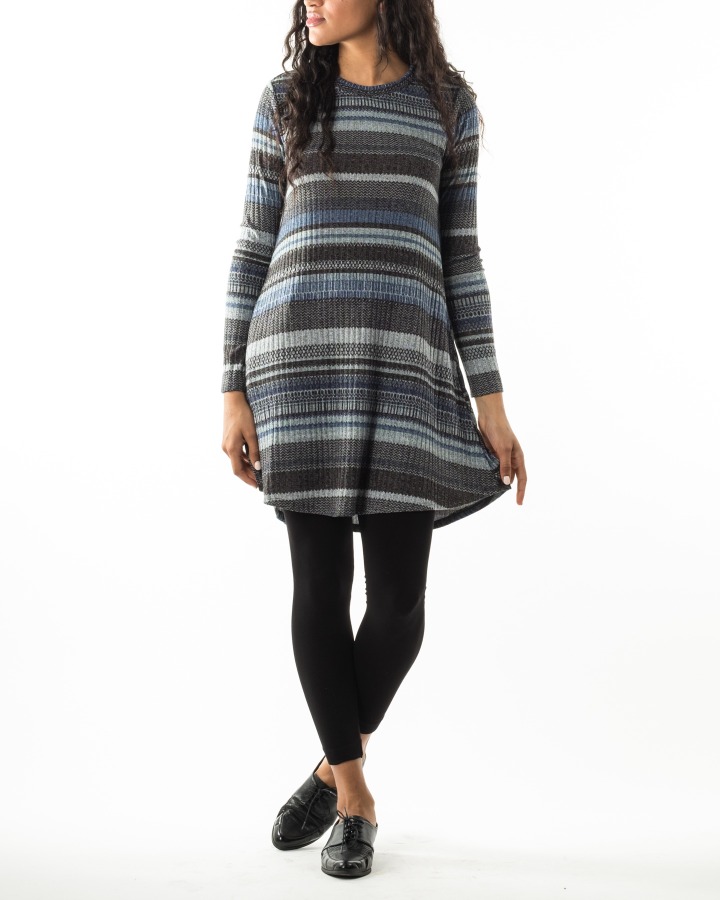 Tunics are hugely popular as well currently. Again for their ability to create multiple different types of outfits, as a dress or as a top. Add in the multicolour stripes and it's an equation anyone can figure out.
Point Zero long sleeve swing dress (navy stripe) $79
What is community service to you? To some it entails taking charge of an annual event, to others it means simply checking in on an elderly neighbor regularly. Plum is a huge part of it's community from sponsorships to being regular sponsors of Dress for Success and Big Sisters. And really, reaching out to others, will never go out of style!
Yours in Fashion passion...
Suzanne M.
I'd like to just take a moment to show my appreciation for my brother, my husband and friends who officially and unofficially invest in their community. Thank you!
"A candle never looses any of it's light, by lighting another" ~Rachel Allene
*Min purchase $95, jewellery and sale items not included, offer good until Oct.9, online and instore ... read the full post and reader comments