DO NOT MISS OUT on this:
FREE SHIPPING:
min purchase $75 (before tax)

ends Sunday May 7

does not apply to instore pickup

use code SHIP2017
If you have something to say or a cause to support, it's commonplace to put it on a t shirt. And why not, that's a lot of blank space to be used! This is not new, the first graphic t's were army issue back in the 40's or perhaps earlier, the 'Wizard of Oz' t shirts used to promote the film. Graphic t's then skyrocketed to popularity in the 50's and 60's when bands caught on to their promotional appeal. And, who can forget George Michael's 1984 iconic 'Choose Life' t shirt. BUT, no need to be so serious. Plum has a wonderful selection with a much more light hearted take made by Bear Dance. They're silly, often feature some of our favourite pets and fit so well. Let's explore them and a few ideas on what to wear with them: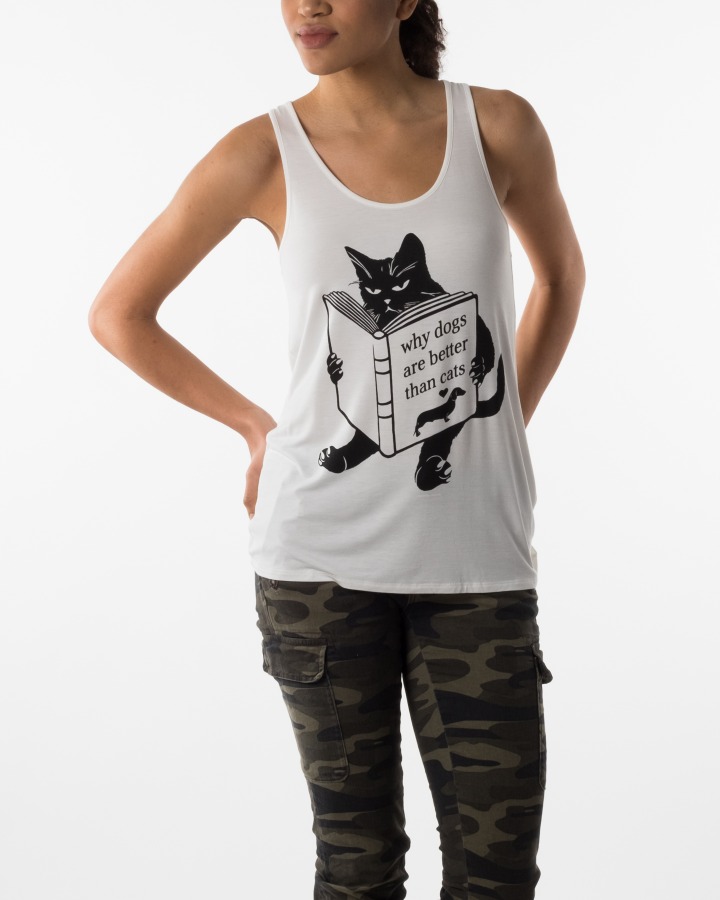 This is assuming your cat can't read, otherwise this is a great way to get on your cat's bad side! But who cares, it's for your amusement not theirs. Love how it's worn above with camo pants, after all, don't forget black and white are viewed as neutrals. Don't be afraid to mix things up!
Bear Dance cat and book (grey or ivory) $35
Mavi Juliette cargo pant (military green) $118
Maybe sass up the silly of this 'chicken doing yoga', with a pair of tuxedo jeans. With the addition of the 'don't-mess-with-me' heels', I'd say this is a fun Friday night outfit!
Bear Dance chicken doing yoga (black) $35
Dish skinny tuxedo jean (black) $124
Here are three pieces that work well together. If you work in a somewhat relaxed environment, these pieces work because they balance each other out and there are no pattern clashes.
Bear Dance 'I work hard' t shirt (black) $35
Look gingham check scarf $39
Tobias jacket with elastic back (blue/cream or cream/black) $189
And who doesn't love 'little red' staring down the big bad wolf! Another way to wear your graphic t...tuck it into a skirt, add a belt and a simple cardigan add a bit of red lipstick and you're ready to go!
Bear Dance wolf and riding hood (heather grey) $35
Orb pencil skirt (black, or heather grey) $55
Plum has plenty of seriously comical images to choose from. Find the ones that suit you. They're also great as gifts.
So, maybe if we have something to say, we can possibly use Facebook, blogs, Twitter, or back in the day, we used that low tech thing above our chin... maybe we can save the t shirts for, light hearted, funny, silly...provoking smiles and fun conversations...not more arguments. Because, well...we now have a new world leader that can do that for us!
Yours in Fashion passion...
Suzanne M.
Let's make graphic t's great again! ;)