Let's talk about t shirts. My favourite thing, second only to breathing! In recent years, rising to the forefront of fashion because they're fun, easy, light and often an inexpensive way to add some levity to your wardrobe. No longer just for hanging out at home or cleaning the car, they're currently seen nearly everywhere, yet I doubt they'd have appeared at President Trumps Inaugural Ball...or a court hearing (a few exceptions)! Plum has an amazing collection of witty t shirts. It's time to stock up and wear them out!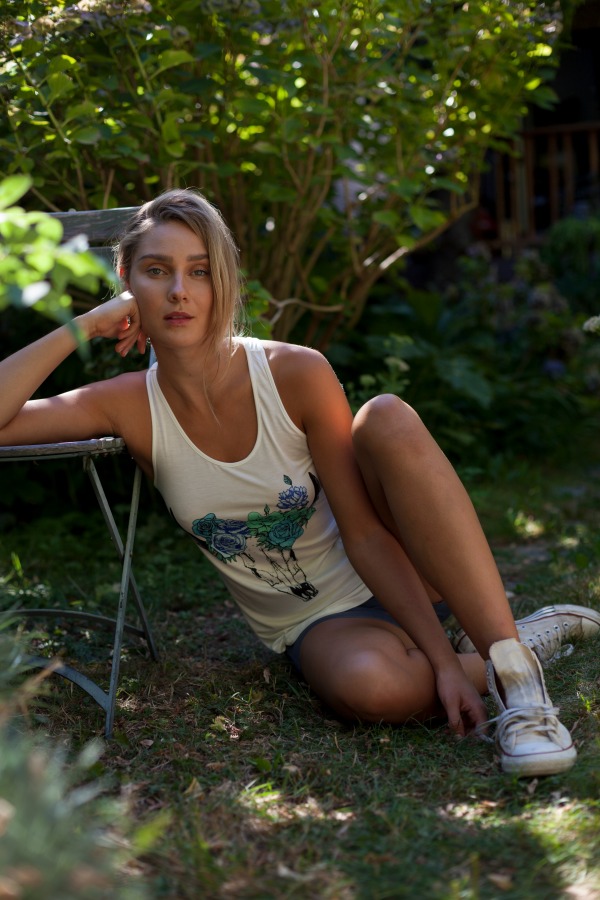 Needless to say t shirts go with shorts like coffee and cream. Meant for each other. Such is the above skull with roses. These are such nice fitting t shirts, comprised of rayon and spandex.
Bear Dance skull with roses $35
A fairly common pairing now is with a smart blazer. The above Tobias blazer is just as comfortable as the t shirt with it's rayon, nylon and spandex composition. To wear with: tuck the t shirt into a pencil skirt and add a skinny belt. Just one of many options.
Bear Dance wolf and riding hood $35
Tobias shawl collar jacket (silver or black) $179
Another fantastic option, wear them with kimono's, shawls or ponchos. Plum's acapella oversized shawl is a great match. Loose and free flowing as well as very long. Pick your favourite skinny jeans, and pumps or ankle boots. A great weekend or pub night with the girls, look.
Bear Dance inhale exhale $35
acapella oversized open shawl (black, natural or navy) $79
I wonder, do you think President Trump likes cats? Totally irrelevant. Like cats or not, you have to admit these are very light hearted and funny. Simple enough to throw on a plain t shirt but graphic t's add a bit of whimsy and playful humor.
Bear Dance never trust a man t $35 Bear Dance cat with sombrero $35
Bear Dance sushi chef cat $ 35 Bear Dance tattoo cats $35
When you think of adding one or two pieces to kick start your wardrobe, these are a great way to play up your sense of humour, stay current and add a breath of fresh air to your closet. Plum has an incredibly irresistible array of choices. No need to have a cat, just a sense of humor.
Yours in Fashion Passion...
Suzanne M.