In my opinion, February needs a bit of a kick in the butt. Doesn't February make you feel like you would like to go to sleep and not wake up until June? Perhaps it's the endless blocks of pedestrians tempting fate with the head to toe black (and of course the rain). Whatever it is, a titillating movie (and maybe a kick in the wardrobe department), might help the mood a bit. The current movie choice is fairly obvious but Plum can help cure the doldrums in the wardrobe department.
Take a look at some Plum picks...

How fresh, pretty and romantic looking is this? Ultra feminine with a peak of lace (cami) beneath. Add (as above) a statement piece or a collection of eclectic necklaces as the twist neckline would welcome.
Plum front draped top (black, champagne, periwinkle) $79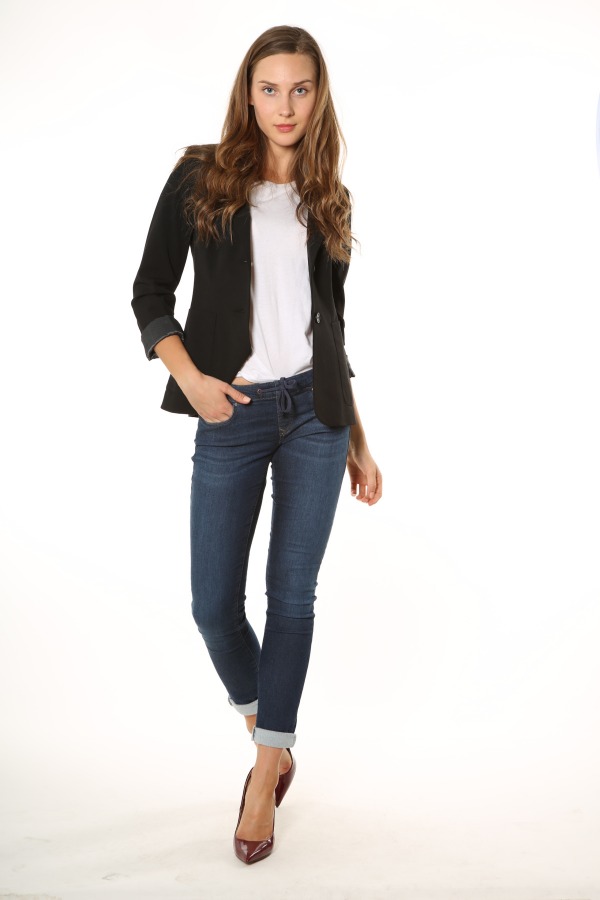 This is such a wardrobe basic. Basic white t shirt, jacket of choice and (as above) a pair of super comfortable jeans and you're set. Add or subtract accessories if you're feeling so inclined.
Nanavatee asymmetrical slub cotton t shirt (white, hot melon, khaki) $35
Mavi jogger comfort jean (dark sporty) $98
Tobias 2 button jacket (black) $179
Perhaps a great choice for Anastasia for her interview with Christian? Undeniably a great corporate look or even a date (as seen in the front of the email). Black and white together are clearly a great combination, however, any other colour will co-ordinate. Sometimes we're just too busy to construct a complex look, in which case, this works perfectly well as it is.
Tobias zip front fitted jacket (black, ivory) $185 Did you know that Plum now has online sales? www.plum.ca
I think when Drabuary rolls around, we all need a bit of a perk. Injecting a bit of white into your wardrobe is such an uncomplicated way. And you never know, you might just happen to meet a billionaire (or look like you are one)!
Yours in fashion passion...
Suzanne M.