Attention fellow procrastinators....fear not, there is still time to grab your coupon* here
Attitude, generally, can mean you have some level of arrogance, self righteousness OR it can mean you're spunky, feisty and spirited. Which is not a bad thing! BUT there is no reason you can't have both types of 'tude...gratitude and attitude. Go on...espouse both qualities, it will truly confuse people! Wear your attitude, but be very gracious. Wear your attitude, but help the old lady across the street with her groceries; sure you might look like you might intimidate even Anna Wintour...but you'd provide life saving mouth to mouth on a kitten....the world needs more of you! Keeps us all on our toes!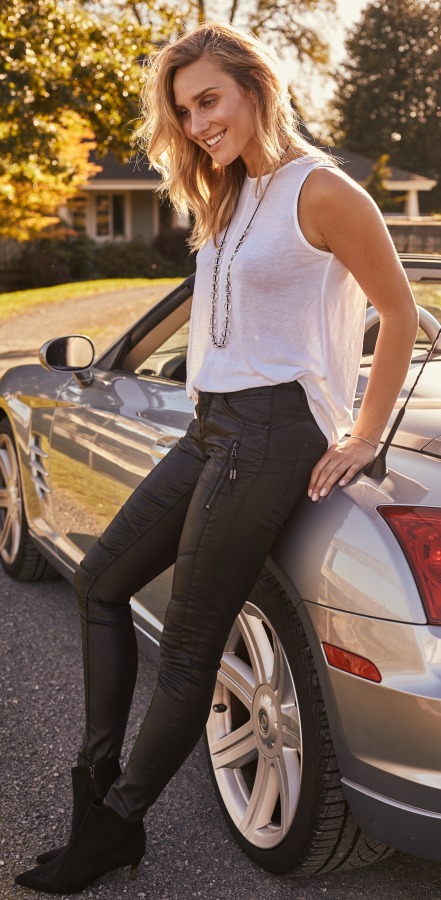 You really should try on a little bit of 'sass'! (but not with your Mamma)! These jeans are so incredibly hot, and before you let the words 'I can't' slip out of your mouth...try them on! They have plenty of stretch! Super sleek style that looks fantastic with the contrasting angel white...but so many possibilities. Really stand out style!
Lots of time to talk yourself into these...they're coming SOON!
A bit of a mixture, a simple t shirt dress...with a twist...literally! A high hip level twist and a small slit adds a bit of spice to the usual knit dress style!
Wasabi+Mint side twist dress (black or burgundy) $69
Abundant with grand style with some echoes of the Marilyn Monroe era. Not strictly to be worn with solids, a new, bold way to wear leopard print is with different patterns, as if it were a neutral. A basic rule of thumb for this fashion forward look is, keep each pattern within the same colour family. Or also great as a topper, layer over a denim jacket for fickle weather patterns.
Be Young asymmetric leopard print coat (black/brown) $139
So maybe you're not that interested in sass-tude! Here are a couple of great sweaters that are lovely with subtle, muted colours to suit. One covers the grommet and lace up trend really well, while the other mimic's a hand made style with a classic scoop neck. Many more in store to choose from.
Miracle lace v-neck sweater (5 colours) $79
Miracle chunky slub yarn sweater (blue or blush) $75
While some say Thanksgiving has been celebrated for nearly 400 years, really...isn't Thanks Giving every day? And having an attitude of gratitude is what helps jell our society, keeps us from caving during turbulent times.
"Clothes aren't going to change the world, the women who wear them will"~Anne Klein
Yours in Fashion passion...
Suzanne M.
Sweaters, feels like a hug, but less intrusive! Plum has loads of them (hug not included)! Check them out online (many more in store)
*until Oct.9
*jewellery and sale items not applicable
*min purchase required
*get it here
... read the full post and reader comments