SSHHH!!!!! AN additional 20% off sale prices...until July 2nd...try not to tell anyone! (JUST KIDDING...tell everyone)...in store only!
If you're like me and have unconventional proportions, improvising and being creative, learning to sew and alter are just something you're used to. If you're still struggling with this fact, just know, It's far easier than you think to accommodate your specific proportions. And maybe you're looking for a way to diversify your style! One great, new find this season is the jumpsuit...the garment often viewed as kitschy (Elvis) or merely coveralls for auto mechanics, has made a big comeback. And we couldn't be more grateful...thank you...thank you very much!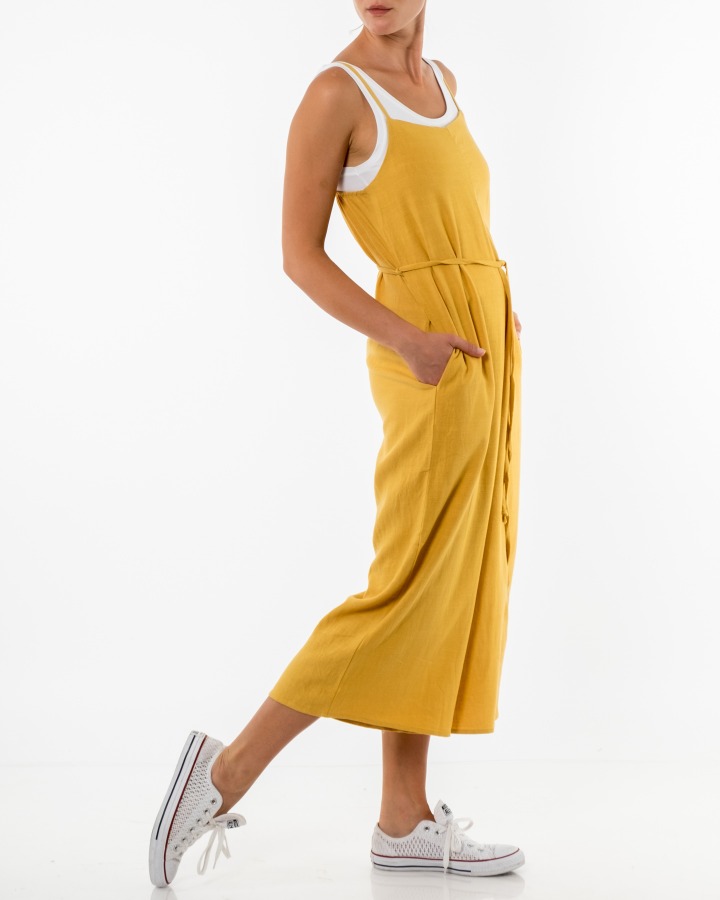 Often viewed as, well...boring, with few options for expanding on the look, the jumpsuit is really anything but. I've seen it worn under a great top, various types of belts to break up the colour, and worn alone (as above) or with a tank top or button down blouse. This one is comprised of rayon and linen, which thus gives it a bit of a lush, more elegant drape. If you have somewhat of a longer torso, note the adjustable straps, back elastic (and of course, pockets!). While it's presented above with very casual footwear, change the tone of the look entirely by introducing a pump, or strappy sandal. Really, much more can be done with this garment than just putting it on!
In Love midi length jump suit (black, brick or mustard) $89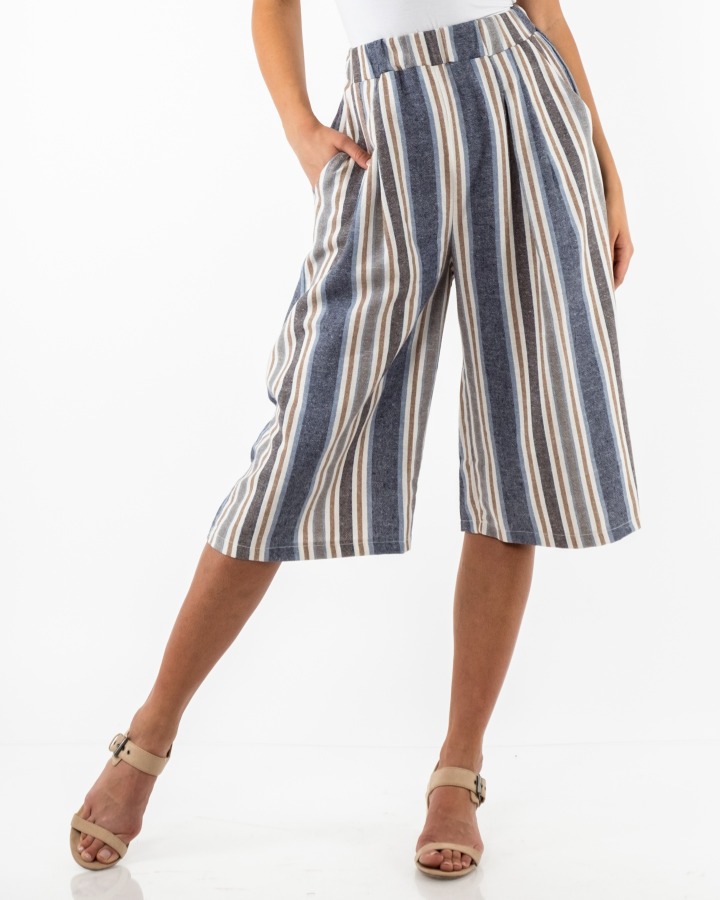 Sometimes, we just tire of the same old same old...such as black or beige pants, or heaven forbid in this heat, long pants...a nice departure from the long or the super short. Providing a bit of give and take is a bit of elastic in the waist and some very easy to coordinate colours. And tuck in your shirt or don't...I'm not your mother so, I won't be dictating your style options! ;)
M woven crop stripe pant (stripe) $89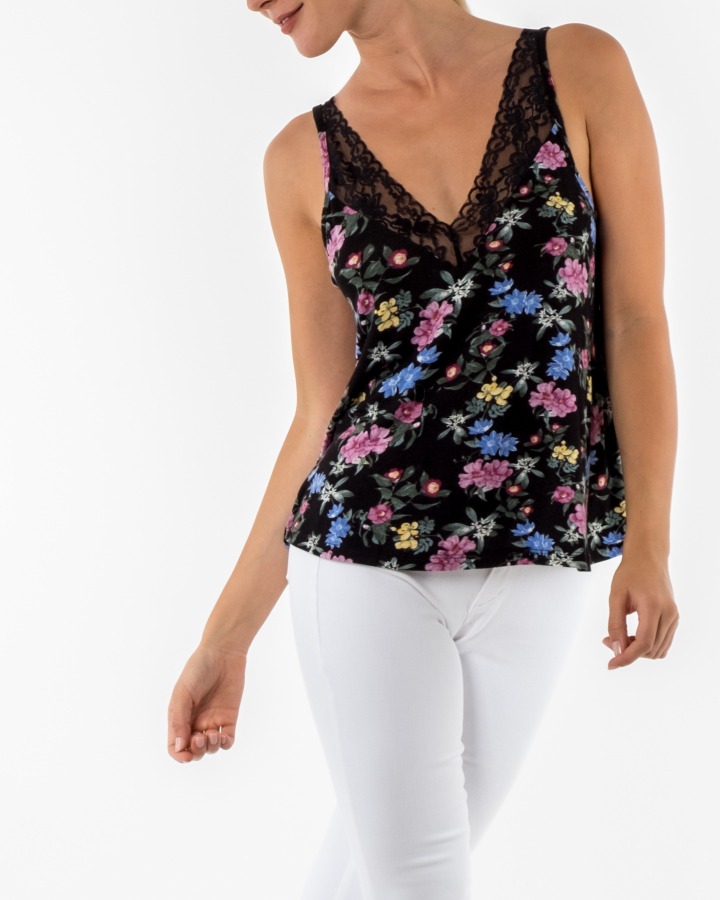 Apparently v necks are an excellent neckline for those of us with a lot 'up stairs' (aka:.boobs)! I love this top and I think the lace is great for everyone. The pretty floral pattern with a black background proves you can still wear black and look summery!
Allie Rose tank lace edge (black floral or ivory floral) $32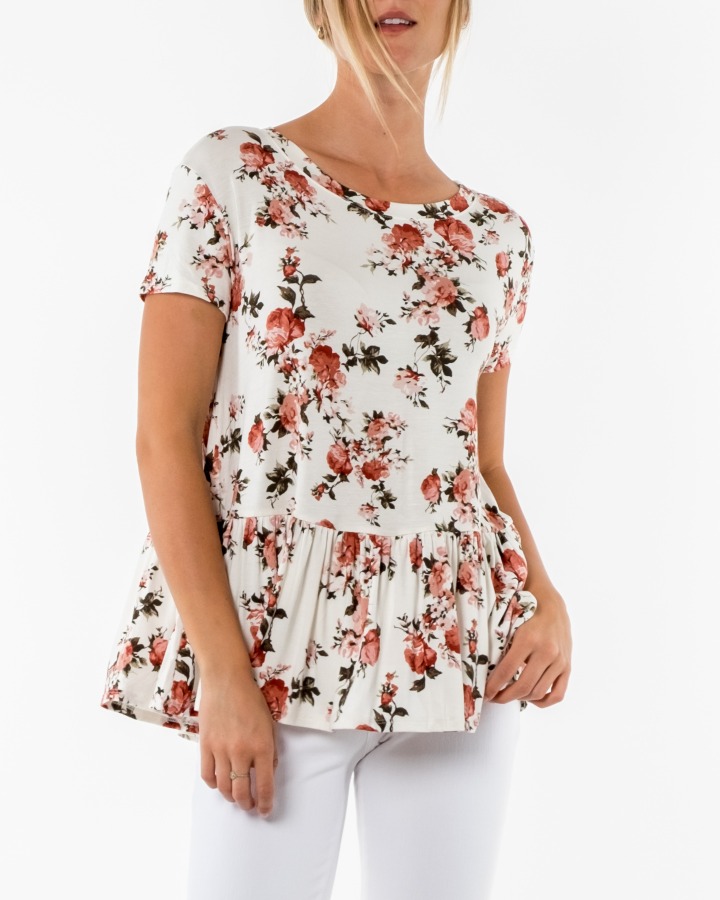 And perhaps what you feel most awkward about is your mid section. With this mid frill, no one would have a clue about this but you (and maybe your therapist). A great pairing for this sweet, feminine top is crop pants, shorts or even a pencil skirt.
Peppermint floral print knit top (black or off white print) $45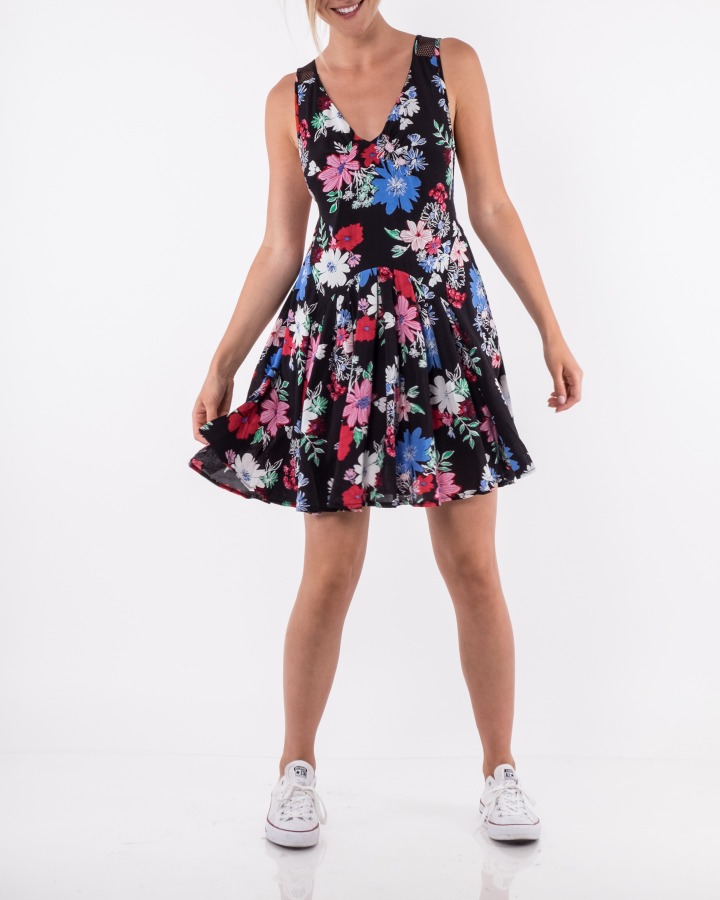 I can see this dress as one that one constantly reaches for, because of it's bright, summery pattern and comfortable construction. Perhaps an excellent choice for those concise in height. Ignore me, it clearly works for everyone, as we can see from the model who is, how do I put this...unabridged!
Very J mesh strap print dress (black print) $95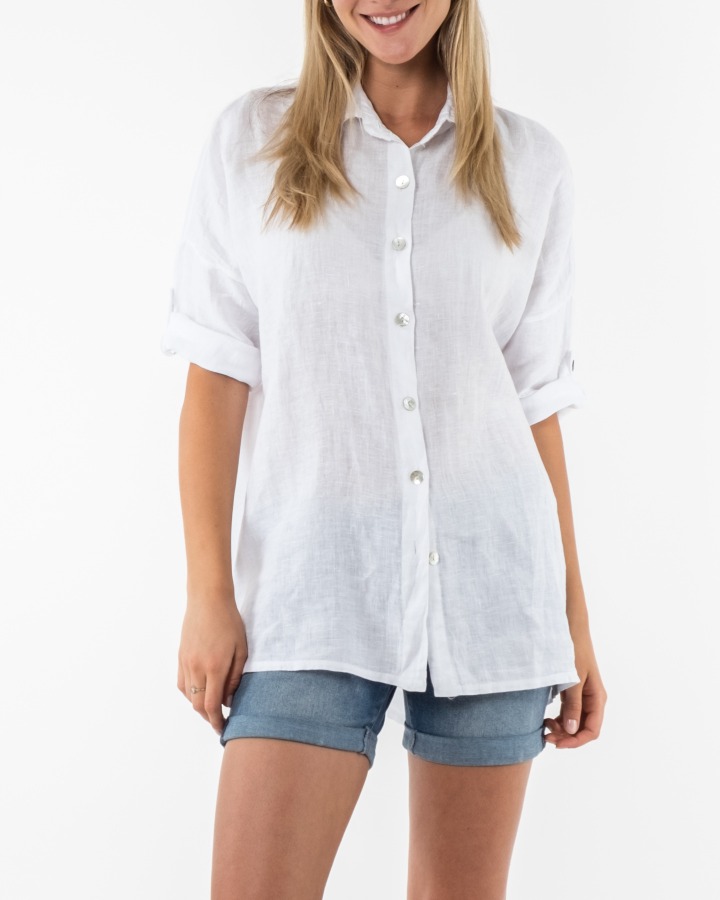 The ubiquitous white shirt...classic, fresh and timeless. A wardrobe essential that goes with so many things. Worn alone just creates a lighthearted feeling, or use it as a display for your favourite accessories! And yes, you might need to iron it, but it's worth it for a nice crisp look.
Catwalk button front linen blouse (taupe or white) $89
Saudi Arabia went overboard in the 'creative' department recently at a fashion show, using drones instead of flesh and blood human beings to display some new creations. I think I'd rather sit on a sun deck and watch the laundry blow in the breeze or pay a visit to my local dry cleaners and retrieve some of my favourite things all fresh and clean. No drivers license required!
Yours in Fashion passion...
Suzanne M.
"You can be the best role model by being yourself"~Kelly Clarkson ... read the full post and reader comments