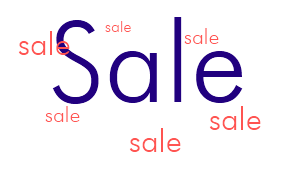 Well friends, it's that time of year again. Believe it or not, retailers need to start making room for fall merchandise pretty soon (excusemesummerhasn'tevenhappenedyet), so now is a great time to shop the sales and put together a summer wardrobe on the economical. While sales are indisputably awesome, they can be a bit overwhelming and tiring if you go in without a game plan. So here are some simple tips on making the most out of the sale season.

1) Take stock of your wardrobe before you go. Where are your gaps? Most stores have a 'final sale' policy on sale items. If you get home only to realize that you bought a repeat of something you already have, you're likely to be stuck with the double.
2) If you happen to be on the smaller or the larger side of the size spectrum, this is your time to shine. Get out there and get shopping. Median sizes tend to get snapped up right away, leaving smaller and bigger sizes to be discounted when it comes sale time.
3) When you find a great deal on an investment piece (a blazer or a great dress, for example)- or even just something that you really liked but the sizing is a bit off - go for it. Having some minor alterations done will be worth it in the long run, and you'll wind up with a piece that not only was on sale, but was custom tailored for you!
4) If you want an entire outfit at a great price, don't be shy about asking the sales associates for advice on how to pair items. Trust me, they (we!) see the clothes worn in every combination imaginable and will be happy to pass along the unique product knowledge to you.
5) Quality over quantity. If you're at a sale trying to decide between two or three tops that you have lukewarm feelings about and one blazer that you love, always go for the love. In this case, less really is more.
Don't forget to visit our fabulous sidewalk sale this Thursday through Sunday (June 21-24) and put my handy tips to good use! And I'm not saying you'd want to hang out with me, but just in case you do, I'll be at our Kitsilano location Thursday, Saturday, and Sunday.
Check out all the great deals here: Plum Sidewalk Sale
And now I'd like to know, do you usually wait for sales to go shopping? Are you a sale veteran/rookie? Leave a comment here or tweet me @PlumClothing