First of all, don't miss out on our PLUM PROMO; Spend over $100, qualify for a $15 coupon for later use. You do not want to miss out on this; details below.
Lets talk dresses... life is complicated... go to to work, pick up kids, pick up groceries, pick up laundry, pick up the slack...does it ever end? Probably not. It is what it is. Therefore,it's nice to just reach into the treasure chest of a closet and pull out something that just 'works'. Effortless chic; quality fabric, the right cut, and you're off. Easier to look good than changing a diaper in the dark (lets face it, you do that in your sleep (or have)). The days are full of multiple types of activities, walk the dog, make breakfast, go to work, PAC meetings etc....few people enjoy (or have time for) changing 4 times. I have been known to merely change my shoes and jacket (yes I've walked the dog in a dress). How simple.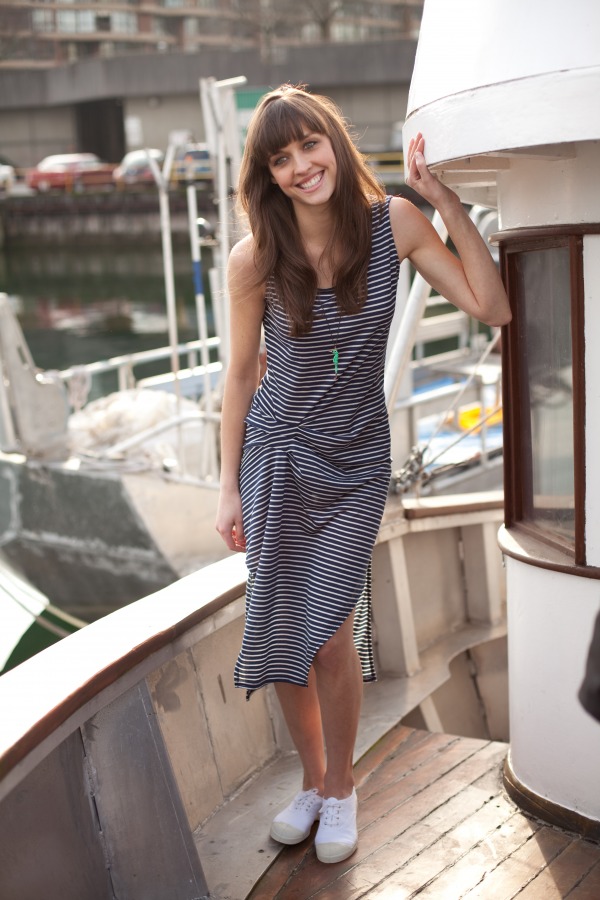 Stripes are your best friend when it comes to simplicity. Bonus points for the gathered pleat. This sleeveless knit shakes up the stripe, by adding a bit of visual interest, with this unexpected detail making accessories absolutely a matter of mood!
Perhaps you're looking for a more demure look for an evening event, or afternoon tea. This is very much the season of lace. The ultimate in femine style. I almost had to catch my breath when I saw this stunning number. With a beautiful hint of pink lining and complimentary accented waist, as well, slightly sheer cap sleeve, cut to compliment the curves you were not meant to hide. Comes as well in off-white.
Feeling like a goddess in disguise? No disguise here. This gorgeous vivid green strapless print, has a sheered top flowing down to a complimentary, yet contrasting border. Also in two other prints.
Light as air! Doesn't this remind you of an angel walking on air? So light, gossimar, flowey with the dreamy flower print. Ahh... just so pretty! Another functional piece that will not see much closet time. Top it off with a jean jacket or cardigan or nothing at all.
Now, last but by all means not least, I would like to introduce you to both my fashion muse and the dress of the day (or perhaps the season). My work associate Sue, Plum's Inventory Manager, is sporting what is 'now' referred to as the magic dress. Sue turns heads wherever she goes but I'm fairly sure this ensemble will be in the new version of the Guiness book of records for being the only dress which promted someone to remove their earbuds to make a comment. YES SOMEONE REMOVED THEIR EARBUDS to comment on this dress. Wouldn't you? I'm sure I would. I think the tally was 5 people stopped to make a comment. That's exceptional. Therefore if you're looking for a 'double take' dress, this might well be the one. Channelling her inner 60's girly girl, finishing it off with a wonderful crinoline for added length and texture and just the right strappy pumps Sue struggled to make it to work. Remember, you'll need to leave extra time for your 'comment' time with this dress!
If at this point confusion has set in, Plum's experienced staff can assist in locating THE dress for you. Sometimes our bodies change with time and life events; babies happen to our bodies. We love babies but they certainly can reshape things. Plum staff can easily assist in helping to uncover what works best to compliment your current lifestyle and body as it is now... show you shapes that work, lines that compliment or discover something new about yourself.
And don't forget about this fantastic promo. That and these stunning styles should be enough incentive to revitalize your relationship with your closet.
Yours in fashion passion
Suzanne M
Plum Promo: From May 15 to May 25, spend minimum $100 (before taxes), you will qualify for a $15 off a future puchase coupon. Coupon will be emailed.