It's that magical time of year for communications with loved ones from afar, gift buying, Christmas music and many festive events. We would love to enjoy all of it, but sometimes feel run ragged. Therefore, the last thing we want to do is fuss over the outfits. I take that back, I'd LOVE to spend time creating a fun, interesting ensemble that wow's all, however, more often than not, it's a scramble. Plum can't help with things like, deciding who's inlaws to spend Christmas day with, but can help with the outfit.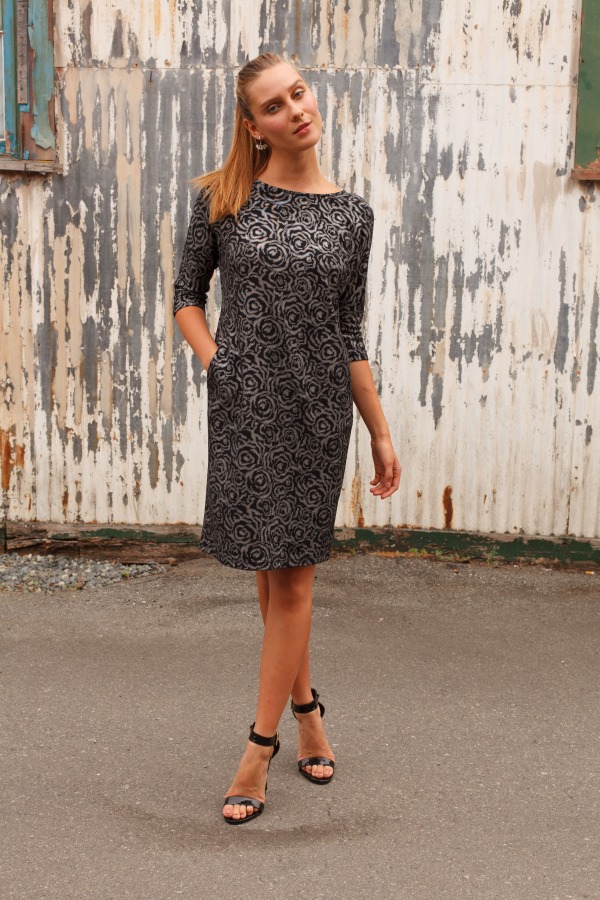 This is one of THE most divine pieces of fabric made into a dress that I've ever had. Despite it's rather unstructured form it's very appealing for probably 'all' shapes. I find it's not only great for this season, it's great for many occasions, suits different footwear and is so easy to care for because it seems to need little or none! Dress it up, dress it down, accessorize or not! Any combination will work.
Simone raglan sleeve with back elastic (silver rosette or gold floral) now $98
This is no plain Jane dress. Have a look at that naughty, tempting, full length zipper at the back. Totally easy to wear, gorgeous form fit but easy to add a statement necklace, pendant or shawl to.
Simone cowl neck dress (black or teal) now $ 95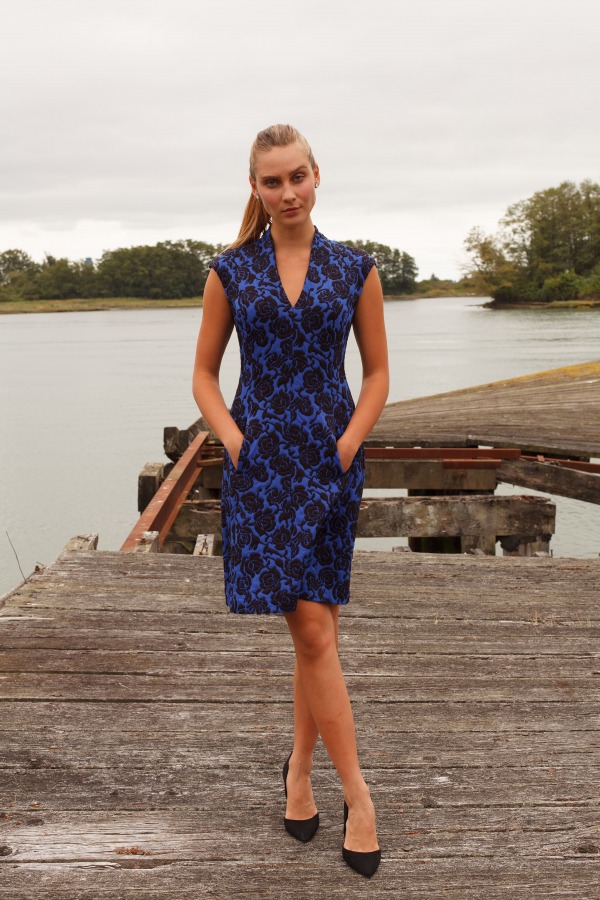 Just call this a just-show-up dress. This dress does it all for you except drive you there! Honestly, as you can see from the above shot, the black pumps are fantastic with this. Gorgeous brocade pattern and wonderful fit and flare cut create an extremely tasteful look. And never ever fear what to do with your hands you fidgety ones...there are pockets!
Simone low vneck aline dress (grey/black or royal/black) $149
And for those of you who just 'cannot do' a dress, you've not been forgotten. There is always a place for lace in this season. Picture it with something like this amazing silver dangly heart, paired with a matching bracelet. Visit a Plum store for accessories to suit your outfit needs.
Loveriche blouse with lace edge (black, burgundy, ivory) $79
Amid the hustle and bustle, carve out some space for some fun, join some Christmas carolers, go ice skating, kiss someone under the mistletoe or make snow angels (or air angels)...but don't forget to head into a Plum store and let the experienced staff help you find your sparkle.
Happy Holiday Season to all...
Yours in Fashion Passion...
Suzanne M.
ps...if you're one of those lucky ones escaping to warmer climates...do not forget Plum has a large selection of resort wear!