For most of us, buying an entirely new wardrobe every time a new season rolls around just isn't a viable option. How do you stay stylish and current without a complete overhaul? It isn't necessarily about spending more money, it's about taking a new approach to shopping. Shopping with purpose means making deliberate, conscious choices about the clothing you buy. Evaluate your needs (and wants!) at the beginning of each season, set a realistic budget, and then choose the items you want to welcome home to your wardrobe. This shopping strategy is the best way to take a tired wardrobe and bring it back to life!
To get the most bang+confidence+compliments for your buck, find items that take on a completely new look when paired differently - something that can be dressed up and dressed down. My double duty pick this season? The coloured blazer! Right on trend without being "trendy," surprisingly versatile, and a variation on office wear that is fun! What could be finer for spring?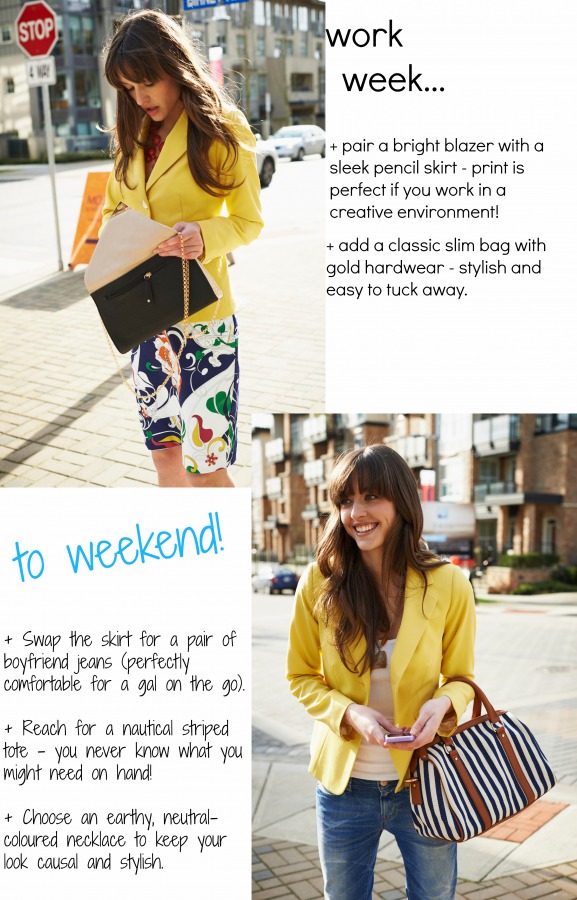 Tobias fitted-jacket, fully lined (striped), in butter (shown) coral, fuscia and jade. $189
Designed and made in Vancouver. Plum skirt (2 prints) stretch lining $85
Striped purse (2 colourways, red-cream & blue cream) $59, Colour blocked purse $55
Mavi Boy Friend Jeans $108
What's your go-to shopping strategy? How are you planning to put it to work this spring?
As always, I love to hear from you here, on our Facebook page, or on Twitter @PlumClothing