Here's your chance to shop now AND later. Purchase a pair of regular priced

black

or blue jeans between Sept. 13 and 23 and receive a $25 Plum certificate to use on a regular priced item between Sept. 29 and Oct.31. Delayed gratification! (instore and web).
In the old old old days...people wore destroyed denim because, well...they were poor! Could not afford new ones...now it's 'pre worn out' for you (how nice). The ripped and destroyed trend of denim began in the 80's with the 'hair' bands. It then moved into the 90's where grunge bands took over the style, adding to it unkept hair and a loose, easy style (a la; Curt Cobain). Somewhere beyond the 90's, it became fully mainstream, and everyday, to the point where there were more rips and skin, than actual denim. Me thinks this extreme version of the trend can REST IN PEACE! Will destroyed denim ever die completely though? A Donald Trump presidency versus aged or weathered denim... I really have my doubts as to which will move on sooner. Let's make denim great again...wait, was it ever not great!? ;)
Perhaps black denim gives your look a bit more polish...it can also add some edge, it can go either way, depending on the co-ordinates chosen. Perhaps your heart belongs to coffee....then... espresso your love for the deep dark brew with this graphic t! (I know, groan!)
Mavi Kendra straight leg jean (black) $98
Kaffe heart t shirt with writing (white) $42
The above jeans, just enough wear so they look like you've worn them for some time, but you can make your own holes. And if you are on the hunt for a new blazer, plaid or check is 'IT' this season. I bought this jacket and wore it on the weekend and despite the pattern, I had no issues with pairing it with my graphic t's. Made for a great, casual weekend look.
Mavi Alissa high rise super skinny (mid indigo) $118
Kaffe checked blazer (black/grey/red) $139
Another denim trend not to be passed up is the frayed hem denim. The pizzazz of this style is so apparent. it's fun, it's easy, it's charming (who cares if the hem is straight, the more jagged the better). Wear them with a Moto jacket and Cuban heels or chunky Mary Jane's and a long blazer. Or as above casually with converse. And a jacket/coat like this, helps welcome the weather change.
Mavi Alissa high rise super skinny fringe ankle (dark brushed supersoft) $128
Daisy long zip coat (black or olive) $110
The ideal compliment to a loose fitting denim bottom is a fitted top, be it a tank or as above the mock neck top, thus avoiding an 'over' fabricing (is that a word) of your body!
Mavi Ada boyfriend jean (smoke vintage) $118
Daisy mock neck 3/4 sleeve top (black, burgundy, light rust or olive) $35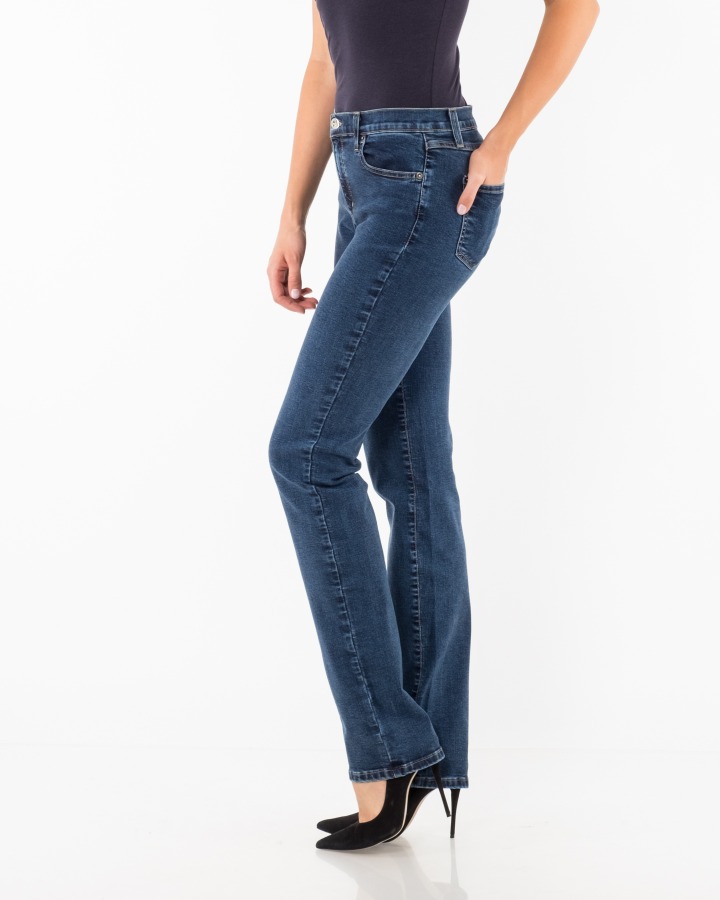 And veering away slightly from skinny and relaxed is straight leg. Nice with (as above) sky high heels or high heeled boots as they will slide nicely over a boot. Excellent for a less strict office environment.
Yoga Dominique straight leg jean (medium indigo blue) $130
The term 'Flawsome' I believe was coined by someone who made her mark on the fashion world by showcasing her 'so called' flaws as apposed to camouflaging them, being a woman of colour and plenty of shape - Tyra Banks! A substantial challenge, in an industry where her attributes would not be so readily embraced. Therefore...Flawsome (adj): something awesome because of it's flaws...pretty much all of us, wouldn't you say?
Yours in Fashion passion...
Suzanne M.
"My love to thee is sound, sans crack or flaw" ~ Shakespeare (Love's Labour's Lost)