SECOND JEANS ~ CHECK them out,in store...try them on and be entered into a draw for a pair. It's as simple as that! Check in store for details (until November 19).
Denim has a tendency to look rugged and rough; certainly doesn't have a reputation of comfort any more than would a hug from Karl Lagerfeld. That bad rep. came to a complete halt when Second Jeans created it's famous Yoga jeans. Bend, stretch, do yoga in them, or just sit. Whatever you do, you can be sure to not only look great, but feel completely at ease in them. So if you've been afraid to try them, get out of your comfort zone. All you wear is athleisure you say? Leaning more heavily on the leisure than the 'ath' part...just try them! You won't look back. But you might find people taking long looks at your back(side)! :)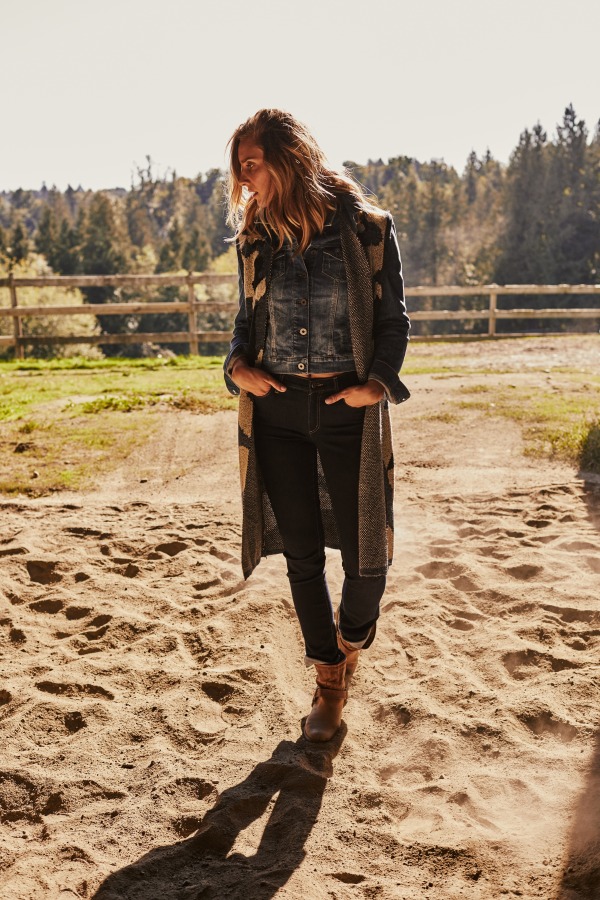 A look that goes beyond the usual...jean jacket worn as a top with the great topper vest complimented by biker boots. Looking to accessorize a bit more...add an infinity scarf and a hat.
Yoga straight leg jean (vertigo) 34" inseam - $138
worn with:
KW camouflage vest with denim trim (denim) $89
My new favourites are the dark denims. A great vintage look that styles just as well cuffed with flats as they do with heels, BUT with all the stretch that hugs you like Grandma! And while I'm not ready to abandon the looks-like-you-took-part-in-a-rodeo-and-lost jeans, these are somewhat of a more uptown alternative look. Pair them with this sweet chantilly lace top, kitten heels for a great Friday night out style.
Yoga midnight city skinny (midnight) $138
wear with:
Soya concept Chantilly lace top (white) $69
The Italy Jean has been an all-time customer favourite season after season. Showcasing a traditional stonewash in a ring spun denim; these jeans typically flatter all body types with their signature skinny fit. Try them with the subtle star embossed sweater for weekend/casual.
Yoga Italy jean - hand sanded (rinse) $148
wear with:
Soya Concept tonal star sweater (purple) $89
Still on the topic of the dark denim, the straight leg has definitely not gone the way of the macramé plant holder. On the contrary, they provide just enough leg width to slide nicely over your boots, creating a really leggy effect. The Vertigo is a dark wash, with just slight whiskering, giving a super authentic, slightly worn appearance. For a less than formal work setting, wear with a whimsical bird print blouse and shawl collar jacket.
Yoga straight leg jean (vertigo) 34" inseam - $138
wear with:
Runway swan print blouse (pink or black) $59
Tobias open shawl collar jacket (black, mocha or plum) $185 (now $105) instore only
On the same vein of dark denim, there is, in fact the classic black. Always in style and clearly can be paired with any colour, any style. This is the signature skinny fit in their newest fabric evolution. Wear comfortably with this great cable knit pull over, depending on the work place, can certainly work the 9 to 5 routine.
Yoga Dakota and pitch black skinny (dakota or pitch black) $130
wear with:
Kersh cable wide stripe sweater (fog mix/cream) $86
Second was ultimately created and continues to evolve with a woman's body in mind. Style, cut, denim wash and fit, check all the boxes of your denim requirements. Thus why Plum has carried this supreme brand for nearly a decade. Whether you find yourself chasing small children or big dreams, these jeans are constructed with our real lives and bodies in mind. Try them on for size, you won't be disapointed.
Yours in Fashion passion...
Suzanne M.
More to brag about...Second Jeans are made in Canada!