This week Plum has an irresistable in store only special. The Military jacket or colored Yoga jeans until Nov 11th only $ 99 each.
Lets talk about colour...or lack thereof...depending on your viewpoint. Black. The often frowned upon, viewed as morose, not even recognised as a colour...colour! How is it possible to not like something that does not exist....anyway far too philisophical! I say, black is great! Black goes well with just about every other colour, has a reputation for being slimming, plays off accessories so well, brings up the casual nature of denim and is often viewed as a 'go to'colour for 'formal attire' affairs. Let's take a look at some 'black' variations that Plum has to offer.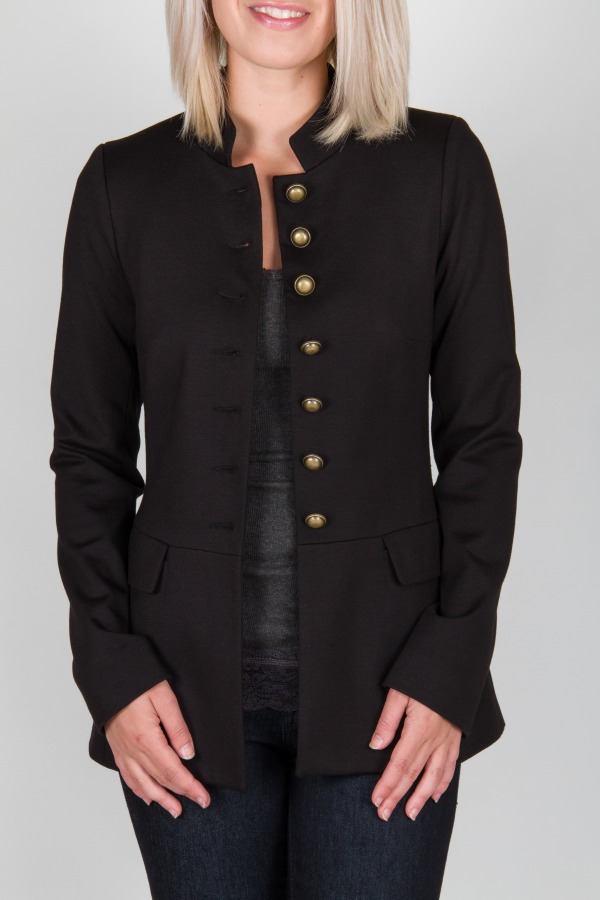 So, to kick off the 'blacktivities'....this a-mazing ponte jacket. Granted it is a slender cut and provides a very fitted look, yet still it's a great siloutte for most. One of Plum's most beloved jacket designs, it's been brought back multiple times because of it's great fit. Lined, stand up collar, 7 button, 2 front pockets and made of a delicious ponte fabric, that make it just so easy to wear!
Tobias military jacket (black, khaki) until Nov. 11 in store special only ($ 99)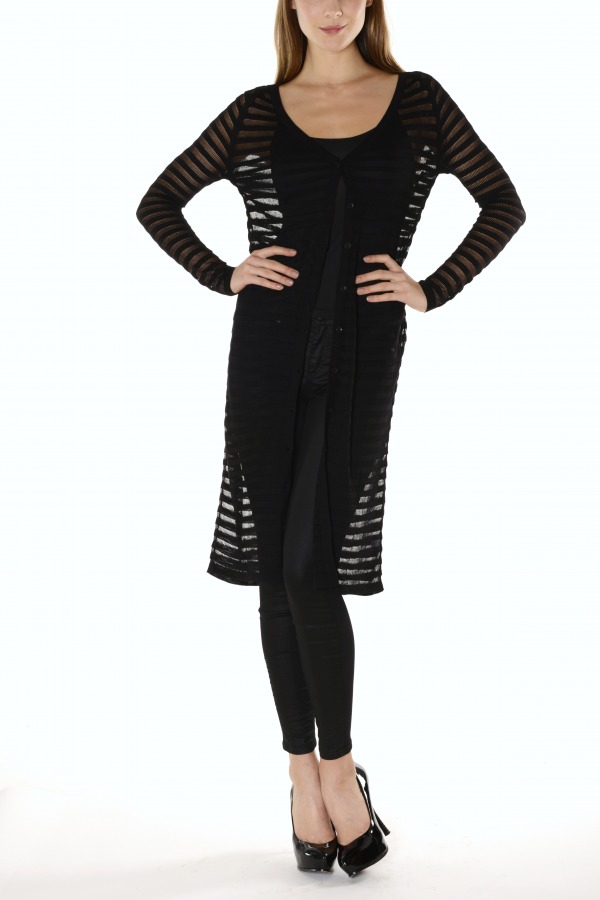 Undeniably, totally wearable stripes for all. The sleek cut of this cardigan-come-dress (?), simply sends an invitation for a belt, or a 'can't take my eyes off you', necklace. I love how it's lovely and long, yet provides lots of visibility with the sheer interspersed stripes.
Lumiere long cardigan $ 65 (black, burgundy)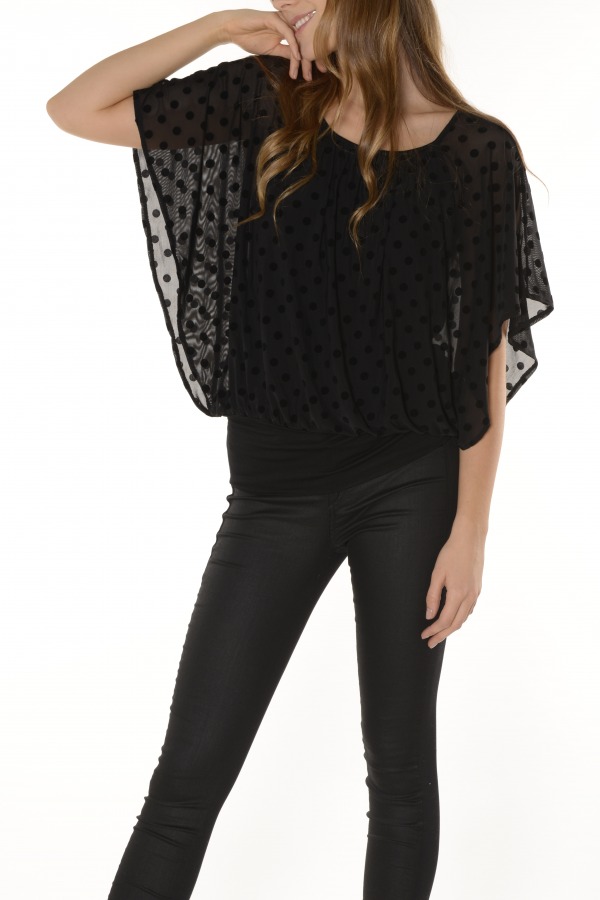 Butterfly take flight. Yes I'm aware there are no such things as black butterflies...well now there are. There's you. Again, delightful details on this top. And really, this is now what it's all about. Black can have personality merely with a bit of a print, a texture or added lace detail. Yet still offering the ability to create your own style, using the black as the contrasting background. Everything seems to show up better against a black background!
Soyaconcept knit dotted top $ 75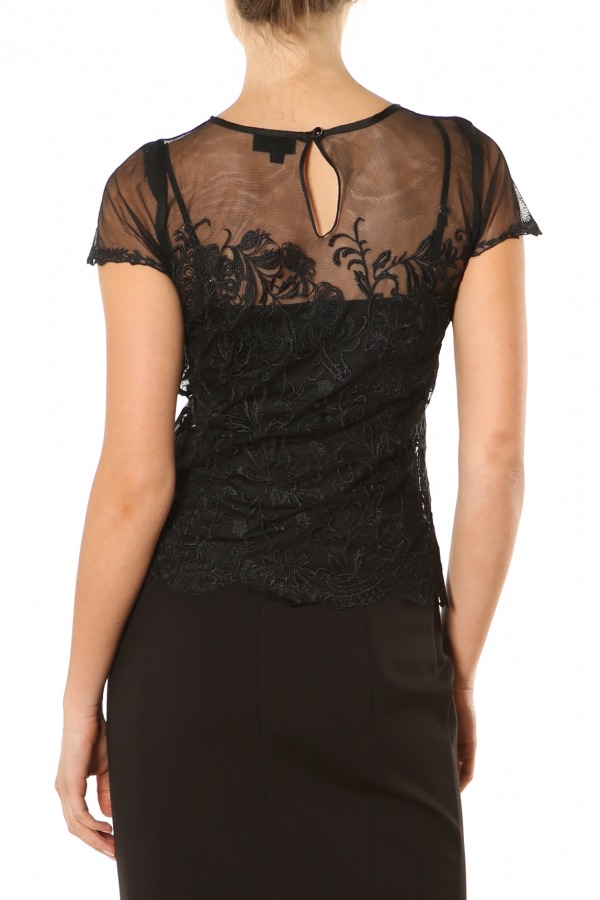 Once again, it's really all in the detail. The lace in this has just divine, exquisite detail. And with it's very slim, fitted nature, you'll feel more feminine than would a bouquet of roses from your boyfriend (almost). Today with a blazer and boyfriend jeans and pumps, tomorrow with a pencil skirt and knee high boots? Plus every woman loves a bit of lace (or roses).
Fate lace top $ 79 (black)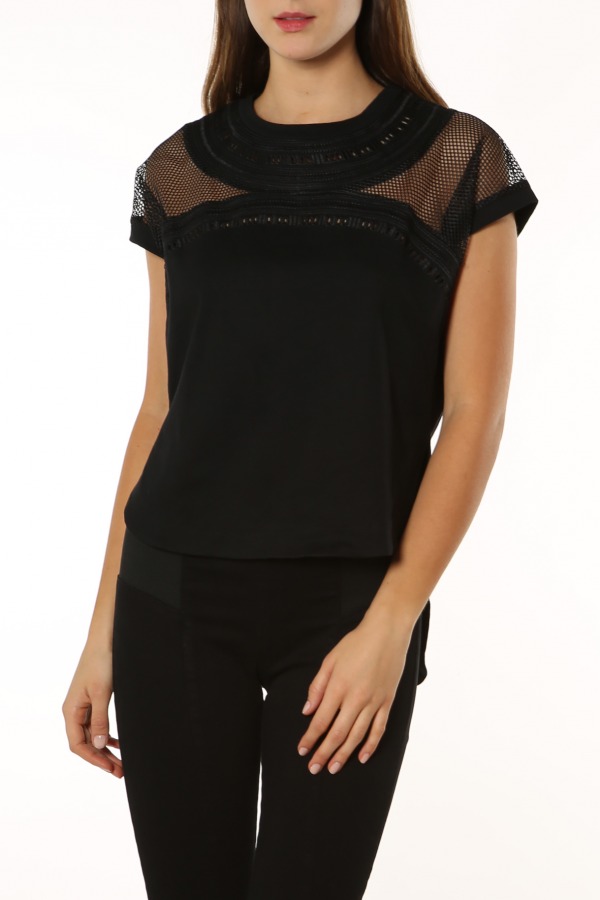 Top it off with something edgy, Something Joan Jetson would wear (throwback Thursday)? This one has a decidedly futuristic feel. Mesh carries over to the back yoke. And the collar showcases a quite intricate, unique detailed edge. Compliment the black with another colour tank beneath, red flashy bra or nothing at all. I dare you! ;)
Fate mesh top $ 82
No longer just for somber occasions, funerals or formal affairs, black just helps creates a new outfit each time. And really, what colour does not go with this supposed non colour? And on that note, to go with your 'blacktastic' piece...do not forget about the in store special.
Don't pass up an oportunity to get this great Military jacket now until Nov. 11 $ 99. And at this price, match them with the coloured Yoga denim. Also on special for $ 99.
Yours in fashion passion
Suzanne M.