WHITE BOTTOMS...NOW at 20% off for 4 days ONLY....TIME TO BRIGHTEN UP!
Clearly worn out has multiple meanings. Extremely tired...the feeling you get when you have children; which doesn't leave you for 18+ years. The other meaning is tangible goods, aged and often rendered useless. THANKFULLY we have a clothing industry that simply creates a style out of that. I once wore a God-awful pair of shoes (I hang my head in shame, I still wear them) with embellished heels, missing a stone. I sheepishly pointed out the flaw to a co-worker, whereby she said 'Meh, that just adds character!'. I thus strutted those fashion-ugly shoes proudly! That's great, to a point. However, if you're looking for a way to brighten your mood or some of your life weary wardrobe or both, look no further than white! Truly a colour of revival!
If you want to go all the way with the white and bright...this top is an excellent choice. Because it provides texture, a feminine, surreal rose-look pattern and the very now twist front, while still keeping things simple, minimalistic and monochromatic.
Lazy Sundays mesh tonal knit (white) $49
Yoga high rise ankle skinny jean (white) (4 days only 20% off)
Another idea, that is a well loved look these days, the long flowey Kimono. Perhaps you'd rather something that is not too much of a contrast from the white pants or shorts. With it's varied patchwork look, it provides some variance but still in keeping with the lightness. Add your colour in another way...possibly a nice manicure/pedicure and/or flaming red lipstick! OR maybe you do favor a contrast, bold as black with a dash of humor!
En Creme long kimono (black/white) $79
Bear Dance 'work hard' t shirt (black) $35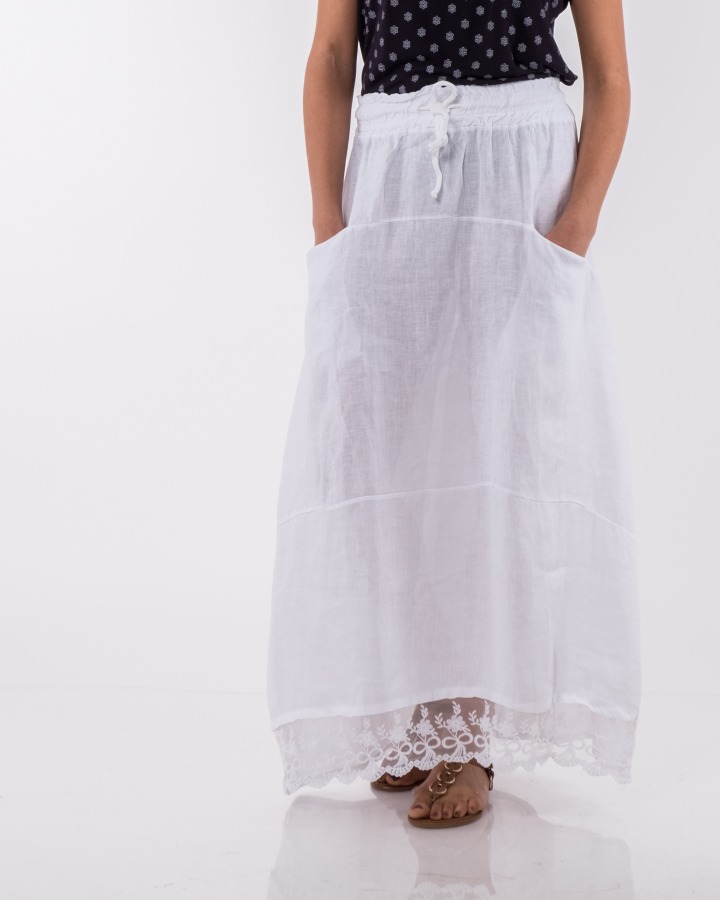 I cannot say I've ever seen a boho style skirt with pockets. What a unique fresh design feature. Try this with a denim vest and maybe a wide belt to add some edge. Great for the festival season and lots of free flow dancing!
M skirt long skirt (white) now $72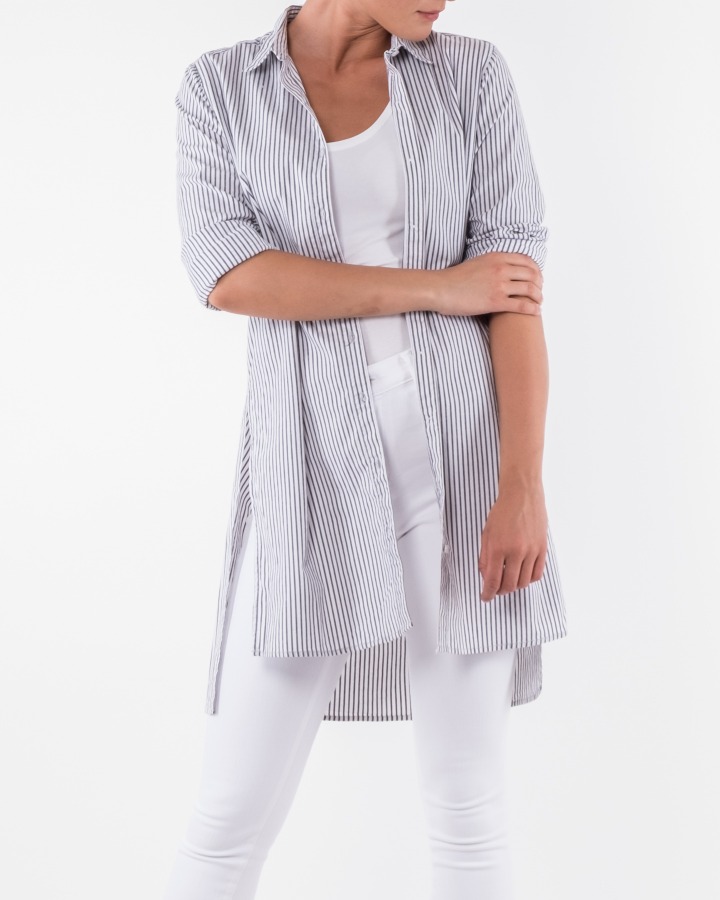 The men's shirt style, is a mainstay! Pretty appropriate weight for the season, also, will work well into other seasons.
Sneak Peak stripe tunic (grey/white) $69 (nearly sold out)
I myself am a bit worn out from sorting my highly neglected sewing room, filled with projects to keep me busy well into my 80's! So much fun to go shopping in the archives of my neglected, repair hungry and historic purchases! Although some went into the 'what was I thinking' pile and others, a very skilled surgeon could not possibly resuscitate them and then there was the 'far too many decades have passed' garments. Some of the white things I decided to keep were the white hairs on my head! Because bald is not a look I'm going for this season!
Suzanne M.
"Instead of thinking of herself as worn down by life, she preferred to think of herself as polished. Her experiences made her gleam inside and out." ~ Quote by Queenisms ... read the full post and reader comments